Charles Barkley Once Heaped Praise on LeBron James' New Running Mate: 'Even Jordan Didn't Play as Hard'
Charles Barkley has been prone to the occasional bout of hyperbole. He stubbornly refused to believe Stephen Curry and the Golden State Warriors could win an NBA championship with an offense based on spacing and 3-point shooting, for instance. But Chuck also played alongside some of the greatest players in NBA history, including Michael Jordan, so he does know a thing or two. At one point, Barkley made the claim that LeBron James' newest point guard, Russell Westbrook, plays harder than MJ ever did.
Russ has always been a downhill, attacking player. His athleticism makes it appear as if he were literally shot out of a cannon.
There's no comparison between Westbrook and Jordan as players. However, there is a connection between the effort and energy each expend (or expended, in Jordan's case) on a basketball court.
Russell Westbrook's motor has never been questioned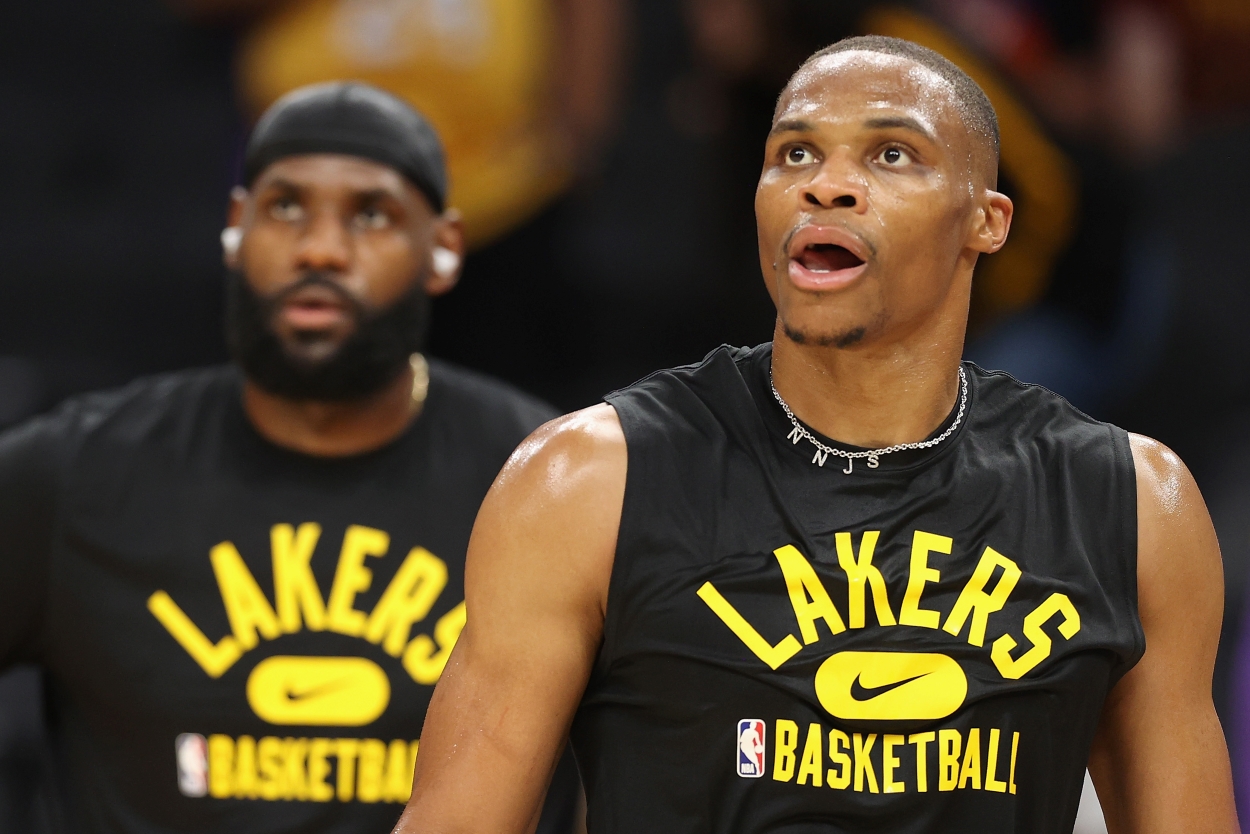 The former UCLA Bruin has flaws in his game, but effort is not one of them. Since his days as a rookie with the Oklahoma City Thunder, Westbrook has played with an aggression reminiscent of His Airness.
Unfortunately, there isn't really a stat that measures energy and effort. The eye test is the go-to in this case, and the nine-time all-star certainly passes it.
A brief look at the two-time scoring champ's career stats can help at least a bit, though. Westbrook has averaged 23.2 points, 7.4 rebounds, and 8.5 assists during his first 13 years in the NBA. He's played 34.7 minutes per game and has played more than 80 games in seven different seasons.
Westbrook has been accused of stat-stuffing, but averaging a triple-double for three consecutive seasons — and four out of five — doesn't happen without an uncommon amount of effort.
Still, that doesn't paint a picture of the all-out intensity the 32-year-old has played with during his NBA career. But Barkley sees the masterpiece.
Charles Barkley claimed Westbrook plays harder than Michael Jordan did
The Round Mound of Rebound entered the NBA the same season as MJ. Barkley and Jordan had a rivalry that culminated in an NBA Finals matchup in 1993 between the Chicago Bulls and Barkley's Phoenix Suns.
The two were adversaries most of their careers but teammates at other points. Sir Charles played alongside Jordan on the historic Dream Team in the 1992 Olympics, where both players helped the US earn a gold medal. The two practiced against each other every day that summer.
Barkley is familiar with Mike's legendary intensity on the court. And on the golf course. And in the casino.
Still, The Chuckster once said on The Dan Patrick Show that Westbrook bests Jordan in terms of effort level.
"I've never seen a player give maximum effort every single night like him. … Even Jordan didn't play as hard as Russell Westbrook does and Michael's the greatest of all time. But this guy gives maximum effort every single play, every single night. You got to respect that."

Charles Barkley on Russell Westbrook
Westbrook is now in LA trying to help LeBron earn his fifth ring
The 2016-17 NBA MVP began his career in Oklahoma City alongside Kevin Durant and James Harden. He was dealt to Houston prior to the 2019-20 season and spent last year in Washington.
Now back home in Los Angeles playing with James and Anthony Davis, Westbrook is shooting for his first NBA title. James and the Lakers are counting on his signature effort and energy to provide a jolt as the franchise looks to win its second championship in three seasons.
If LA does add another banner to the Staples Center rafters, chances are it's at least in part because of Russ's legendary effort that Barkley says surpasses Jordan's.
"If you don't respect and admire Russell Westbrook," Barkley said simply, "there's something wrong with you."
All statistics courtesy of Basketball Reference.
RELATED: The Los Angeles Lakers Tried Pairing LeBron James With 2 Different NBA Stars This Offseason and Still Unbelievably Made the Wrong Choice With Their 3rd Option