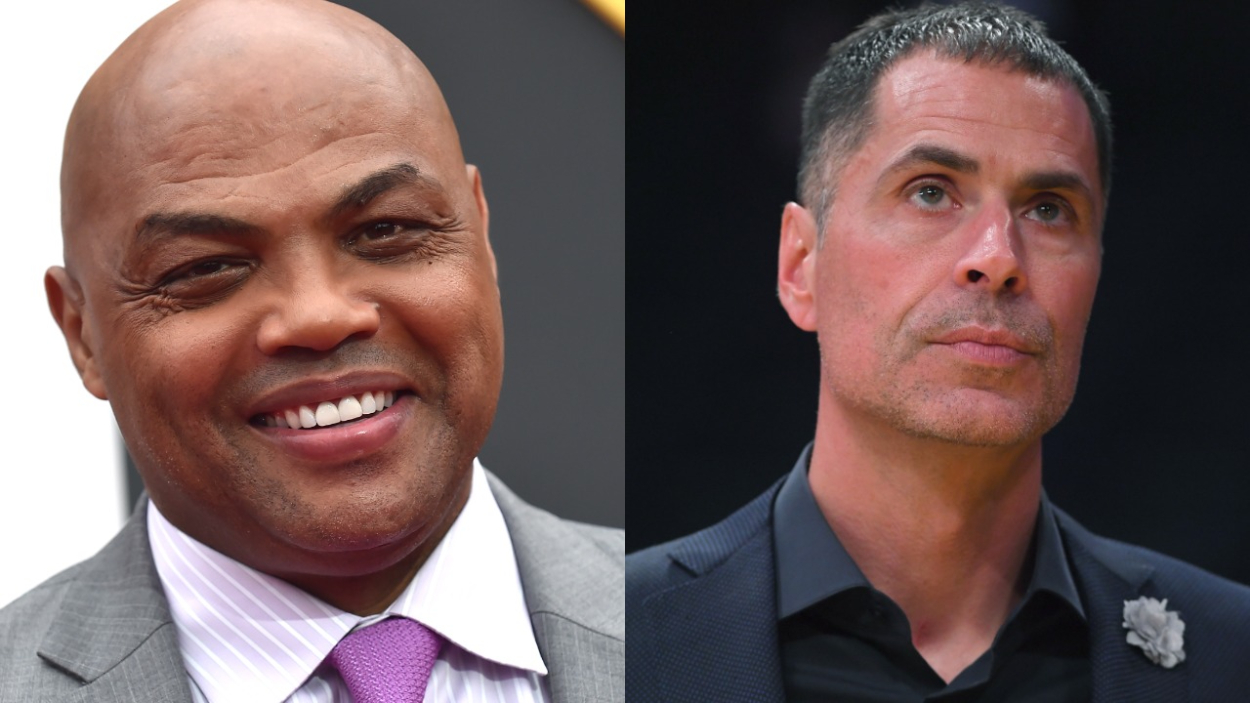 Charles Barkley Savagely Trolls Lakers General Manager Rob Pelinka
Los Angeles Lakers general manager Rob Pelinka has put together an awful roster in LA. So, NBA legend Charles Barkley made some savage jokes about him during the All-Star Game.
We have all united as one. NBA fans everywhere have come together to troll the Los Angeles Lakers this season, and they have done so for good reason.
After general manager Rob Pelinka created what appeared to be a super team with LeBron James, Russell Westbrook, Anthony Davis, Carmelo Anthony, and others, the Lakers have shown their age (well, everyone but LeBron). They are 27-31 and sit in ninth place in the Western Conference.
The team's struggles have turned Pelinka into the butt of everyone's jokes this season, and NBA legend Charles Barkley hasn't been afraid to join in on the fun. In fact, despite already calling out Lakers management last month, Barkley trolled Pelinka during the 2022 NBA All-Star Game, saying he has been "hiding out all year."
The Los Angeles Lakers have been a mess all season
The Lakers entered the 2021-22 campaign with high expectations, and they likley won't even come close to reaching them.
LeBron James (29.1 points, 7.9 rebounds, and 6.5 assists per game) is having an unreal year. The team, though, can't defend a parked car, allowing 112.4 points a night. Anthony Davis also can't stay on the floor for more than a quarter without suffering an unfortunate injury, and Russell Westbrook isn't the player he once was in his prime.
The culmination of age, injuries, and flat-out poor communication offensively and defensively has led to the Lakers going 27-31 so far. They are the ninth seed in the Western Conference and just 4.5 games from being out of the NBA Play-In Tournament entirely.
Of all the people who deserve blame, Westbrook has probably been getting the most of it this year. But Rob Pelinka is right behind him.
He's the one who put together this odd roster. So, he has some explaining to do.
Charles Barkley savagely trolled Rob Pelinka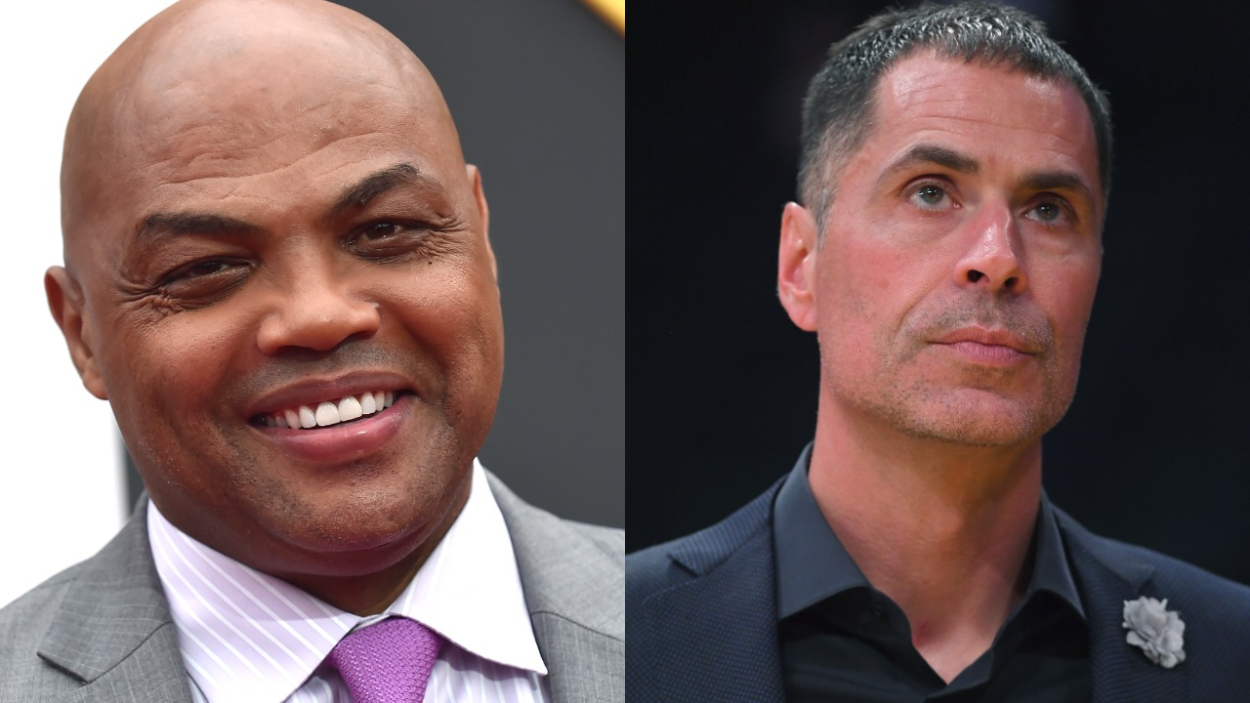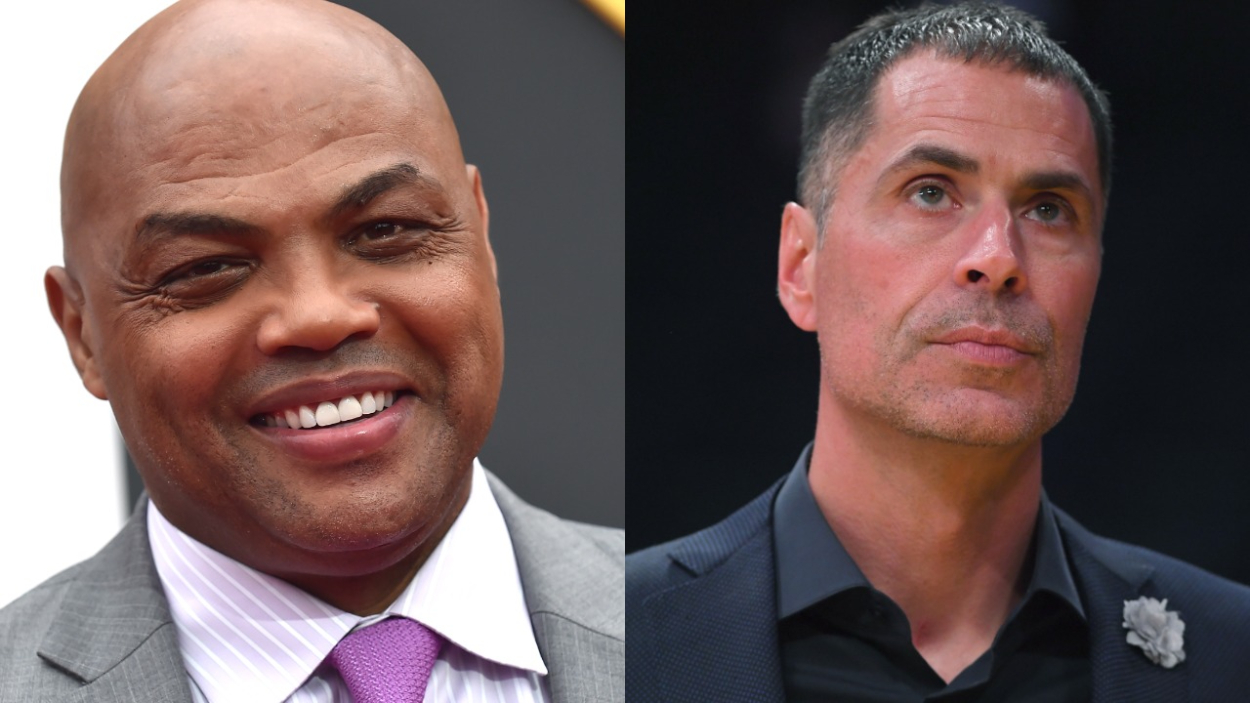 All the big names in the basketball world were in Cleveland on Sunday for the 2022 NBA All-Star Game, including Rob Pelinka.
And NBA legend Charles Barkley had some jokes about him while appearing on TNT.
"Is that Rob Pelinka?" Barkley said after seeing the Lakers GM on the jumbotron. "I haven't seen him since he put that Laker team together, been missing in action. … Is it my fault he put all those old ass geezers together, and they stink? Oh OK. I gotta let that go, huh? I'm just saying I haven't seen him all season. (Warriors star and fellow TNT analyst) Draymond [Green], he's been hiding out all year."
Barkley's co-star Shaquille O'Neal then interjected and asked Chuck why Pelinka is hiding out, and Sir Charles gave another hilarious response.
"Cause he put a bunch of old ass geezers together, would have been great in 2010, but unfortunately, we're in 2222," he said.
So, Barkley apparently doesn't know what year we're in, but his point still stands. This Lakers team would have been great a decade ago. Not so much now.
Rob Pelinka is in a bad spot with the Lakers
The Lakers' on-court struggles have been well-documented this season, but the drama created by Rob Pelinka's mistakes is now making its way off the court.
Rumors surrounding Russell Westbrook went bonkers at the NBA Trade Deadline, but Pelinka chose to keep the struggling point guard and not make a move at all. He said there was "alignment" between himself, LeBron James, and Anthony Davis. However, ESPN's Dave McMenamin later reported that Pelinka didn't have any conversation with the two stars at all (h/t Bleacher Report).
James' agency, Klutch Sports, apparently isn't happy with the inactivity, either. Bleacher Report's Eric Pincus says Klutch is frustrated with Pelinka's decision not to trade Westbrook and a draft pick for John Wall.
So, in addition to his team's poor play, Pelinka appears to be losing trust with his two stars, specifically James, who could leave LA in 2023. It seems the GM has a lot of work to do if he wants to find himself in LeBron's good graces again.
If he doesn't build a title contender by next season, though, Rob Pelinka could be saying goodbye to The King, and the Lakers could enter irrelevancy again.
Stats courtesy of Basketball Reference