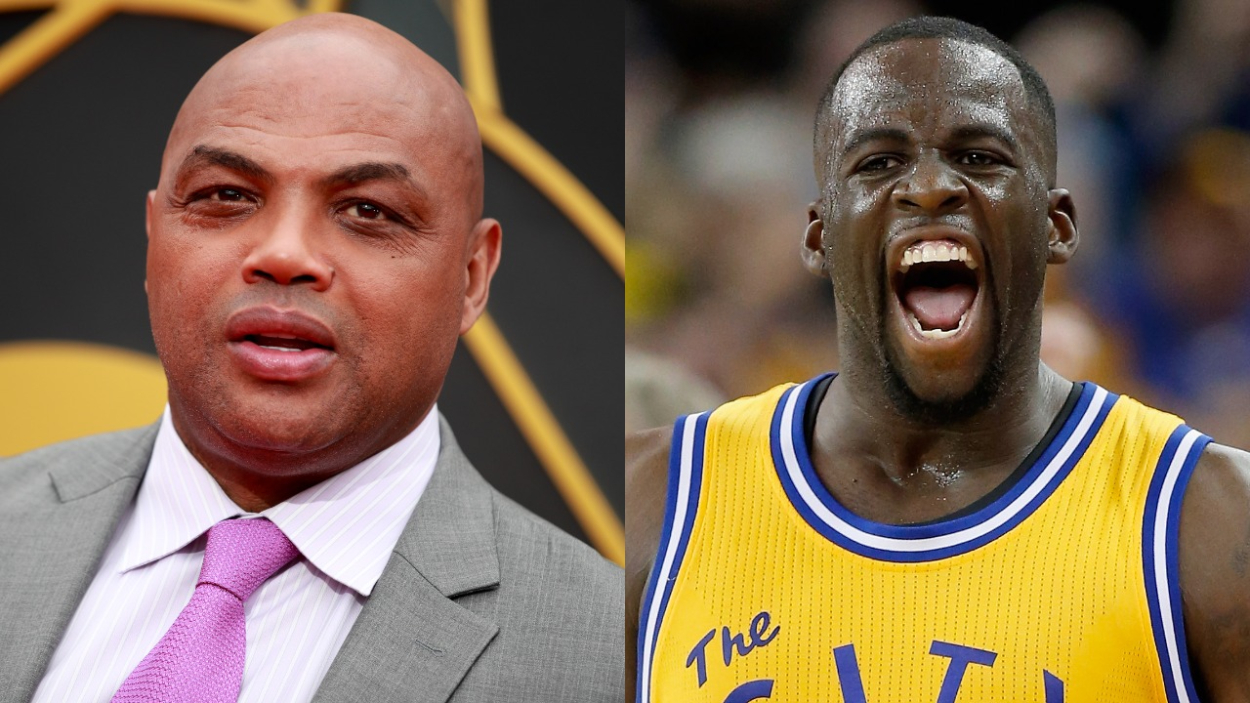 Charles Barkley Says He Was 'Pissed' When Reporter Told Draymond Green He Wanted to Punch Him
Charles Barkley ignited a well-documented feud with Draymond Green when he said he wanted to punch him. However, he was pissed when a reporter told Green about his comment.
There have been numerous rivalries throughout NBA history. From the Boston Celtics and Los Angeles Lakers, to Detroit Pistons and Chicago Bulls, and Cleveland Cavaliers and Golden State Warriors, fans have been able to enjoy some intense battles over the years.
However, former vs. current players has arguably been the most heated feud, especially the past beef between Charles Barkley and Draymond Green.
Barkley and Green took numerous shots at each other for well over a year but have since become friends. And the former recently admitted that he was "pissed" when a reporter told Green about his infamous comments on TNT's Inside the NBA.
If you follow basketball, you likely heard what Sir Charles said. But in case you forgot, Chuck said he wanted to punch Draymond in the face.
Charles Barkley said he wanted to punch Draymond Green in the face
In 2018, Charles Barkley appeared on Inside the NBA, as he and TNT covered a playoff game between Draymond Green's Warriors and the New Orleans Pelicans. During the coverage, the network aired a clip of Green talking trash to Rajon Rondo, and it resulted in Barkley sharing his ruthless thoughts on Draymond.
"I want to punch him in the face so bad," he said (h/t USA Today). "I'm just telling you. I want to punch his ass in the face. I do."
The comments sparked a feud between the Hall of Famer and Warriors star, with Green even once saying he would take Barkley's job.
However, the two have since squashed their beef. Draymond even became the first active player to receive a broadcasting gig, as he works on TNT and is now colleagues (potentially even friends) with Chuck.
In fact, Barkley recently appeared on his podcast, The Draymond Green Show, and they discussed their well-documented rivalry.
Charles Barkley said he was 'pissed' when a reporter told Draymond Green about his comment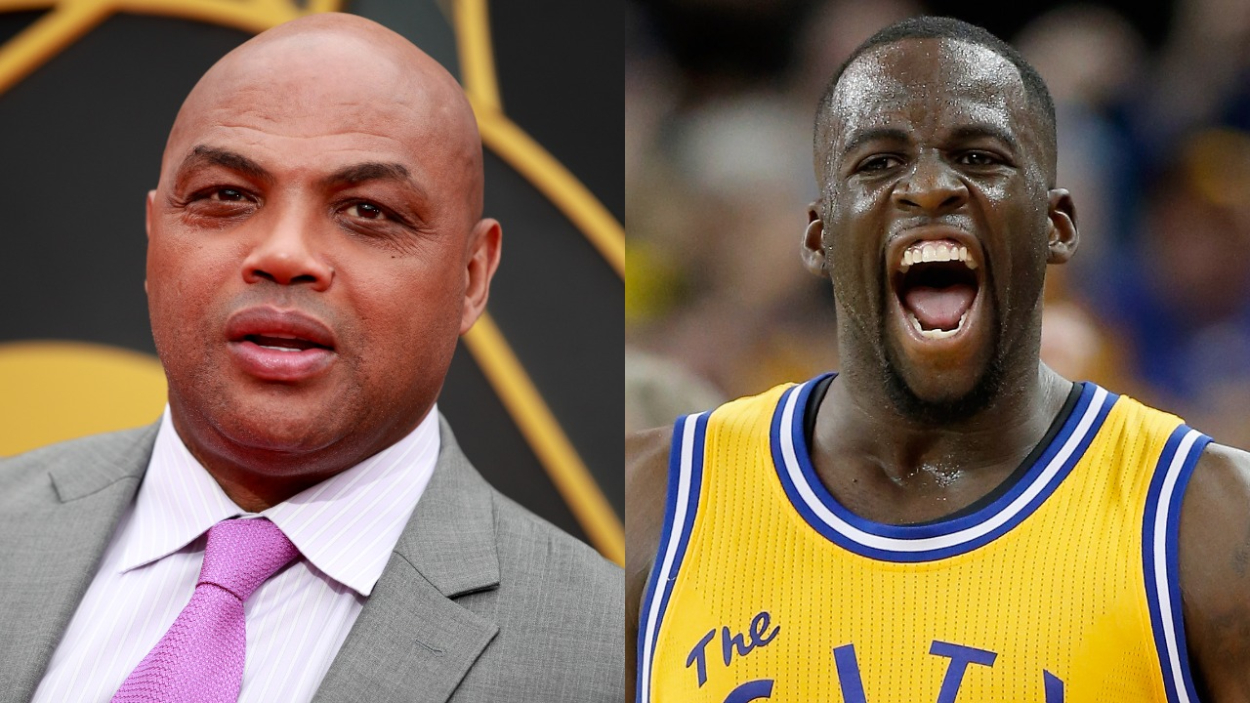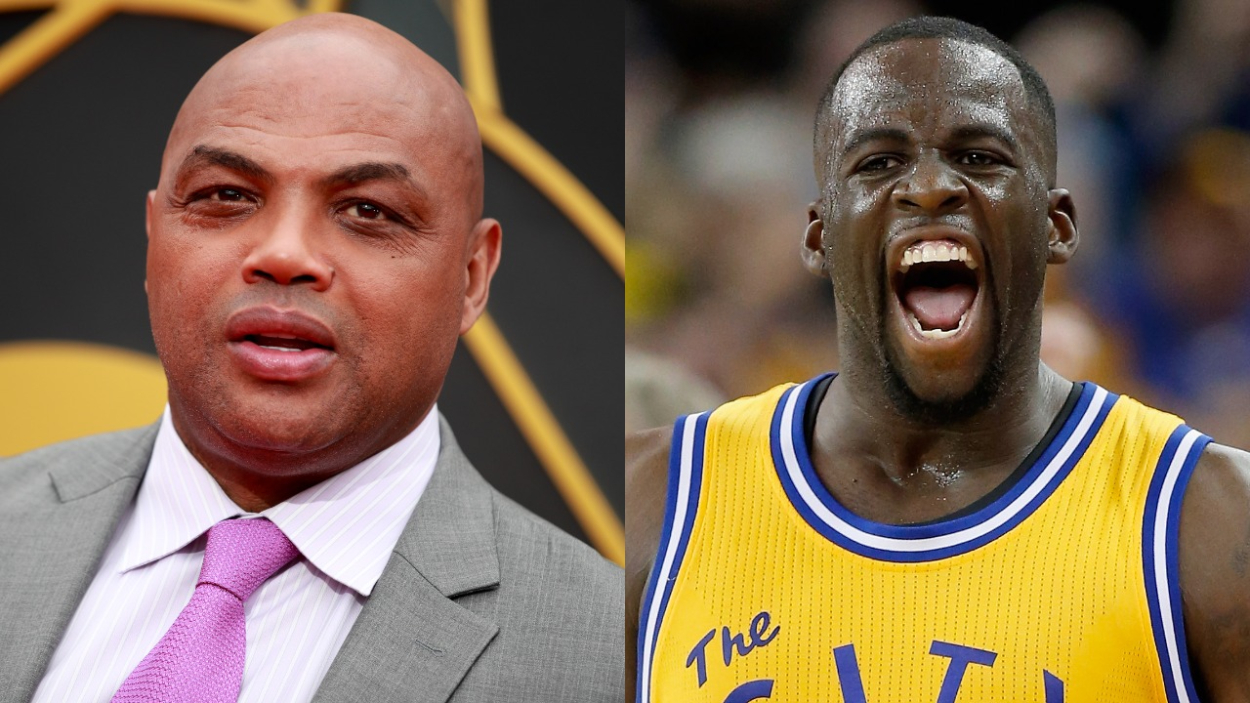 After their beef had already lasted well over a year, Draymond Green appeared on The Arena with Charles Barkley on TNT. And, as he has shared before, he says Barkley's kindness disarmed him.
"I'll be 100% honest with you, I was walking up there like, 'Whatever happens, happens; if he says something to me, if he wants to punch me, I'm ready to go there,'" Green recalled on the March 2 episode of his show. "And you disarmed me so fast, like 'Hey, what's up, man? How you doing? It's great to see you, welcome.' I'm just sitting there like, 'What the hell?'"
Barkley then somewhat explained where he was coming from, comparing Green to Dennis Rodman.
"You remind me a lot of Dennis Rodman," he said. "Like, I want to play with you. You'd be annoying as f*** to play against. I saw Dennis at the [75th Anniversary Team] thing, and we hugged each other like brothers. He's somebody I really like a lot and respect. You're the same way. It would be annoying to play against you because, number one, I don't think you've ever committed a foul … and that makes me laugh every time."
He then recalled the night he made his comments about the three-time champion.
"People don't realize … at one or two o'clock in the morning, sometimes you're like, 'This dude is driving me crazy tonight,'" Barkley said, alluding to the Warriors always playing late-night games. "'He's arguing with the refs all night.' And then Shaq said, 'What you want to do?' and I just said, 'I just want to punch him in the face.' And then what pissed me off about that night, to be honest with you, I was joking around, and then a reporter asked you that. … I knew when I heard him ask you that question, I said, 'Oh man, this dude is going to think I'm serious about punching him.' I ain't ever going to punch an NBA player because we're all in the same family."
Chuck and Draymond prove that on-court feuds typically end off the court
Yes, the feud between Charles Barkley and Draymond Green took place off the court, but Barkley said he wanted to punch Draymond the player, not Draymond the person, proving that competition brings out a different side of athletes.
For example, Barkley got into a fight with Shaquille O'Neal during their playing careers, but they have since worked on TNT together for years. Likewise, Green nearly got into a fight with LeBron James during the 2016 NBA Finals, but he has since been on James' show, The Shop, and has had friendly back-and-forths with him on Twitter.
In between the lines, these athletes are professional competitors. However, they act much differently in their everyday lives, and Barkley and Green just further proved that with their beef-turned-friendship.
Their rivalry is no longer alive, but they are both still entertaining personalities without it.