Charles Barkley Vehemently Says He Wants to Quit Covering the Lakers on TNT
The Los Angeles Lakers flat out embarrassed themselves in their most recent loss.
Wait, have I written that sentence before? Probably, but it's still true.
The Lakers have been the most disappointing team in basketball this season. A combination of age, injuries to Anthony Davis, and lack of chemistry have resulted in them falling well below .500.
However, we will keep talking about them, mainly due to the fact that they're Hollywood's favorite team, and they have arguably the greatest player ever in LeBron James.
NBA legend Charles Barkley, though, says he wants to quit covering them. As he already has this year, Barkley recently went off about this current Lakers squad.
The Los Angeles Lakers lost big … again
The Lakers are amid a horrendous stretch. They have lost four in a row and are 6-16 in their last 22 games. LA's latest loss dropped their record to 27-35, and they sit in ninth place in the Western Conference, just two games ahead of the 11th spot, which would put them outside the NBA Play-In Tournament entirely.
Their LA rivals, the Clippers, also embarrassed them in their most recent contest.
The Clippers outscored LeBron James and company 40-18 in the third quarter, en route to a 132-111 win. They shot 63.0% from three-point range, and guard Reggie Jackson went off, scoring 36 points on 14-of-30 shooting. He also had eight rebounds and nine assists.
The Lakers lost for a number of reasons, but their defense was arguably their biggest weakness. They had an atrocious 138.0 defensive rating and allowed the Clippers to shoot 54.8% from the field. 
All in all, it was another ugly night for the Purple and Gold, and it appears Charles Barkley no longer wants to cover them.
Charles Barkley is done with 'the team from Southern California'
Following the Lakers-Clippers game on March 3, Charles Barkley, who said he is only referring to the former as "the team from Southern California," let his Inside the NBA co-stars know that he no longer wants to cover said team.
"We're not showing these guys anymore," he said, per NBA on TNT's Twitter. "I'm making an executive decision around here. We're not showing them bums from Southern California anymore. … Come on, man. We gotta stop showing that team."
Barkley didn't stop there. He kept going off while he and his colleagues looked at the highlights of the blowout.
"We gotta quit showing these bums," Barkley said.
The former NBA MVP then later gave his simple explanation as to what's wrong with this team.
"Number 1: They can't play hard," Barkley said, per the show's YouTube. "As a guy who was a great player, when I got old — it sucked. They got all them old guys. Think about this; all those old guys: They're cooked. Well done."
Sir Charles admitted that the always confident LeBron James isn't cooked, but the rest of them are.
"Dwight's cooked; DeAndre Jordan cooked; Carmelo is cooked," he said. " … I love Carmelo; it's over. … Those guys are cooked. Think about the Lakers. Who have we been talking about for the last two months? Stanley Johnson, [Malik] Monk, and [Austin] Reaves. You know why? Because they're young, and they hustle. Because sports ain't made for old geezers. It's made for young guys."
Everyone has Lakers fatigue at this point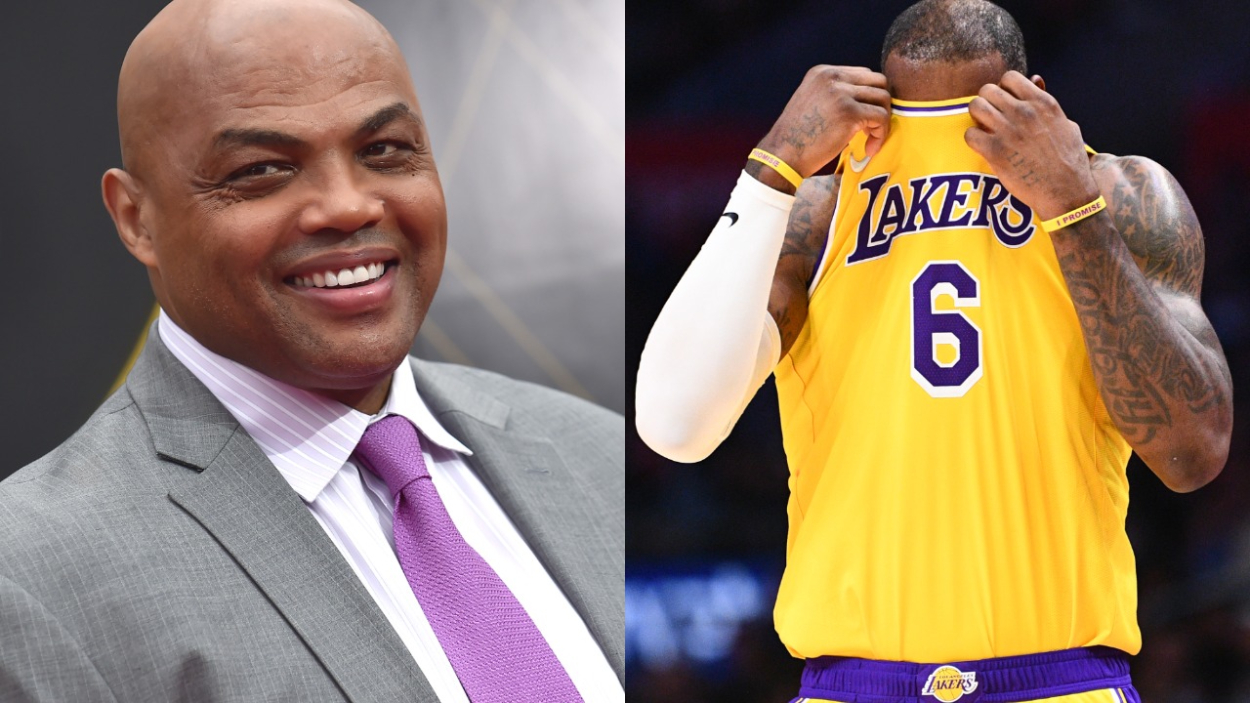 Sports talk shows have always spent too much time on the Lakers. But ever since they signed LeBron James, the coverage has been ridiculous.
Constantly hearing about a squad that is now eight games under .500 is draining. They are arguably the most-talked-about ninth seed in sports history.
Barkley is just speaking for all of us. Why would fans want to watch trash basketball when there are up-and-coming teams like the Cleveland Cavaliers and Memphis Grizzlies?
But can the Lakers eventually turn things around?
Probably not.
They have gotten worse as the season has progressed, and Anthony Davis will likely be out a few more weeks at the least. LA is allowing an atrocious 112.7 points per game this year, which ranks 26th in the league. And the team ranks 21st in both offensive (110.3) and defensive rating (113.9) since Jan. 1. It has also allowed 113.4 points per game during that stretch.
The Lakers have shown no signs of improvement in recent months, which likely has to do with the players' old legs becoming more tired (proving Barkley's point about them being old). And it's hard to imagine them miraculously turning things around between now and the playoffs.
The Purple and Gold have been arguably the most disappointing team in recent memory. So, when will it be time to quit covering them?
Stats courtesy of Basketball Reference and NBA.com
RELATED: Shaquille O'Neal Questions Lakers' Effort, Dwyane Wade Says They Have No Pride