Charles Barkley, Shaquille O'Neal Passionately Condemn Julius Randle's Bewildering Gesture Toward Knicks Fans: 'If You Play Bad, People Boo You'
When you're a star athlete making millions of dollars to play the game you love, you probably understand that public criticism comes with the territory, specifically from fans who never played said game. However, that criticism can become too much for some, which appears to be the case for New York Knicks forward Julius Randle.
During a 25-point comeback win over the Boston Celtics on Jan. 6, Randle made a layup and then flashed a thumbs-down gesture toward Knicks fans as he ran to the other end of the court. But while the move was certainly bold, especially considering that it was toward his team's supporters, NBA legends Charles Barkley and Shaquille O'Neal didn't take kindly to it.
Julius Randle gave New York fans a thumbs-down gesture during the Knicks' win over the Celtics
The Knicks trailed the Celtics by 25 points on Jan. 6 but eventually rallied from behind and won 108-105 on an RJ Barrett buzzer-beating 3-pointer.
During their comeback, Julius Randle turned to Knicks fans after making a layup and gave them a thumbs down while jogging toward the opposite end of the court.
He explained the meaning behind his gesture after the game (H/T ESPN).
"Shut the f*** up," Randle said.
A reporter then asked the Kentucky product if it had anything to do with fans booing the team prior to its comeback, and he said, "You saw that. You saw what was going on out there."
Randle isn't the first New York athlete to recently show frustration with the city's fans. In the summer, New York Mets stars Javier Báez and Francisco Lindor also flashed thumbs-down gestures toward their home crowd. Both infielders eventually apologized for their actions.
A couple of NBA legends, though, don't understand why players expect fans to cheer for them when they're losing.
Charles Barkley and Shaquille O'Neal expressed their confusion and disapproval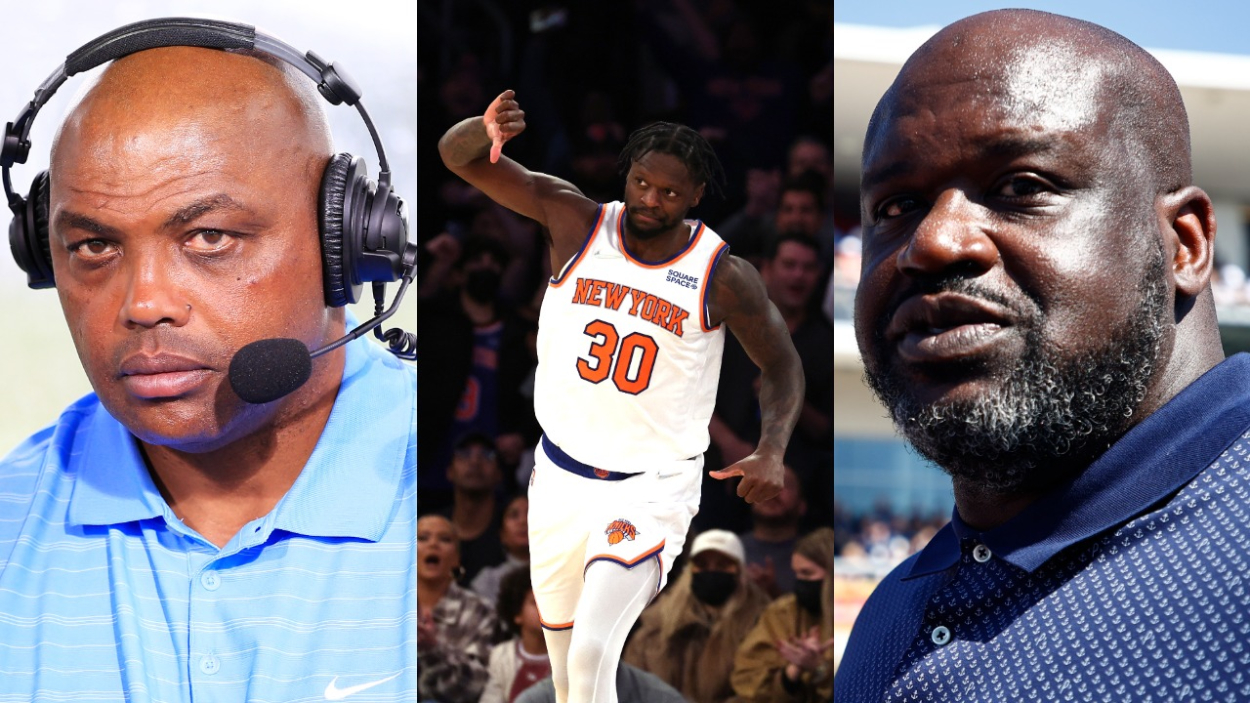 After the Knicks' win over the Celtics, Inside the NBA stars Charles Barkley and Shaquille O'Neal discussed Julius Randle's move.
They didn't hold back.
"I never understand why players think you're supposed to get cheered when you're playing bad," Barkley said on the Jan. 6 episode of Inside the NBA. "No, you're gonna get booed when you're playing bad, and you're gonna get cheered when you win. … This is the way this thing works. We ain't doctors, we ain't lawyers. If you play good, people cheer you. If you play bad, people boo you. That's the deal you make with fans. That's the deal."
O'Neal then supported his co-star's opinion.
"And then in a city like New York, if you're the man on the team, you gotta expect it," Shaq said. "Heavy is the head that wears the crown. You are the man. They expect you to play great every night."
All in all, Randle has become a great player and the Knicks' star. But he should expect more boos if he and his squad don't turn things around soon.
Julius Randle and the Knicks have struggled so far this season
Julius Randle's frustration with Knicks fans may have something to do with continued boos the team has heard for its underperforming play this season.
New York surprised everyone by going 41-31 last year and making the playoffs. Randle also became the league's Most Improved Player by averaging 24.1 points, 10.2 rebounds, and 6.0 assists. 
However, this year, the Knicks (and Randle) have failed to live up to expectations. New York is only 19-20 through its first 39 games and is currently 10th in the Eastern Conference. Randle's production has also dropped off to 19.6 points, 10.1 rebounds, and 4.9 assists per game, and he's only making 32.4% of his 3-pointers. He made them at a 41.1% clip last season.
Yes, Randle is still the star of this Knicks team, and New York has a chance to go on a run to the playoffs. But he better expect to hear more boos if he and his teammates don't start playing better soon.
Stats courtesy of Basketball Reference