Charles Barkley Shockingly Claims He'd Make Russell Westbrook a $44 Million Bench Player: 'I Would Play Russ With the 2nd Unit'
Russell Westbrook's long-awaited Hollywood debut ended up being a horror show. The Los Angeles Lakers' new point guard had a disastrous season opener in LA's 121-114 loss to the Golden State Warriors. Now, after one game, Charles Barkley is already suggesting a dramatic change for the Lakers and Westbrook.
Russell Westbrook had a poor Lakers debut
There were significant concerns in the preseason regarding Westbrook's fit on his fourth team in four years. The 14-year veteran averaged just 9.5 points on 35% shooting and led the NBA with 23 turnovers. Unfortunately, no switch was flipped when the games started to count.
In 35 minutes against the Warriors, Westbrook scored eight points on four-of-13 shooting with five rebounds and four assists. But the erratic point guard also registered four turnovers, four fouls, and had a game-worst -23 rating. For context, LeBron James and Anthony Davis, the only two Lakers who received more minutes, were each -2 as they scored 34 and 33 points, respectively.
"[Westbrook] more than anybody, it's going to be an adjustment period," head coach Frank Vogel said after the game. "He's coming into our culture, our system, he's the new guy, he's got to find his way. It's difficult when you're used to being the guy that has the ball most nights, to be able to play off others like LeBron and AD. It's just a little bit different for him. He's going to be great for us but it's going to be an adjustment period."
Charles Barkley thinks Westbrook should come off of the bench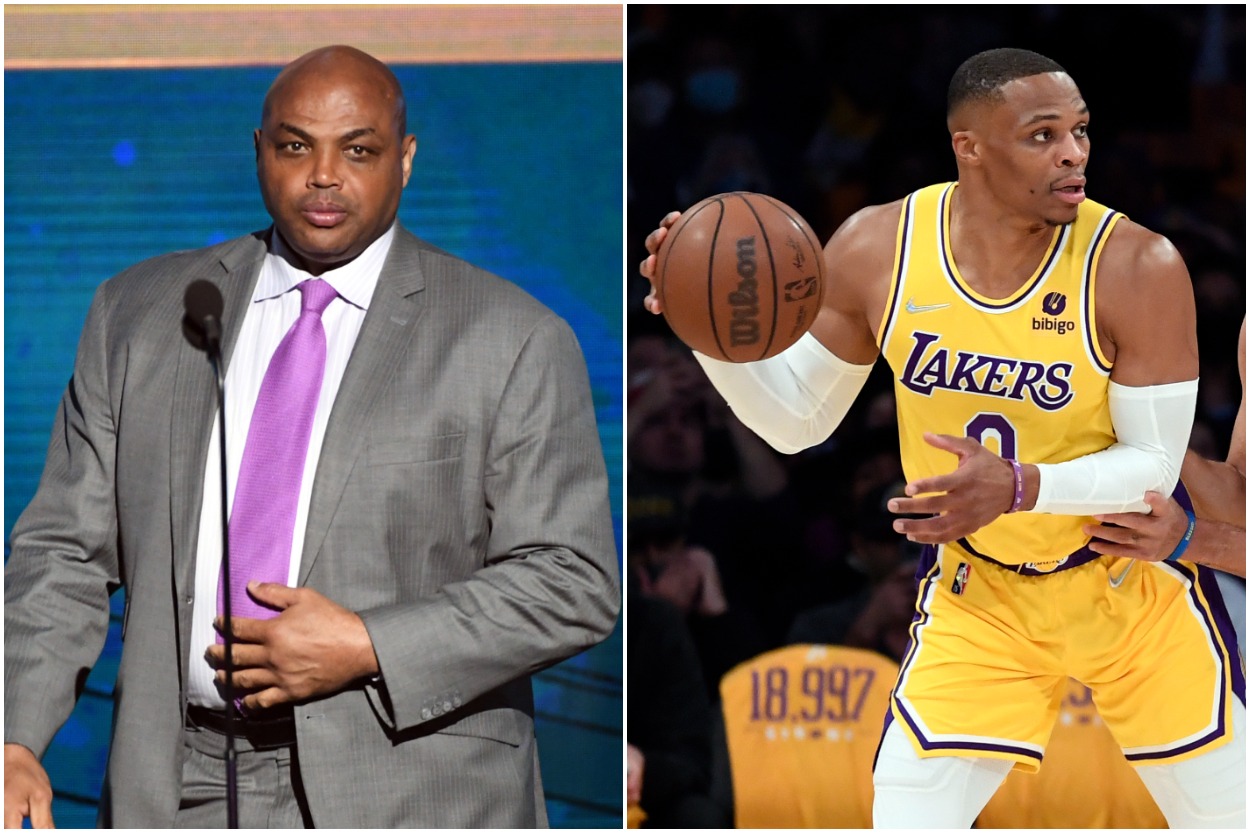 Following LA's loss, the NBA on TNT crew was live outside of Staples Center to break down the game. As you can expect, Barkley, Shaquille O'Neal, and Kenny Smith had thoughts for the Lakers, particularly when it came to Westbrook. But it was Sir Charles who needed to see just one game before suggesting a monstrous change for the Purple and Gold (h/t NBA on TNT).
"I said at halftime they can't play him and [Rajon] Rondo together, they're not good shooters. I would play Russ with the second unit, and I speed them up and make them play full court. 'Cause in the half-court you're going to go to LeBron or AD, 'cause they're the two best players. But Russ, we're not going to run plays with him, he's not a great shooter. So put him out there with the second unit, and let them play much faster. That's what I would do."

Charles Barkley
A move to the bench would be a shock to Westbrook's system. The nine-time All-Star has started every game he's played in since his second season with the Oklahoma City Thunder in 2009-10.
Should the Los Angeles Lakers bench Russell Westbrook?
On the surface, Barkley's take might seem wild. But the Hall of Famer may be onto something that Vogel should at least consider.
Based on Tuesday's game alone, Russ never looked comfortable with LeBron and AD. The 2016-17 MVP often tried to do too much with the ball, and most of the time it resulted in a turnover or a poor shot. He was also unable to get to the basket and draw contact, attempting zero free throws. Defensively, he was beaten often in the second half as Golden State mounted its impressive comeback.
However, it's fair to say some patience should be exercised. First off, the Lakers may need to think about the repercussions of putting a player earning $44 million this season on the bench. Additionally, if Westbrook begins the game on the bench, there's still a good chance he won't finish it there. Vogel would likely turn to his All-Star guard down the stretch, where he would be playing with James and Davis anyway. In those cases, you'd want the All-Star trio to play together and build chemistry ahead of time.
The season is very young, so one game shouldn't change anything. The Lakers will continue to give Westbrook opportunities to improve, especially with 11 of their next 14 games at home and several easier opponents on the schedule. But if Russ is still struggling after 10 games or so, Vogel might have to strongly consider Barkley's advice.
All statistics courtesy of Basketball Reference and contract figures courtesy of Spotrac.
RELATED: Anthony Davis Received a Massive Seal of Approval From a 4-Time All-Star Teammate on the Los Angeles Lakers: 'My Expectation for Him This Year Is MVP'