Charles Barkley Shut the Lights Out at an NBA Arena With a Famous Game-Winning Playoff Jumper and Rubbed Salt in the Wound Afterward: 'It Was a Dump Anyway'
Charles Barkley's 1992-93 NBA MVP season gave Phoenix Suns fans plenty to cheer about while providing multiple Western Conference franchises with dismay. Chuck even ended an entire era for San Antonio Spurs fans.
Barkley sent the Suns to the 1993 Western Conference Finals with one of the most famous game-winners in league history. Although Phoenix ultimately lost to Michael Jordan and the Bulls in the NBA Finals, Barkley's jumper over David Robinson is a memorable moment because it also marked the final sporting event at HemisFair Arena, which the Round Mound of Rebound decried as a horrendous playing environment.
Charles Barkley's Game 6 winner in the 1993 playoffs is the final moment of the old Spurs era at HemisFair Arena
The Phoenix Suns had an opportunity to clinch a series on the road in San Antonio in Game 6 of the Western Conference semifinals, and Charles Barkley refused to let his team squander that chance.
With the Suns leading the Spurs 3-2 in the series, Chuck quickly imposed his will on the contest. He scored a game-high 28 points and dominated the boards, pulling down 21 rebounds. Barkley also impacted the game on the other end of the floor with four steals and two blocks. The problem is that Spurs star David Robinson — a mathematical, formulaic IBM Award darling — matched his fellow Dream Teamer with every step.
Robinson proved an immense challenge for the Suns in the paint. He racked up 14 free-throw attempts and finished with 22 points. The Admiral also grabbed seven offensive rebounds and had four blocks.
This fascinating head-to-head made for a close matchup. Barkley and Robinson took center stage at the end of the game.
Barkley's late loose-ball foul on Robinson led to free throws, and the Spurs center made both to tie the game with just over 10 seconds remaining. But Chuck got his redemption. He isolated at the top of the key against Robinson on the ensuing possession, taking a few right-handed dribbles and a side-step before nailing a 20-foot jumper to give the Suns the lead.
Sir Charles' game-winner ended the series. It also effectively closed down HemisFair Arena.
Barkley called HemisFair Arena a "dump" and said the Spurs should have moved from the venue years ago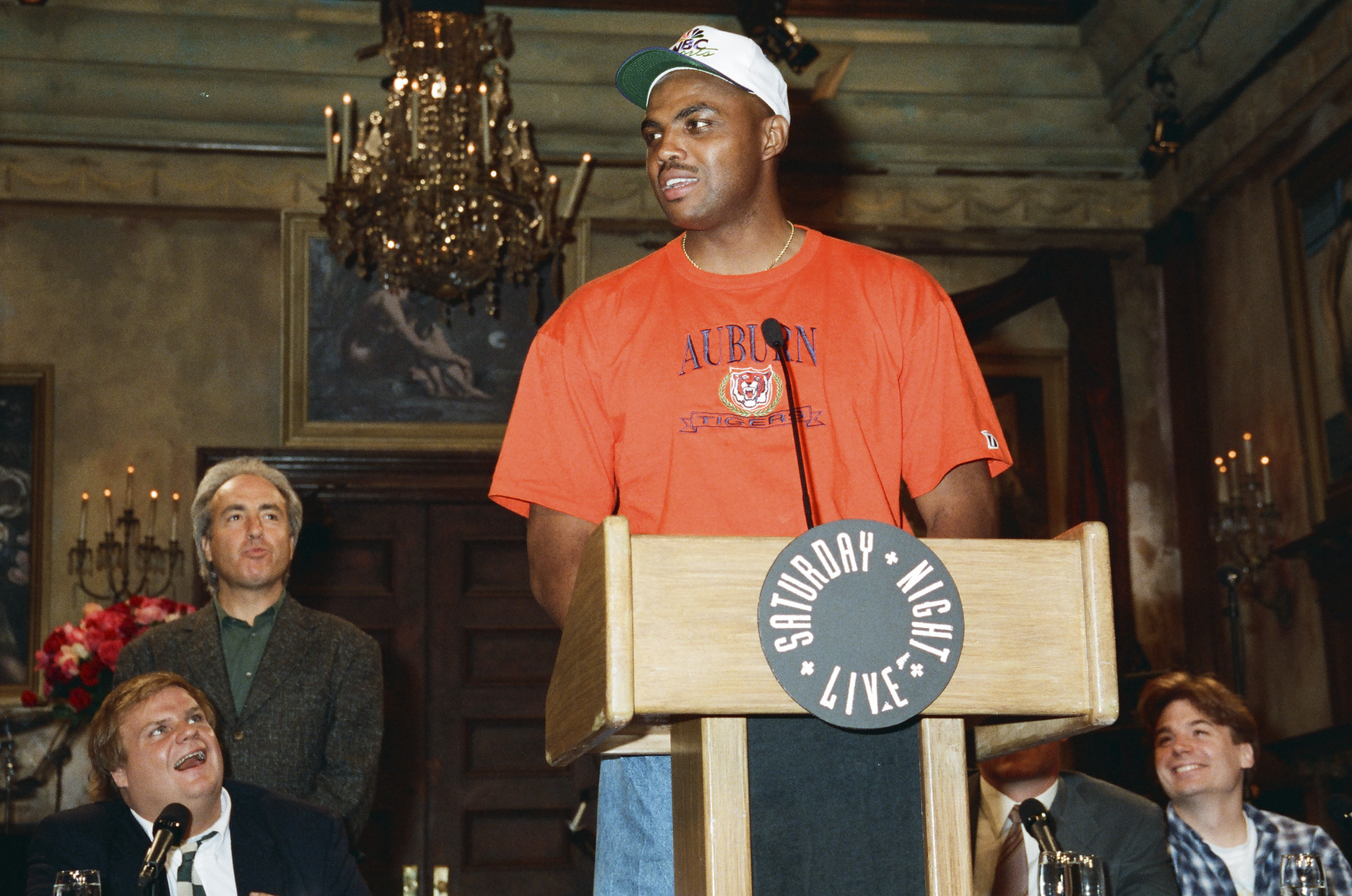 Charles Barkley felt absolutely zero remorse about delivering heartbreak to Spurs fans in the team's final game at HemisFair Arena.
Suns broadcaster Tom Leander mentioned how the game-winner put a bow on the final sporting event held at San Antonio's old stomping grounds. Barkley responded (h/t The Athletic) as only he could.
"It was a dump anyway. [The Spurs] should have closed it down sooner."

–Charles Barkley, via The Athletic
The Spurs moved to the famed Alamodome for the 1993-94 season and won a championship during the 1998-99 season, thanks largely due to an emerging Tim Duncan whom Barkley previously praised before his NBA career even began. San Antonio then moved into the AT&T Center in 2002. HemisFair Arena was torn down in 1995.
For his part, Barkley's comments would not mark the last time he insulted something related to the city of San Antonio. Some of his more recent remarks are rather unsavory.
TNT forbade Barkley from making comments about San Antonio women
Once upon a time, Charles Barkley developed a running gag on Inside the NBA with respect to San Antonio women. However, the leaders at Turner put an end to the trend.
Barkley said this past June, via Sports Illustrated, that higher-ups at Turner asked him to refrain from making remarks about San Antonio women. But Chuck questioned the decision.
"I mean, they won't even let me talk about San Antonio anymore when I'm always talking about their big ole women down in San Antonio. They're like, 'Charles, we got one lady [who] wrote an article.' I'm like, 'First of all, I didn't call anybody personally fat in San Antonio; I was just joking around. … We've been having fun with this for probably 10–15 years. We go to San Antonio; the people are having a blast with it. The people in San Antonio had T-shirts made up."
The Round Mound of Rebound expressed so much frustration in his perceived cancellation that he even brought up retirement plans. However, TNT co-worked Shaquille O'Neal believes it's much ado about nothing and that Barkley will remain with the network.
One thing's for sure: Barkley will never stop speaking his mind. The same is true now as it was in 1993.
Stats courtesy of Basketball Reference.