Charles Barkley Slams 'Player Empowerment' While Hypocritically Forgetting His Career
Charles Barkley was a lightning rod for controversy during his 16-year NBA career. Off-court incidents, unhappiness with his team, trade demands, chasing a superteam, Barkley did all of that during his undeniably great run in the league. More than two decades removed from the locker room, Barkley has transformed into the older man screaming at the kids to stay off his lawn. Much of what he says is funny, some of it is wise, but a lot of it is bluster.
His latest target is hilariously hypocritical. Barkley sees the so-called "player empowerment" era as the worst thing in the NBA since they changed the wooden backboards for glass. It would be laughable if it weren't so tone-deaf — one of the NBA's greatest malcontents calling out today's generation of players for being malcontents.
Self-effacement is a Charles Barkley strength, but not self-awareness
Charles Barkley didn't want to be drafted by the Philadelphia 76ers in 1984. How do we know that? He admits he purposely tried to gain weight to make himself less attractive to then-general manager Pat Williams. It didn't work. The 76ers selected The Round Mound of Rebound. He went on to play his first eight seasons in Philadelphia at an extremely high level.
But when the 76ers slid in the standings, Barkley wanted out. Loudly. On June 19, 1992, Barkley got his wish. Philadelphia dealt him to the Phoenix Suns for Jeff Hornacek, Andrew Lang, and Tim Perry in a trade that got worse for the 76ers as time went on.
Barkley showed his gratitude by blasting everyone in the organization up to and including the parking lot attendants.
Four years later, when he was unhappy in Phoenix, Barkley got himself sent to the Houston Rockets to team up with Hakeem Olajuwon and Clyde Drexler in his unsuccessful attempt to win a ring. Yet listen to Barkley today, and one would think superteams were the worst thing to happen in the history of Western civilization. Per The Washington Post, going to the Rockets was just what Barkley wanted:
"I'm excited because … I called the shots. When push comes to shove, I think you have to stand up to the system."
Compare that sentiment to what Barkley said in a recent interview, and you'll be surprised it's the same individual.
Barkley calls for drastic changes in the NBA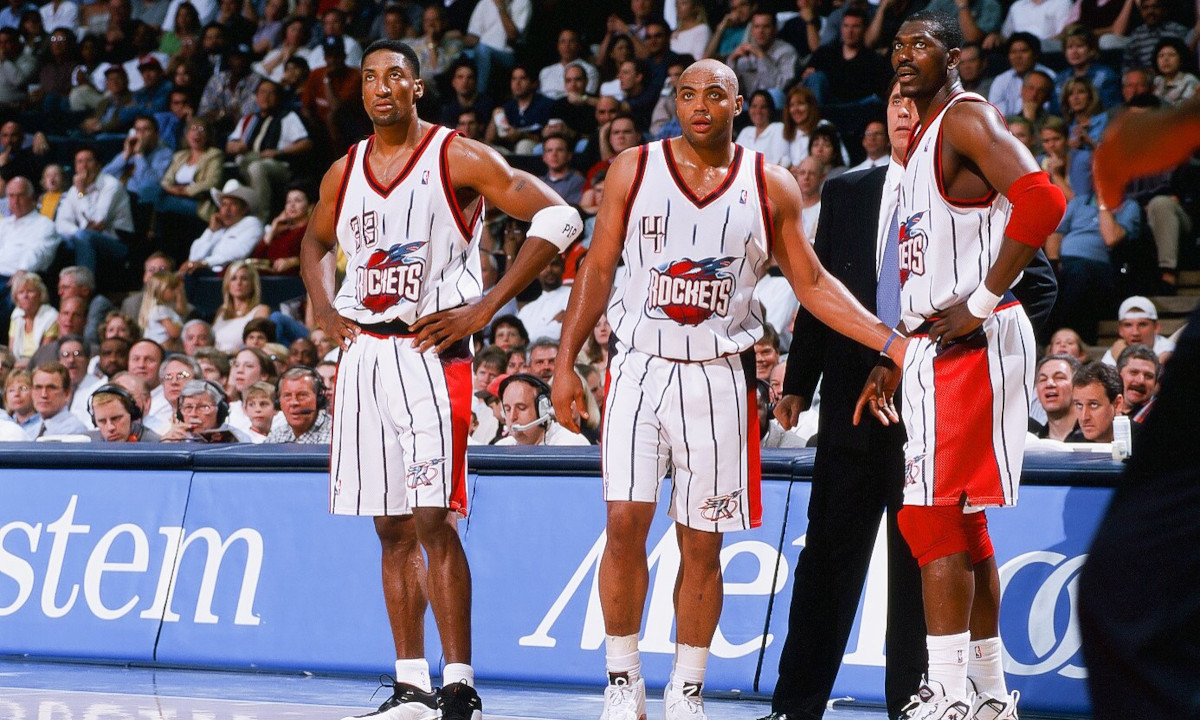 In an interview with Scott Bordow of Compare.bet, Charles Barkley criticized the idea of players standing up to the system:
"James Harden took the money and said, 'F*** you,' and gave Houston the middle finger. Now you got Ben Simmons, who they owe $150 million, and he said, 'F*** you, I'm not playing there.' It's screwed up. Going forward, you're going to have to give a guy $150 million or $200 million, and if he's ever unhappy, you're at his mercy. I don't think that's good for our league."
That is a long way from his playing days when it was all about calling the shots.
There is one thing to point out. When Barkley pushed for his trades, he didn't have multiple years remaining on his contracts. Of course, he got a sweet five-year, $19 million extension from the Suns. He had a year left on that deal when he pushed his way out of Phoenix.
Barkley earned $40.6 million during his NBA career. No, that's nothing like the salaries tossed around today. But his commentary sounds like one of those "tell me you're jealous of the new generation of players without telling me you're jealous of the new generation of players" themes.
Charles Barkley sees a lockout or a strike on the horizon for the NBA
It's no secret general managers around the NBA don't want 76ers president of basketball operations Daryl Morey to trade Simmons, not with four years and $147 million remaining on his max extension. The precedent is potentially devastating. Charles Barkley thinks situations like Simmons and Hardin will push the NBA to want concessions in the collective bargaining agreement, talks that could become contentious.
Harden's trade from the Rockets to the Brooklyn Nets came in the second year of a four-year maximum veteran extension. But absent player empowerment, you have complete management control. The game operated for years just like that before players like Oscar Robertson challenged the system to gain things like free agency for players.
Once upon a time, a team held a player's rights in perpetuity. When Hall of Famer Bob Cousy wanted to come out of retirement to be a player-coach with the Cincinnati Royals in 1969, it took months for the Royals to negotiate for Cousy's rights from the Boston Celtics. They eventually traded a journeyman player named Bill Dinwiddie to Boston, and Cousy was able to suit up for the Royals.
Never mind that Cousy's last game with the Celtics was six years earlier. Boston still held his rights through his entire tenure as head coach at Boston College before Cincinnati hired him in 1969.
Is that the era Charles Barkley wants to see again? That doesn't sound very much like a guy who felt he had the right to call the shots when he was still playing the game.
Statistics courtesy of Basketball Reference. Contract information courtesy of Spotrac.
RELATED: Charles Barkley Issues an Unapologetic Ultimatum to Ben Simmons and the Philadelphia 76ers: 'It's Always Going to Be the Elephant in the Room'