Charles Barkley Throws Cold Water on Klay Thompson's Impending Return by Divulging a Potential Area of Concern: 'You Just Can't Throw a Guy out There and Think It's Just Going to Be Smooth'
With each passing game, the Golden State Warriors look more and more like a legitimate championship contender. Entering the week at 11-2, the Dubs sit atop the standings as the NBA's best team and have the statistics to back up their impressive record. And things have the potential to get even better as Klay Thompson continues inching closer to his return to action.
While it's easy to assume Thompson will do nothing but enhance an already-elite Warriors team, Charles Barkley is pumping the breaks. Ahead of Golden State's prime-time matchup on TNT against former Warrior Kevin Durant and the Brooklyn Nets, Chuck explained how Klay's return forces the league-leading Warriors to consider one potential downside.
The Golden State Warriors are off to an incredible start
No one was expecting the 73-9 Warriors to suddenly re-emerge and dominate the NBA. Nor were people expecting the horrendous 15-50 Warriors of 2019-20 to rear their ugly head. Chances are, expectations for Golden State were in the middle: a moderate-to-good team capable of making noise in the playoffs.
As it turns out, the 2021-22 Warriors are shockingly close to the 73-win club from 2015-16. Golden State's 11 wins have come by an average of 16.3 points, while its two losses were only by three and four points. Additionally, the Dubs are second in offensive rating and first in defensive rating. Just two other teams, the Chicago Bulls and Miami Heat, are in the top 10 of each category, yet Golden State nearly leads both.
A huge part of Golden State's success is obviously due to Stephen Curry. The two-time MVP is in the running for his third, averaging 28.1 points on 44.2% shooting. But it's not just the Steph show. Andrew Wiggins and Jordan Poole are averaging 18.0 and 17.2 points, respectively, with Damion Lee also adding 11.1 points per game. Both Wiggins and Lee have a higher shooting percentage than Curry, while Poole is leading all of them with a 2-point percentage of 58.1%.
Charles Barkley raises a concern with Klay Thompson coming back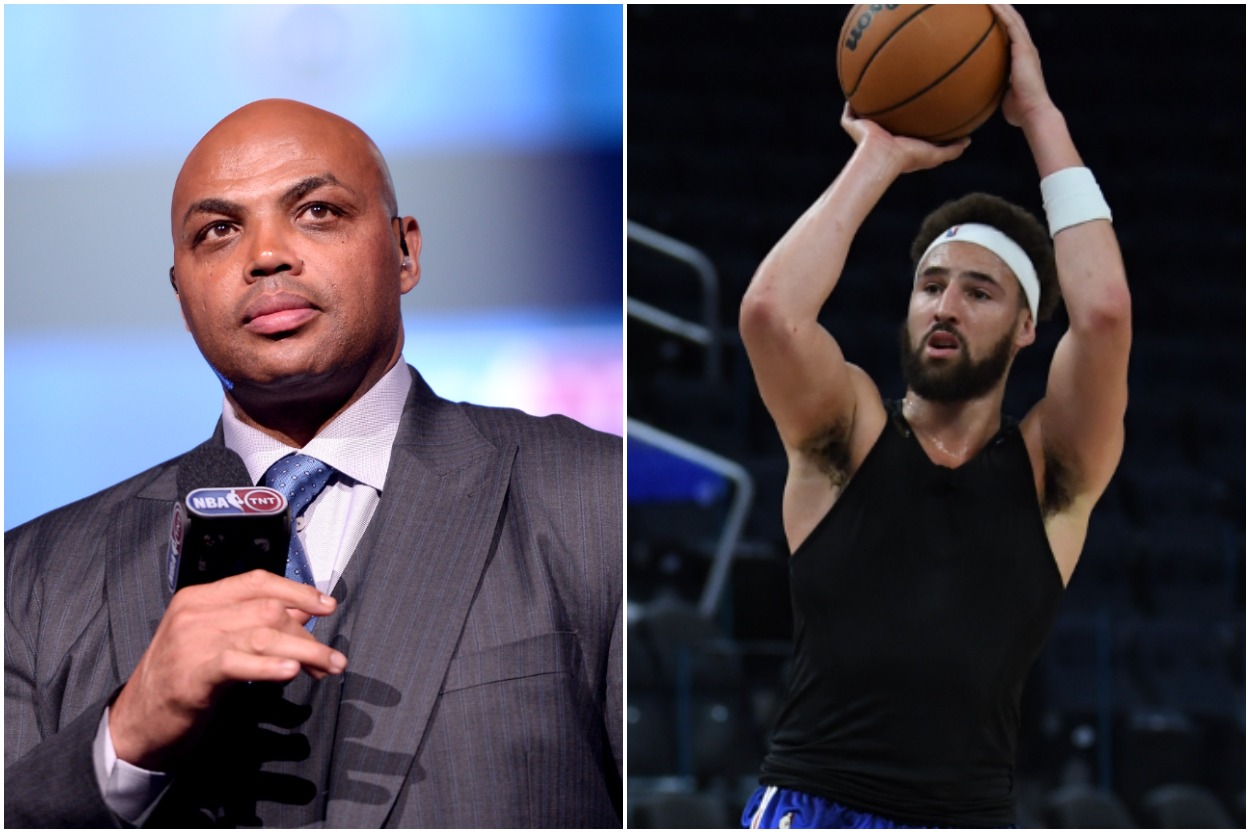 Poole and Wiggins have easily been the biggest beneficiaries of Thompson starting the year on the shelf. The two shooters have started all 13 games alongside Curry, Draymond Green, and Kevon Looney. They're making the most of the opportunity, each taking over 14 shots a night and averaging around 30 minutes of action.
In a discussion about the Warriors before their matchup against the Nets, Barkley pointed out how Thompson's return will undoubtedly affect the rest of the team, particularly Wiggins and Poole.
"It's going to be an adjustment period to try to figure it out," Barkley said during NBA Tip-Off on TNT. "Right now, all those guys you were mentioning, they're getting their extra seven shots a game. When Klay comes back, those numbers are going to go down because Klay is going to be shooting those shots. … And that's an adjustment for a team. I'm not saying worse or better, I'm just saying there's a huge adjustment."
"I'm looking forward to seeing when Klay comes back to see the adjustments that everybody on the team is going to have to make," Barkley later added. "I mean it's going to be an adjustment. You just can't throw a guy out there and think it's just going to be smooth."
What will Klay's role be when he returns?
Barkley's concern is valid. Wiggins and Poole are both thriving, making it difficult for head coach Steve Kerr to shake up a starting lineup that's gone 11-2 to open the year.
How much would Klay's return throw off Golden State's balance, at least in the early going? It may be more of an adjustment on his end than previously believed.
At 31 years old, Klay is no spring chicken by NBA standards. His last game came in June 2019 during the NBA Finals. And now he's had to recover from two major leg injuries. With all the time off and with the emergence of several younger players, it would be surprising to see Thompson waltz back into the starting lineup and take 18 shots in 34 minutes a night.
With Thompson still a few weeks away, Poole and Wiggins will have even more time to grow their roles in the offense. When Klay finally returns, the Warriors will need to decide how quickly they want to incorporate him back into the fold.
All statistics courtesy of Basketball Reference.