Charles Barkley Recounted What It Was Like Going out With Michael Jordan and Tiger Woods in Their Heyday: 'Thank God I Never Been as Big as Those Guys'
Some athletes are famous, and some athletes are famous. Charles Barkley has always been in front of the camera. He cemented his celebrity status decades ago. But he's the first person to admit he's not Michael Jordan or Tiger Woods famous.
Chuck has been friends with both MJ and Woods at different points in his life. He's more than used to the limelight himself, but he said he's never seen anything like the way people acted when they ran into Jordan or Tiger.
And he thanked his lucky stars he'll never have to.
Michael Jordan and Tiger Woods are two of the most famous athletes in history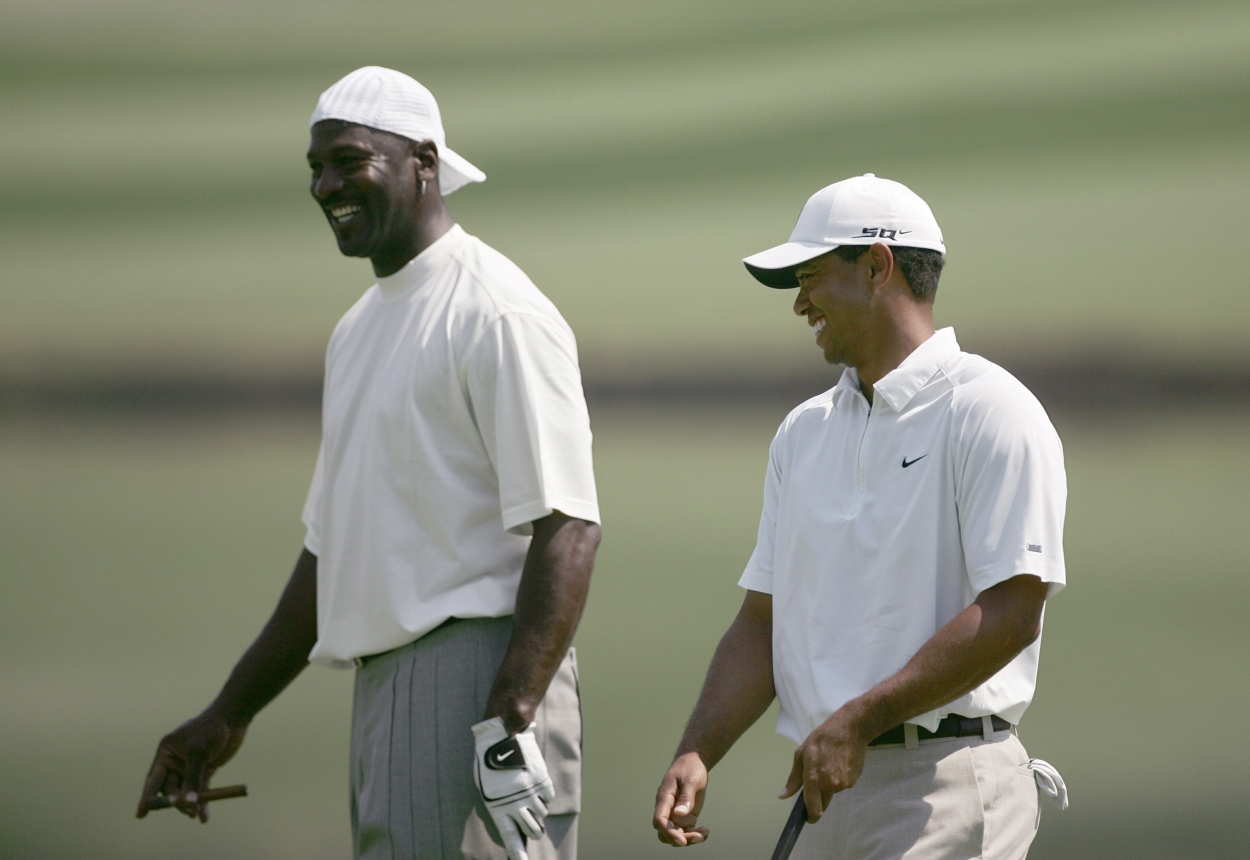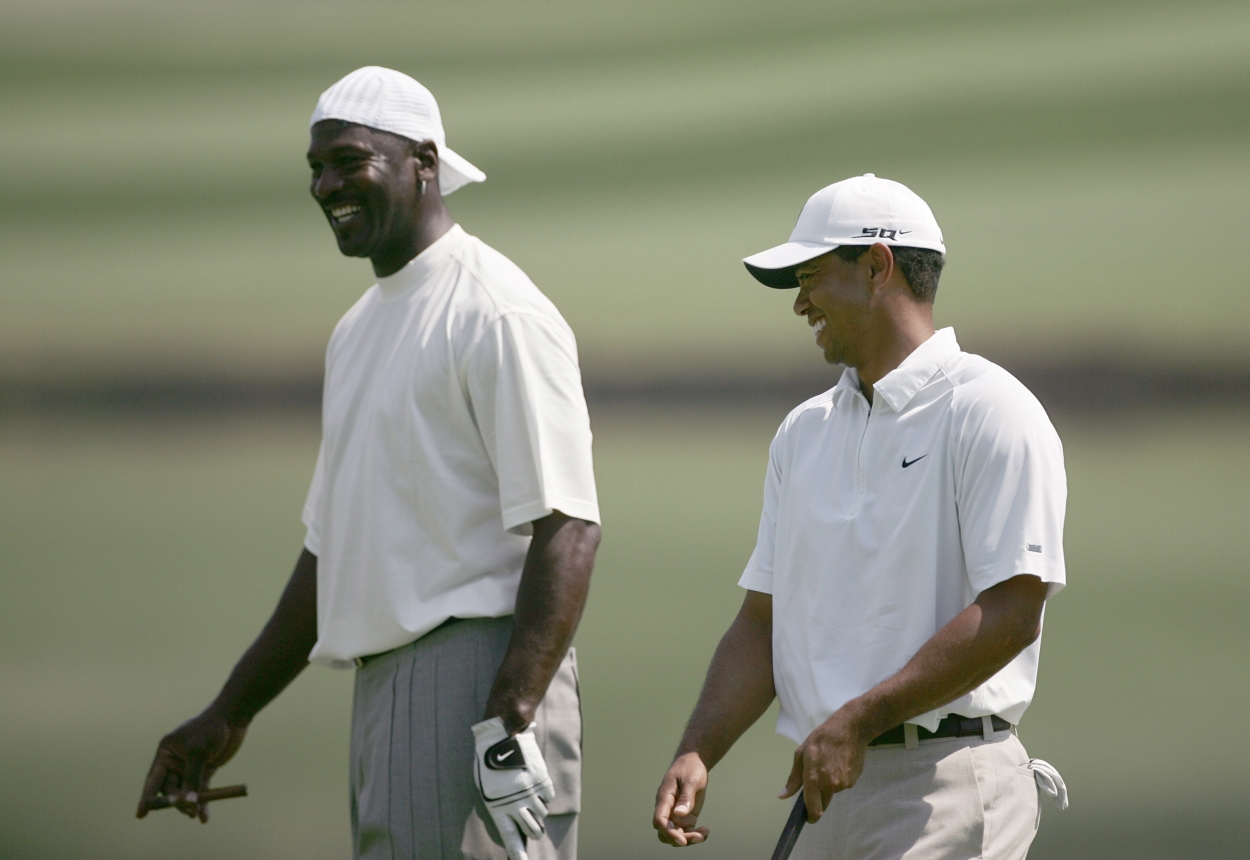 Nobody topped His Airness in terms of celebrity status in the 1990s. Everything about Jordan was copied and admired — the baggy shorts, the hands-on-knees pose, the gum chewing, the turnaround fadeaway — everything down to the sweatband on his arm and the shoes on his feet.
He even made a minor league baseball team front-page news. He played basketball alongside Bugs Bunny, Daffy Duck, and Bill Murray.
MJ had endorsement deals with Nike, Hanes, Gatorade, Coca-Cola, McDonald's, and Wheaties. According to Biography.com, he started a charity golf tournament that has featured Wayne Gretzky, Michael Phelps, Chevy Chase, Samuel L. Jackson, and Mark Wahlberg,
Woods may have stolen top billing from MJ in the late '90s and into the 2000s. While Jordan had the shoes, the wristband, and the poses, Tiger had the fist pump and the red shirt/black pants combo on Sundays at a major.
Woods burst onto the national scene as a 21-year-old when he won the 1997 Masters. He won another 13 majors and was named the PGA Player of the Year 10 times.
Basketball was a famous sport before MJ. Tiger took golf to another level all on his own.
Charles Barkley said he's never seen a celebrity swarmed by fans the way Jordan and Tiger were
The Round Mound of Rebound has been around some famous people during his lifetime. He was part of the 1992 Dream Team — members of that squad have mentioned feeling like The Beatles whenever they arrived somewhere. Since Chuck loves to talk and never holds back, he was one of the most recognized players on that team full of world-famous celebrities.
But he said in an interview on The Dan Patrick Show his status is nothing compared to Jordan's and Woods':
"I've been close with Michael and Tiger at some point. … Listen, I've been around everybody to a certain degree, but I will say this: Michael Jordan and Tiger Woods are the only two athletes I've ever been around where people absolutely lose their mind.

"When Michael was in his heyday and Tiger's always been Tiger, those the only two guys I've ever been around … Like people get excited when you're around other guys, but people absolutely – when Michael was in his heyday, and same thing with Tiger, people just stop and stare. It was crazy. It was amazing and crazy. Thank God I never been as big as those guys."

Charles Barkley on the fame surrounding Michael Jordan and Tiger Woods
Barkley, ironically, is now in the spotlight more than MJ and Tiger but is glad he'll never be as famous
Jordan is still around as the majority governor of the Charlotte Hornets. The Last Dance documentary brought him back into the spotlight as well. But he's faded far from the level of fame he had during the height of the Chicago Bulls' championship run.
Woods had a disappointing and controversial few years off the course, and back injuries have all but ended his career on it. His 2019 Masters win catapulted him onto the scene in an epic way, but he's drifted off into the background now as well.
Barkley is a mainstay on the NBA on TNT show, where his gift for gab has served him well. The 11-time all-star can always be counted on for a hot take and a good quote.
But he'll never approach the level of fame Jordan and Tiger once did, and he seems to be totally content with it.
RELATED: Michael Jordan Left an Unforgettable Impression on Allen Iverson With His Cigar-Smoking Power Move Ahead of the 2003 NBA All-Star Game: 'Man — You Run Everything'