Charles Barkley's NBA 'Nemesis' Might Come as a Surprise: 'You Could Not Stop That Guy'
Charles Barkley had to bring his A-game every time he squared off against Kevin McHale.
Charles Barkley's outspoken attitude fostered several individual rivalries with his peers. He also played in the same era as numerous NBA Hall of Famers, making for heated on-court battles.
Barkley fought with former Detroit Pistons center Bill Laimbeer. He competed against Michael Jordan, whom he has repeatedly hailed as the GOAT. Chuck also had his battles with Larry Bird, though the Round Mound of Rebound went with a different Boston Celtics great as the biggest thorn in his side.
Charles Barkley came into the NBA at the tail end of the Boston Celtics-Philadelphia 76ers rivalry
The Boston Celtics and Philadelphia 76ers have one of the most iconic rivalries in NBA history, one that stretches back to Bill Russell and WIlt Chamberlain. Charles Barkley came into the NBA toward the end of the rivalry.
Philadelphia met Boston in the Eastern Conference Finals three consecutive times between 1980 and 1982. The Sixers got the better of the Celtics in 1980 and 1982 but lost to the Los Angeles Lakers in the Finals on both occasions. The C's, meanwhile, hoisted the Larry O'Brien Trophy after beating the 76ers and Houston Rockets in 1981.
The two teams would not face off in the playoffs again until 1985, Barkley's rookie season. Boston handily defeated Philly in five games to get back to the Finals for a second straight time. That marked the final playoff showdown between the Celtics and Sixers in the 1980s, though the early battles between the heralded franchises prompted Larry Bird to call the Sixers his greatest rival.
Barkley might not have experienced a ton of postseason basketball against the Celtics. But his 76ers still played in the same division as Boston, meaning he saw plenty of Hall of Fame power forward Kevin McHale. Chuck hated every bit of it.
Charles Barkley called Kevin McHale his "nemesis"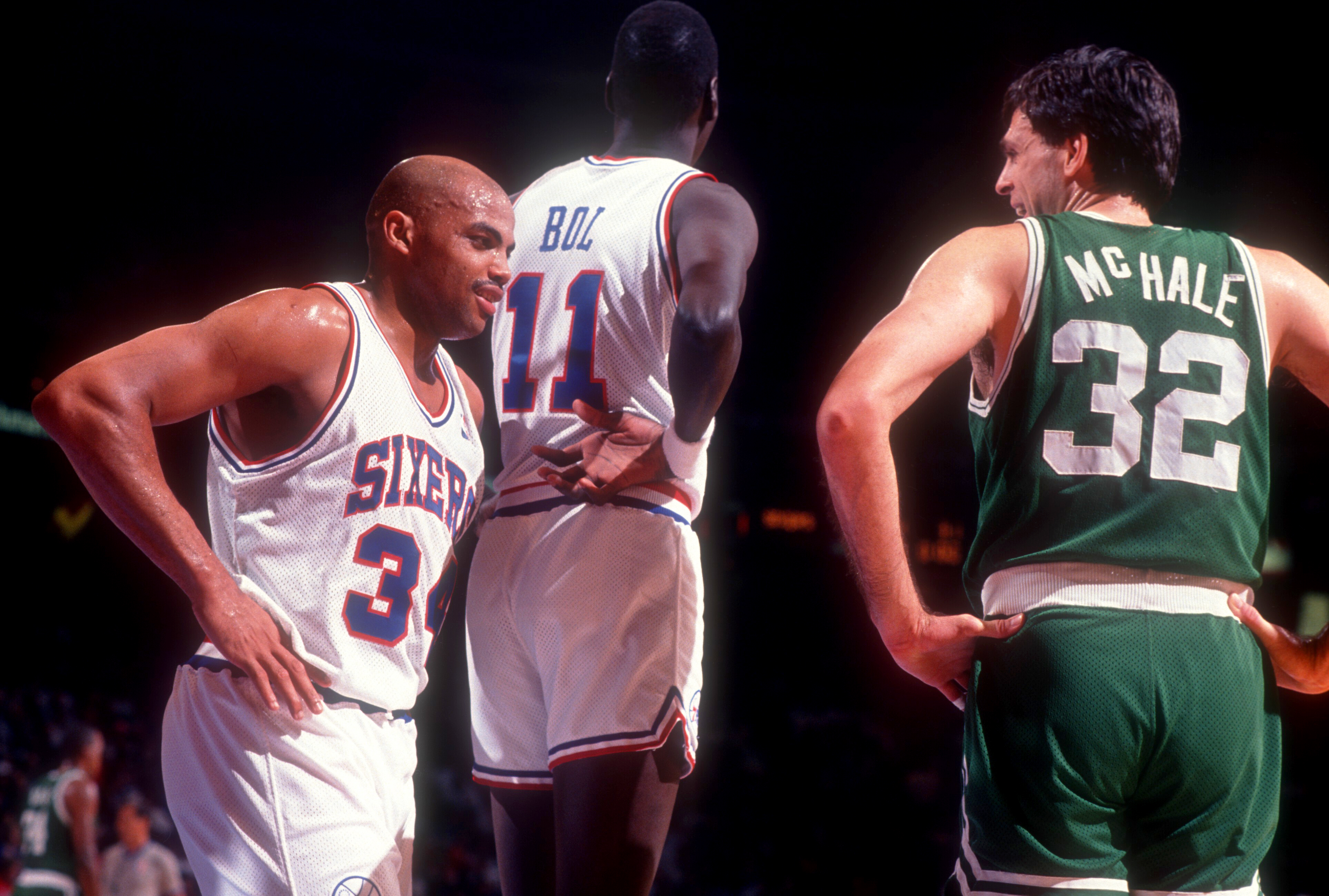 Chuck loathed every matchup with the Boston Celtics because he knew he had his work cut out against Kevin McHale. Barkley said the Celtics legend is the best player he ever played against.
During the "My Generation" episode of NBA TV's Open Court series (h/t YouTube), Barkley detailed why he regarded McHale as his "nemesis."
"You could not stop [McHale]. I've always said you could not stop that guy. And on the other end, I had to use every ounce of energy I did to score on him. … Kevin McHale was the best player I played against because he was unstoppable offensively and he gave me nightmares on defense."

–Charles Barkley, Open Court "My Generation"
McHale had some of the best post footwork of any power forward in NBA history. He dominated on the block as a guy who could turn over either shoulder and knock down jumpers, also befuddling defenders with nifty fakes and up-and-under moves.
Additionally, the two-time Sixth Man of the Year made six All-Defensive teams, including three All-Defensive First Team selections. He averaged 1.7 blocks in 13 seasons and masterfully contested shots at the rim while showing no fear in being physical.
Indeed, McHale gave Barkley plenty of problems, especially early in Sir Charles' career.
McHale put up tremendous numbers against Barkley
When simply looking at the head-to-head matchups, it appears as though Barkley fared well against McHale.
Chuck averaged 22.7 points, 9.7 rebounds, and 3.6 assists on 54.9% shooting, while McHale averaged 20.3 points, 7.5 rebounds, and 2.7 assists on 58.4% shooting. However, that includes the final few seasons of McHale's career, when a foot injury took its toll.
The first few seasons of Barkley's career amplify McHale's dominance over Chuck. The Celtics great averaged 21.2 points, 11.2 rebounds, and 3.6 blocks in the 1985 Eastern Conference Finals. On the other hand, Barkley averaged 14.0 points and 11.2 rebounds on an uncharacteristically low (for him) 46.8% shooting clip.
Sir Charles emerged as an All-Star-caliber talent in his sophomore campaign, averaging 20.0 points, 12.8 rebounds, 3.9 assists, 2.2 steals, and 1.6 blocks. But in six games against the Celtics, Chuck averaged just 16.3 points on 36.7% shooting. Alternatively, McHale averaged 23.6 points on close to 55% shooting while racking up just over two blocks per contest.
What about the 1986-87 campaign, when Barkley made his first All-Star team? He averaged 20.0 points, 13.3 rebounds, and 5.2 assists on 57.9% shooting in six games against the Celtics. Strong numbers, right? Well, McHale averaged 27.2 points on 62.1% shooting against Philly that season.
In short, McHale offered a young Barkley a measuring stick and the toughest test of his career.
Stats courtesy of Basketball Reference.