Charles Leclerc, Carlos Sainz Jr. Get 'Crazy,' Insanely Competitive with Formula 1 Chess Club
The fast-paced, glamorous lifestyles of Formula 1 drivers can, at times, be slow and boring. It's during the downtimes that Ferrari teammates Charles Leclerc and Carlos Sainz Jr. got "crazy" and formed a bond off the track.
A digital connection to an old pastime helped the duo pass time during long flights between F1 events and waste time during rain delays like the lengthy one during the 2021 Belgian Grand Prix.
Except sometimes, things got a little intense when they engaged in a rough-and-tumble chess match, a real Ferrari feud.
Formula 1 drivers Charles Leclerc, Carlos Sainz Jr. have bonded over intense games of chess 
Autosport captured the teammates trash-talking each other over their new rivalry.
"Today, we played on the plane, and it was 2-2," Sainz said to Leclerc in an Autosport video. "And you didn't want to play the last one. So if anything … I had the upper hand."
Leclerc didn't share the same recollection of the event. "No, no," Leclerc said. "Remember Spa?"
What about Spa? Sainz said his concentration was laser-focused on the race, so the outcome didn't count. You know, like an exhibition.
Sainz takes his chess app seriously. Some call it his new obsession.
For Leclerc, chess has been a lifelong pleasure. "I've always been into it," he said.
But for Sainz, his introduction to chess came via Leclerc.
"I think it was during all the media days at the beginning of the year, we didn't know what to do, and I was playing chess, and he saw me and said 'OK, I'm downloading this,' " Leclerc said.
Sainz is proving to be a quick study.
Lando Norris: 'He (Sainz) freaking loves his chess with Charles (Leclerc)'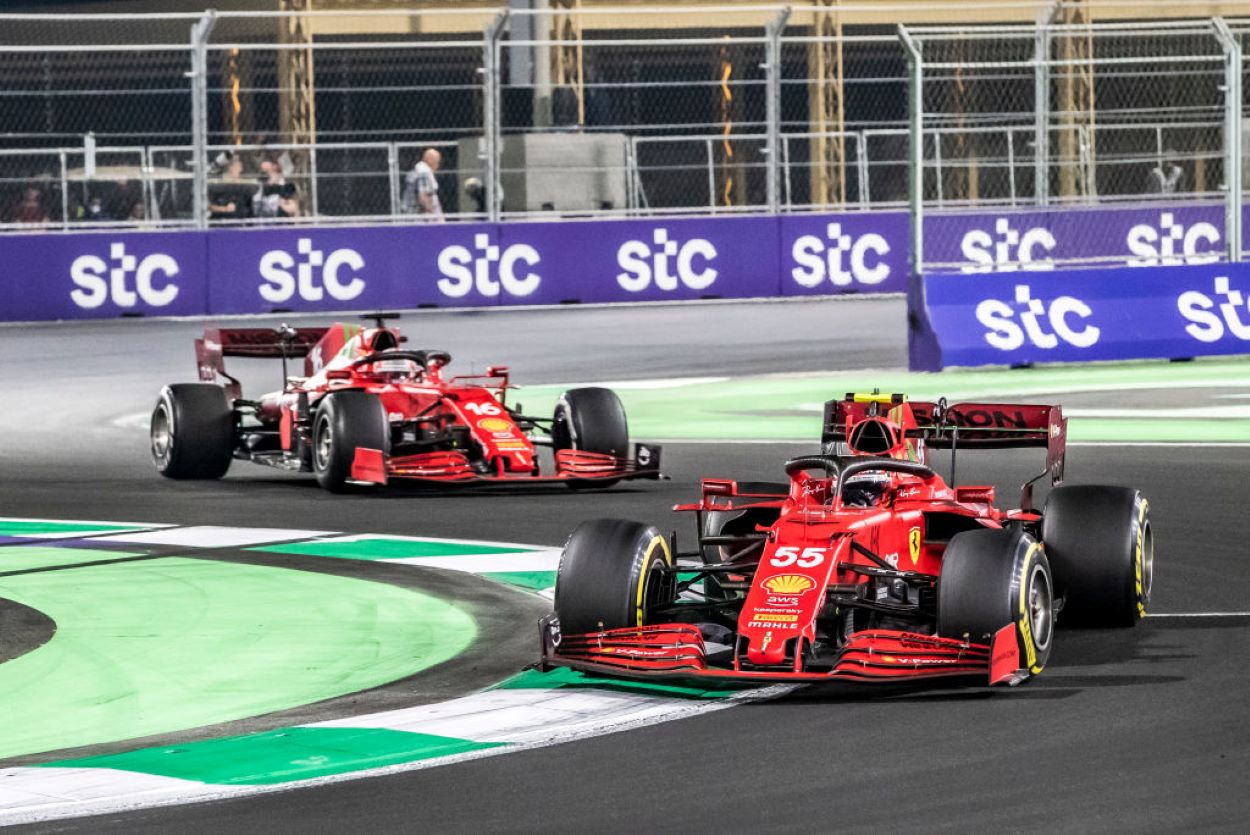 Digital chess is an activity that helps Leclerc and Sainz scale back some of the pressures that come with driving F1. 
Led by consistent runs of the two drivers, Ferrari placed third in the 2021 constructors' standings, behind eight-time defending champion Mercedes and Red Bull Racing. Sainz finished fifth in the drivers' race with 164.5 points; Leclerc seventh with 159 points. 
Next season the duo is planning to come in out of the shadows. 
With new cars coming to F1 next season, Sainz said more organizations would have a better opportunity to compete with the powerhouse franchises, like Mercedes. Sainz said in identical machines, 2021 world champion Max Verstappen and seven-time champ Lewis Hamilton are beatable. 
Like Sainz's former McLaren teammate, Lando Norris is in chess. 
"He freaking loves his chess with Charles," Norris said. "I think I might have beaten him in the first game – then I just quit! … 
"He was playing like hours and hours of it, him and Charles. I never knew he played before." 
Formula 1 chess club is growing to other drivers and organizations 
When the 2022 F1 schedule was released, both Leclerc and Sainz likely took a moment to scan when they could resume their chess grudge matches.
"We got quite crazy with it in the first part of the year," Leclerc said. "We played against each other, and we've never stopped."
Other drivers could be interested in joining the chess club. 
Second-year Haas driver Mick Schumacher, who is attempting to rebound from a mixed rookie season, plays whenever he can, but, according to Autosport, he has yet to faceoff against either driver from Ferrari. 
That time may come. If it does and it's similar to the Ferrari matchups, it will be "crazy." 
Like Sportscasting on Facebook. Follow us on Twitter @sportscasting19.