Charles Oakley Inexplicably Throws Patrick Ewing Under the Bus: 'Patrick Played the Way He Wanted to Play'
The New York Knicks of the 1990s were tough. Gritty. Tenacious. Even a little violent. Between dominant big man Patrick Ewing, the powerful Charles Oakley, and the scrappy John Starks, few teams in NBA history were as difficult to play as the Knicks.
It's been close to three decades since one of the greatest eras in New York basketball. But history also remembers the Knicks as a team who in the end failed to capture the Larry O'Brien Trophy.
Oakley, during a recent appearance on The Dan LeBatard Show with Stugotz, talked at length about his old club while promoting his new book The Last Enforcer: Outrageous Stories From the Life and Times of One of the NBA's Fiercest Competitors. When the subject of Ewing came up, Oak threw his teammate under the bus and cited him as the reason New York ultimately fell short of winning a title.
The 90s Knicks were dominant, but they couldn't quite get over the hump
For a franchise that's been around since the NBA's inception, the Knicks have only had two successful chapters. The first was in the early 1970s, when Walt Frazier and Willis Reed helped bring two titles ('70 and '73) in four years to the Big Apple. The second was a stretch from 1988 through 2001, highlighted by 14 consecutive playoff appearances and two trips to the Finals.
Ewing was the focal point of the Knicks since joining the team as the top pick in 1985. The 7-footer made 11 All-Star teams across 15 seasons in NYC, along with seven All-NBA and three All-Defense teams. But there was also Oakley, who averaged a double-double from 1988 through '98, and Starks, who averaged more than 12.5 points in all but one of his eight years in blue.
Between that trio, key role players like Anthony Mason and Charles Smith, and a Hall of Fame coach in Pat Riley, the Knicks consistently made the postseason. But every time, New York's season ended in a loss.
Oftentimes, it was Michael Jordan's Chicago Bulls who ended the Knicks' year early. MJ eliminated the Knicks five times, three of which came between '91 and '93. New York also lost three playoff series' to Reggie Miller and the Indiana Pacers, all occurring between '95 and '00.
New York's best opportunity to win a title came in 1994. After finishing the season at 57-25, the Knicks cruised past the New Jersey Nets before eliminating the Jordan-less Bulls in seven games. Then, they took down the Pacers in seven to reach their first NBA Finals since 1973. But Hakeem Olajuwon and the Houston Rockets prevailed in a thrilling seven-game series.
Charles Oakley holds Patrick Ewing responsible for the Knicks coming up short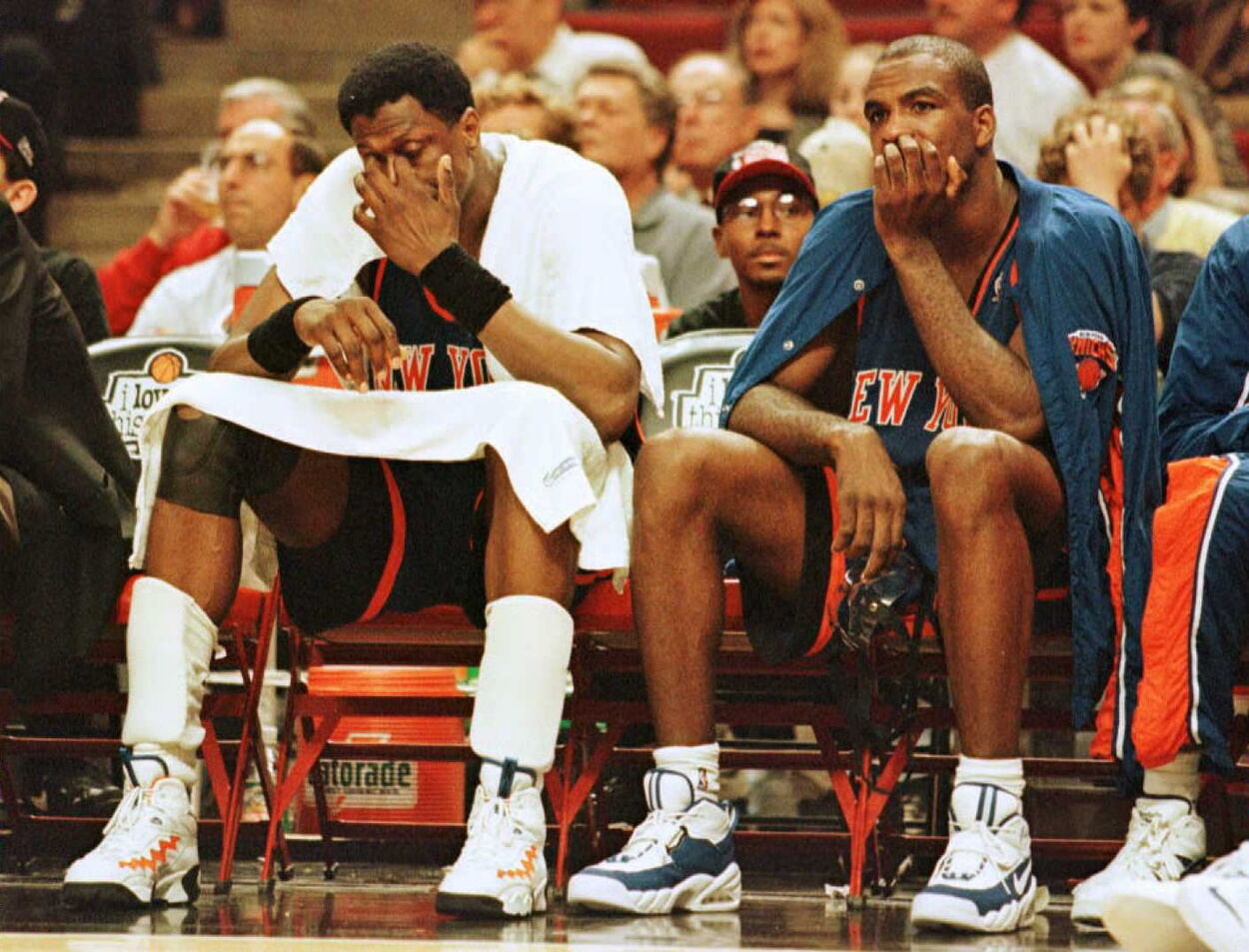 Oakley has been making the rounds due to his new book. From his early days playing alongside a young MJ to his rivalry with Charles Barkley, Oak isn't holding anything back. Now, he's going after his longtime teammate Ewing.
The 58-year-old was pressed by The Dan LeBatard Show with Stugotz about previous quotes he told CBS Sports about Ewing. According to LeBatard, Oakley once said, "The 90's Knicks were held back by Patrick Ewing. He could never put us on his back like he should have because every [sign of] adversity, he ducked away from."
Surprisingly, Oakley confirmed his previous statement and further explained how Big Pat cost the Knicks a chance at a title:
"You gotta be a guy with the IQ to know that when you get double-teamed, you're supposed to pass the ball out. And I just learned [that from] playing against Hakeem Olajuwon in the Finals and over the years playing basketball. But that's how we lost to Houston in the Finals. Because we'd double-team Hakeem and he'd pass the ball out to Sam Cassell [and he'd] hit a three, [or] Mario Elie [would] hit a three, but the ball moving made bodies move. … Patrick played the way he wanted to play."

Charles Oakley
Oakley also appeared on The Ariel Helwani Show to talk Ewing, saying how he and his teammates had a hard time respecting him during their time together in the Big Apple.
"If a guy has to question six or seven things out of 10 against your leader, that's not good," Oakley told Helwani. "He [Ewing] was hard to deal with, hard to play with. A lot of guys might not say that on-air, but they say it behind his back."
Oakley's beef with Ewing looks more personal than anything
There are some who believe Ewing did in fact hold the Knicks back from reaching their full potential. Longtime NBA writer Bill Simmons even popularized the "Ewing Theory", which speculates that Ewing's teams (both the Knicks and Georgetown Hoyas) played better when the big man was either injured or sitting for long stretches.
However, it's hard to agree with Oakley's sentiment that the Hoya Destroya somehow made the Knicks worse off.
Yes, Ewing needed the ball in his hands. But that's because he was undoubtedly New York's best player. From his first game in 1985 to his final appearance with the team in 2000, the Knicks had just four other players make a single All-Star Game: Oakley, Starks, Mark Jackson, and Allan Houston.
Now in Oakley's defense, Ewing didn't play well in the '94 Finals. The big man led the team with 18.9 points and 12.4 rebounds per game, but shot an atrocious 36.3% from the field with only 1.7 assists.
Yet New York could've still won the title if Starks didn't go 2-of-18 from the field and 0-of-11 from three in its six-point loss in Game 7.
"It's different now because coaches used to get the stat sheets. Now the players get the stat sheets. So you know who's doing what," Oakley told LeBatard when asked about Starks' historically-bad performance. "We didn't know because we were in the heat of the battle and the game is close, so you don't feel like anybody is playing bad."
Starks' Game 7 may live in infamy for many fans, but Oakley still places the blame on Ewing. Even though most of it is far from deserved.
All statistics courtesy of Basketball Reference.
RELATED: Patrick Ewing Began His New York Knicks Career With 3 Fights in 6 Games: 'I'm Blamed for Everything That Happens'