Charles Oakley Once Kicked Dennis Rodman out of His Steakhouse for Eating off Other People's Plates: 'Don't You Ever Come Around Me Again'
Charles Oakley played for five different teams during his NBA career, most notably the Chicago Bulls and New York Knicks, and he brought an intensity many of his peers couldn't match. But Dennis Rodman was just as fierce.
Oakley crossed paths with Rodman plenty of times on the court. However, they also occasionally ran into each other off it. And there was one occasion when Oak had to kick The Worm out of his steakhouse because Dennis was scarfing down food that wasn't his to eat.
Charles Oakley shares epic NBA stories in his new book
Charles Oakley recently released his new book, The Last Enforcer, in which he discussed anything from his friend Michael Jordan to LeBron James and Charles Barkley. And due to the rough-and-tough era he played in, he added many eyebrow-raising stories.
"Since I got out of the league, you go through ups and downs and find what you wanna do; I did a lot of different things," Oakley said on the Feb. 2 episode of The Draymond Green Show. "I always said, 'I want to do a book.' And that was about 10 years ago. … I just wanted to show people something about me, my ins and outs, 18 years on the court."
Oakley didn't just play in the NBA for close to two decades. He dominated defensively during a time when Jordan was king and the Eastern Conference title ran through Chicago.
But once he left the Bulls and faced off against those championship-winning squads while with the Knicks, he often went against fellow power forward Dennis Rodman.
While talking to Green, Oakley said he has plenty of Rodman stories in his book, including one about the time he kicked him out of his steakhouse.
Charles Oakley kicked Dennis Rodman out of his steakhouse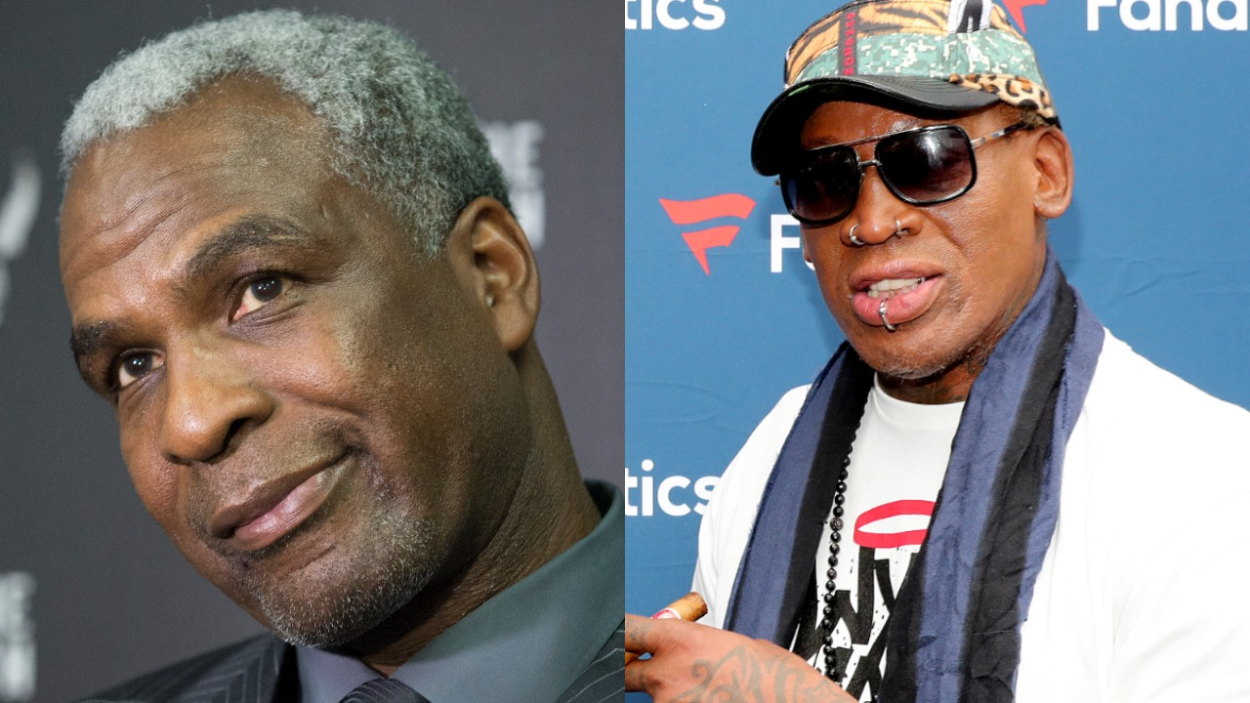 While talking to Draymond Green, Charles Oakley discussed a story he added to his book in which he and Dennis Rodman made an appearance at a Miami event together.
Oakley said he and Rodman agreed to meet at his steakhouse a few hours after it ended. But as the former New York big man made a quick stop before heading there, he got a call from his restaurant's manager.
"[The manager said], 'Oak, get here.' I said, 'What's going on?'" Oakley recalled.
He said his manager told him that Rodman was eating off people's plates.
"I get around there; I look through the shades, I look through the window; he was just (eating), next table (eating some more)," Oakley said while making eating gestures. "… I went straight to him, 'Hey, Dennis, what you doing?' He said, 'I'm just relaxing and trying to entertain.'"
Obviously, that answer was not enough for Oakley. He proceeded to throw Rodman out of his establishment.
"I said, 'Don't you ever come around me again in life,'" Oakley said. "… I guess he was just trying to be funny. But no; this is a high established business. You don't do that, Dennis."
It appears Oakley and Rodman don't have a relationship off the court anymore, but the former still has massive respect for what The Worm did on the hardwood.
The two power forwards were intense rebounders and defenders
Despite having his differences with Dennis Rodman, Charles Oakley still appreciates what he did on the court.
Oakley was relentless on the boards, averaging 9.5 for his career and as many as 13.1 in 1986-87. But Rodman was on another level, recording 13.1 per game for his career. He also led the league in rebounds per game in seven different seasons and averaged as many as 18.7 in 1991-92. Dennis took rebounding seriously, and sometimes even appeared to find enjoyment in not scoring. The Worm, who won five championships with the Bulls and Detroit Pistons, was also a two-time All-Star, two-time Defensive Player of the Year, and eight-time All-Defensive Team honoree.
"I gave him respect because we played the same position, we know how hard it is to play that position. And you're not demanding the ball every game; you gotta stop the other team to get the ball. He was one of the best to do that," Oakley said.
On the court, Charles Oakley and Dennis Rodman were similar. Off the court, it appears they couldn't be more different. Either way, they are both legends who helped their respective teams have a lot of success.
Sportscasting reached out to Dennis Rodman's representation for comment but had not heard back at the time of publication.
Stats courtesy of Basketball Reference
RELATED: Dennis Rodman Once Gave Post Malone a Lame (but Thoughtful) Christmas Gift: 'You Didn't Have to Do That'