Charlie Morton's Horrifying Game 1 Injury Puts Intense Pressure on Braves Manager Brian Snitker
While the Atlanta Braves successfully stole a crucial World Series game on the road against the Houston Astros, they still suffered a substantial loss. They lost top-of-the-rotation starting pitcher Charlie Morton to a broken leg.
To the immense credit of Morton, the 37-year-old right-hander actually managed to record another handful of outs before exiting the game a third of the way through the third inning. Morton suffered his injury early in the second inning, finishing his Game 1 start with 2.1 innings pitched, three strikeouts, and zero runs allowed.
The Braves bullpen was able to pick Morton up during their Game 1 victory, only allowing the Astros to score two runs across 6.2 innings of work. However, that doesn't mean Morton's injury won't create further problems for Atlanta down the road.
Charlie Morton was a key piece to the Braves' success
Most of the hype surrounding the Braves this season has been about their stunning trade deadline. They acquired outfielders Eddie Rosario, Jorge Soler, Adam Duvall, and Joc Pederson for a bag of baseballs. All four have played huge roles in getting Atlanta to the World Series.
Soler and Duvall both homered in Game 1, and Rosario recorded two hits. They're making their presence felt.
However, one of the Braves' most underrated additions in 2021 dates all the way back to the offseason. They jumped to sign Morton to a free agent contract once the Tampa Bay Rays let him hit the open market.
Morton recorded a 3.34 ERA over 33 regular-season starts for Atlanta this past season and a 3.24 ERA across four postseason starts. Needless to say, the decision to pay up for Morton last winter was an excellent one.
Braves manager Brian Snitker needs to get creative
The loss of Morton hurts Atlanta in two significant ways. First, they've already taxed their bullpen more than manager Brian Snitker would prefer.
The Braves burned through four different relievers in Game 1 due to Morton's premature exit. It essentially turned into a bullpen game for Atlanta, which is never how you want to kick off a potentially seven-game series.
Second, the Braves are now down one of their best starting pitchers. They were presumably counting on Morton to make two starts during the World Series, potentially being available out of the bullpen in Game 7 should the series go the distance.
Morton has established himself as a big-game pitcher throughout his 14-year MLB career. His presence is one the Braves will surely miss.
Expect another bullpen game or two this World Series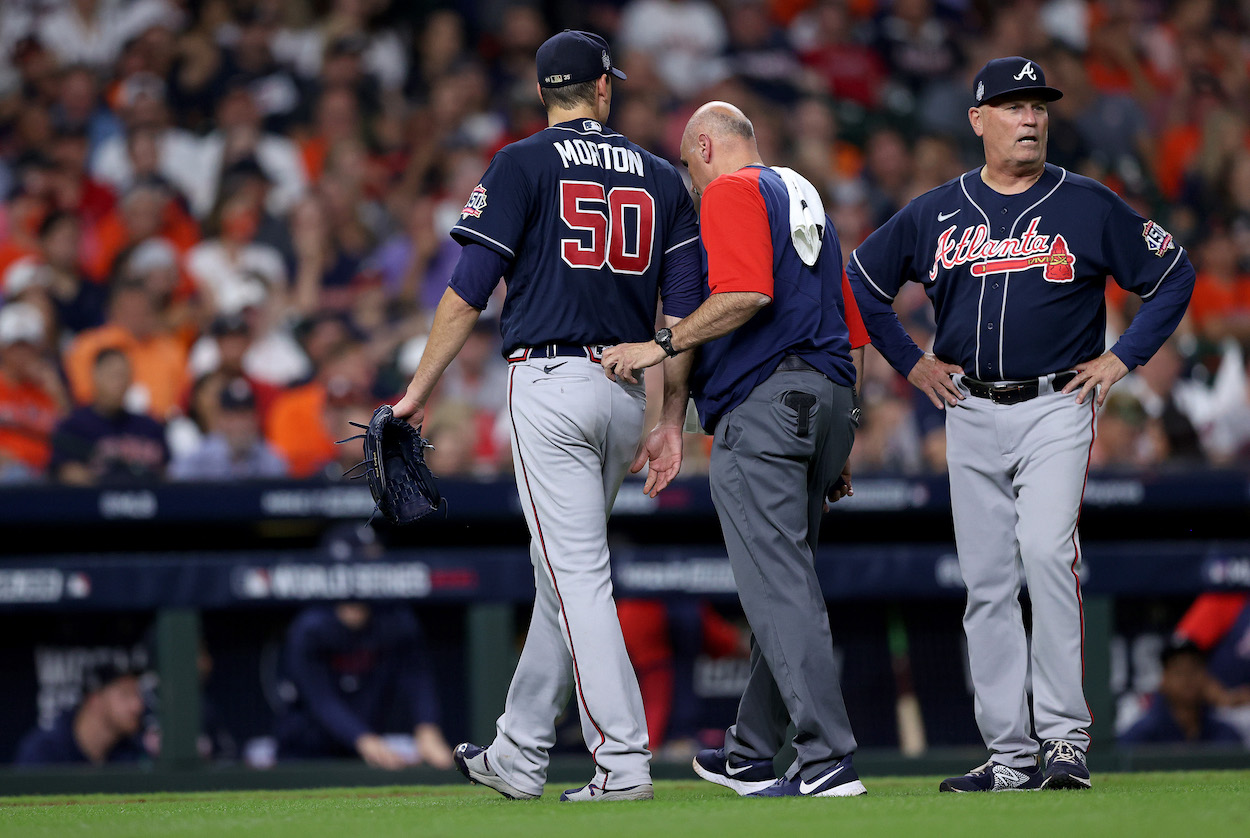 The Braves still have Max Fried and Ian Anderson in the starting rotation. However, after that, it's a bit of a toss-up as to who can start games for Snitker this World Series.
Drew Smyly or Kyle Wright could be in line for a brief starting appearance later in the series. CBS Sports' R.J. Anderson went a step further and suggested the Braves call up rookie Spencer Strider. Either way, Snitker and the Braves will have to lean on their creative side to fill innings moving forward.
Morton pitching on a broken leg was wildly heroic, and he's firmly entrenched himself in Atlanta Braves' lore. However, his loss will hurt, and it very well could be the opening Houston needs to claw back into the series.
All stats courtesy of Baseball Reference.
RELATED: Astros Slugger Yordan Alvarez Just Joined Carlos Correa in Icon Territory Thanks to a Massive Game 5 Performance