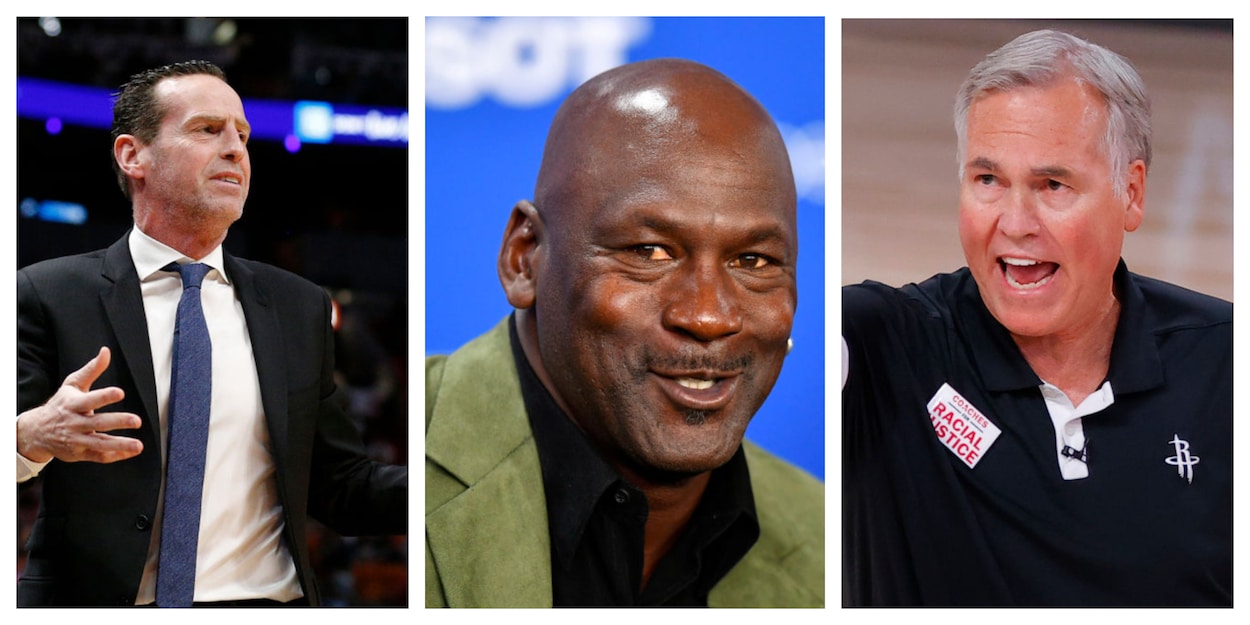 Charlotte Hornets: Michael Jordan Can Start to Salvage His Awful Ownership Reputation With 2 Meetings This Week
Michael Jordan doesn't have the best reputation as an NBA owner, but he can start to turn things around by hiring the right coach.
As a basketball player, Michael Jordan's reputation is second-to-none. While you could argue that he was a bit of a jerk during his time on the hardwood, His Airness dominated the competition and took home just about every piece of silverware imaginable. Since taking control of the Charlotte Hornets, though, things took a turn for the worst.
During his time as the team's governor, Jordan has been unable to lead the franchise to glory. That can all change, however, when he meets with head coaching candidates Kenny Atkinson and Mike D'Antoni. If MJ gets this decision right, he could finally begin to improve his front office reputation.
Michael Jordan will meet with Kenny Atkinson and Mike D'Antoni this week as he looks to fill the Hornets' head coaching vacancy
Earlier this offseason, the Hornets made headlines by parting ways with James Borrego. Jordan was reportedly the driving force behind that decision. Now, he's playing an active role in filling that vacancy.
"Two finalists will meet with Michael Jordan this week," Adrian Wojnarowski reported in an NBA Today clip played on ESPN's Keyshawn, JWill and Max. "Mike D'Antoni, the former Rockets, most recently the Rockets head coach and, of course, Kenny Atkinson, the Golden State assistant. Atkinson will meet with Michael Jordan on Tuesday, I'm told. Mike D'Antoni later in the week. Charlotte will pick their coach from one of those two."
While both candidates are theoretically in the hunt, Jay Williams sounded a bit more excited about one particular option.
"The thought of Mike D'Antoni opening up Pandora's box for LaMelo Ball gets me really excited," the former guard explained. "I gotta be honest, there are some teams I'm like, 'Ahh, Mike D'Antoni's not a good fit there.' But, in Charlotte, for the way LaMelo Ball plays, this year averaging 20 points, seven and a half assists per game, he's a willing passer, he gives you hockey assists. He's a prolific scorer. The way he can open up the offense and speed up the tempo of the game, I'm trying to tell you, I'm getting my popcorn ready.
In fairness to Atkinson, though, he's also known as a good developmental coach who can earn the buy-in and respect of his players. While his rotation habits could limit Ball's contributions, that probably wouldn't be a deal-breaker. Atkinson's Hornets might be less exciting than D'Antoni's, but they'd likely improve defensively and make good use of a talented, athletic roster.
Whichever candidate he chooses, this decision is a make-or-break choice for MJ's ownership reputation
As somewhat laid out above, Jordan finds himself in a pretty solid position. While each coach will bring different priorities to the table, both Atkinson and D'Antoni should improve the Hornets. With that being said, though, His Airness needs to get this decision right.
The NBA legend first bought into the Hornets (then Bobcats) in 2006 and took full control of the franchise in 2010. No matter which one of those starting dates we use, though, the team hasn't exactly thrived. Charlotte has reached the postseason three times during that stretch, never making it past the first round.
Beyond the pure record — to be clear, Jordan does bear some of the responsibility there — his reputation simply proceeds him at this point. A quick Google search will give you plenty of content ripping Jordan's ownership resume. In 2012, for example, Ross Read of Bleacher Report wrote that "Michael Jordan might be the NBA's worst owner ever." The Arkansas Democrat-Gazette expressed a similar sentiment in April 2022, saying that MJ "has failed as an NBA owner."
As any sports fan can tell you, a single good decision isn't enough to save an executive's legacy. That's certainly true for Jordan. Hiring the right coach won't undo years of damage. With that being said, though, it's easy to see how this could be a turning point.
While the Hornets don't have an elite roster, there's certainly some talent there. If we assume that either D'Antoni or Atkinson will both help LaMelo Ball develop and improve the team's overall fortunes, the Hornets will have a little something-something. Reaching the Play-In Tournament in back-to-back seasons suggests there's a foundation there.
Should the club build on it, Jordan will have to get some credit. He landed Ball, even if it was through the team's poor performances, and, in this scenario, hired the coach that pulled the team together.
Will that make MJ the greatest governor that the Association has ever seen? Of course not, but a journey of 1,000 miles begins with a single step.
Like Sportscasting on Facebook. Follow us on Twitter @sportscasting19 and subscribe to our YouTube channel.