Chase Briscoe Earns NASCAR National Series Rookie of the Year Trifecta
NASCAR Cup Series driver Chase Briscoe earned rookie of the year honors. It's one of the industry's worst-kept secrets if one at all.
With Day 2 of Champion's Week festivities raging in Nashville, Tennessee, an end-of-the-season debate continues: Was there a rookie-of-the-year race?
Technically, yes, but with only two drivers and when one compiles a 29-7 mark in head-to-head matchups, well, Briscoe cruised to an easy win, capping NASCAR'S version of the Triple Crown.
NASCAR Cup Series' ROY Chase Briscoe pilots No. 14 Ford to three top 10s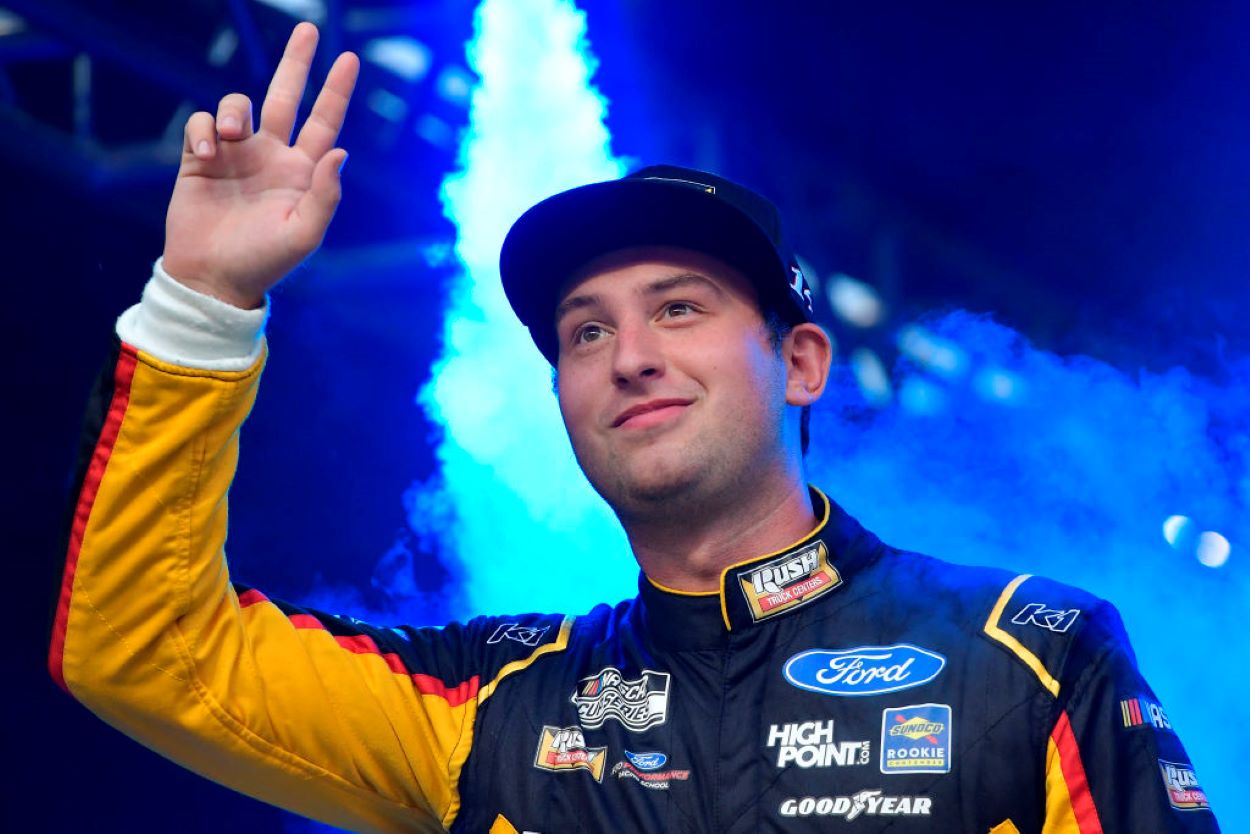 Slated to be honored during the Cup series awards show on Dec. 2 (televised on Dec. 4), Briscoe took advantage of the seat he earned when Clint Bowyer retired following the 2020 season.
Briscoe's rookie award completes his national series triple play. He also earned the first-year driver honor on the Xfinity Series in 2019 and Camping World Truck Series in 2017. He is just the third driver to accomplish the feat, matching William Byron and Erik Jones.
Piloting the No. 14 Ford for Stewart-Haas Racing last season, Briscoe, who turns 27 on Dec. 15, earned three top-10 finishes. His average start was 22.19, and his finish was 19.64.
His best effort was the non-points All-Star Open. He placed fourth after starting ninth. His top points runs were a pair of sixth-place finishes at the Circuit of the Americas and Road America, ranking 23rd in the points race.
Anthony Alfredo finished a distance second in the two-driver ROY race
Regarding the two-person race for rookie of the year honors, Anthony Alfredo recorded just one top 10 and placed 30th in the driver standings with 352 points. His nine DNFs were only surpassed by Quin Houff's 10.
Alfredo led five laps, 2,576 behind Cup Series champion Kyle Larson.
It didn't take long for Front Row Motorsports to make a move after the season ended.
Two days after the Championship 4 race on Nov. 7, Alfredo was relieved of his ride and is currently seeking to "explore other options."
Briscoe learns to handle added responsibility with growing family
Throughout his rookie season, Briscoe learned the nuances of competing at stock-car racing's highest level. The time and commitment need to be at the highest level.
"There's such a higher time commitment than anything I'm used to," Briscoe told forbes.com. "So just trying to figure out how to try to maximize each of those sponsors and letting them maximize me as much as they can, I would say was something that I learned a lot this year."
For Briscoe, more life-altering experiences were developing off the track. Last month, his wife, Marissa, gave birth to a healthy son, Brooks Wayne Cunningham Briscoe.
Move over dad, Brooks is the real rookie of the year.