Chase Elliott's Darlington Paint Scheme Will Pay Tribute to the Driver Who Beat His Father to the 1992 Cup Series Championship
In what is still considered NASCAR's greatest-ever championship chase, Alan Kulwicki held off Bill Elliott to win the 1992 Winston Cup by ten points. Bill's son, Chase Elliott, was not even alive to see his father lose that heartbreaking title fight. Nearly three decades later, Chase will pay tribute to the driver who denied his father a second Winston Cup.
Chase Elliott will pay a respectful tribute to Alan Kulwicki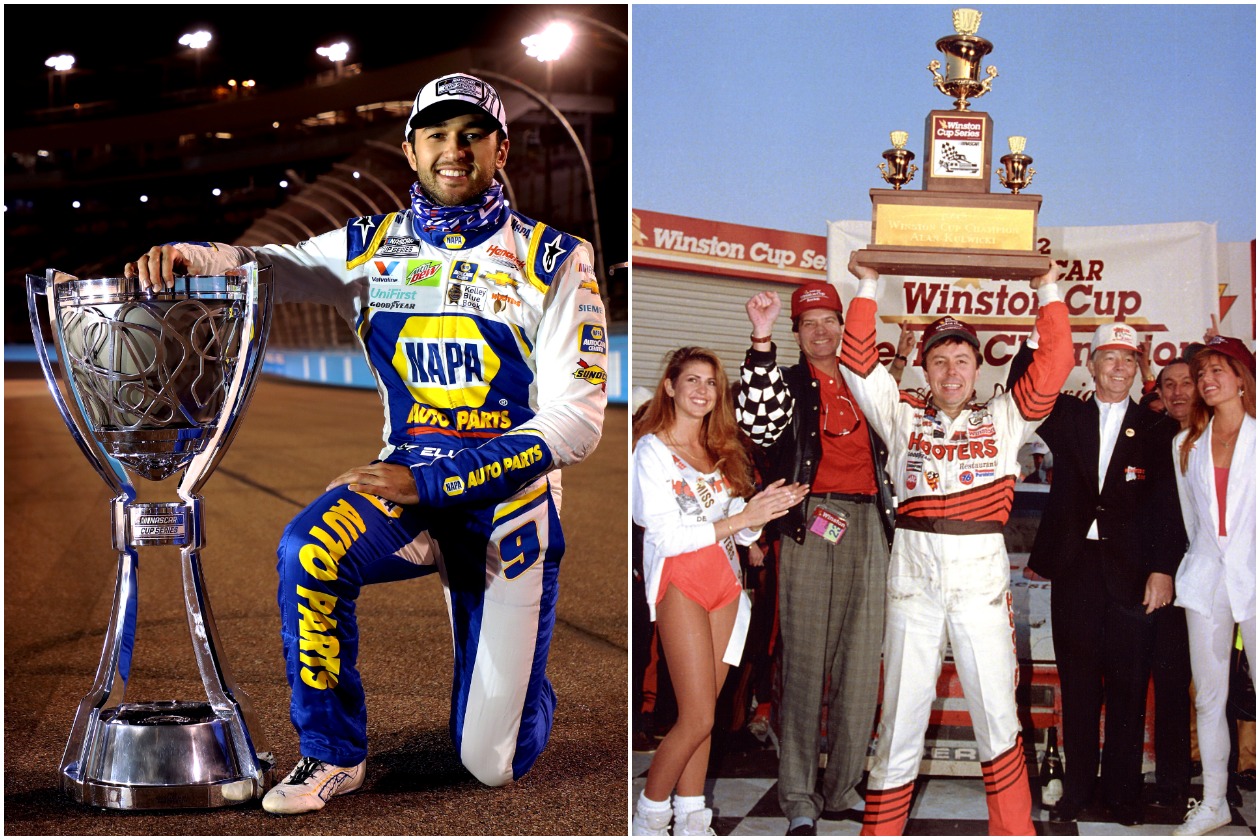 Since 2015, NASCAR's race weekend at Darlington has featured a "throwback" theme, with many of the cars running classic paint schemes. This season, "throwback weekend" takes place May 7-9, as opposed to its usual date of Labor Day weekend.
Early Tuesday morning, Chase Elliott and his sponsor, Hooters, unveiled the paint scheme that Elliott would run for the May Darlington race. It's a clear tribute to the car that the late Alan Kulwicki ran during his Winston Cup championship season of 1992. Hooters was the main sponsor for Kulwicki's car that season.
The irony here is that Chase is paying tribute to the man who denied his father a second Cup Series championship in dramatic fashion.
By sheer coincidence, not only did Hooters sponsor one of the drivers in the 1992 NASCAR championship fight; they also served as title sponsor of the season finale, the Hooters 500 at Atlanta Motor Speedway. That race has since gone down as the most historically significant NASCAR race of all time.
Alan Kulwicki beat Chase's father for the 1992 championship
Six drivers entered the Hooters 500 with a shot to win the Winston Cup. Three of them — Harry Gant, Kyle Petty, and Mark Martin — were long-shots who needed a miracle. The top three were Bill Elliott, Alan Kulwicki, and Davey Allison.
For Kulwicki to even be in the championship picture was a miracle. His team, AK Racing, was entirely self-owned, self-funded, and consisted of only 14 full-time employees. Recognizing his underdog status, Kulwicki scratched out the "TH" letters on his Ford Thunderbird race car to spell "UNDERBIRD".
Allison dropped out of the championship picture after a heartbreaking wreck midway through the race. Kulwicki's Underbird soared to the front at Atlanta and stayed there long enough to grab the bonus points for leading the most laps.
Bill Elliott won the race, but it wasn't enough to win the Winston Cup. Kulwicki finished second, just good enough to win the title by ten points. At the time, it was the closest championship finish in NASCAR history. No owner/driver would win the Cup again until Tony Stewart pulled it off in 2011.
Chase Elliott was not born until November 28, 1995 — three years and 13 days after the race. He was not alive to see his father's heartbreaking defeat.
Sadly, Kulwicki couldn't savor his success for very long. On April 1, 1993, four-and-a-half months after his greatest triumph, he and three others died in a plane crash in Tennessee. Kulwicki was on his way to Bristol Motor Speedway for the Food City 500.