Chase Elliott Executes Revenge Spin on Teammate, Wise Power 400 Winner Kyle Larson
Publicly, NASCAR Cup Series driver Kyle Larson was let off the hook.
Privately, the scheduled meeting between Larson and Chase Elliott early this week with team officials likely will not go well.
Two weeks into his new five-year contract extension, Elliott showed his displeasure with Hendrick Motorsports' other top asset.
Don't believe Larson's aggressive block of Elliott, virtually clinching the Wise Power 400, was an honest mistake.
Don't believe Elliott didn't intentionally create a smoky donut, keeping Larson from running away from the field.
Believe it; a family feud is festering between the past two Cup champions.
Chase Elliott reacts to Kyle Larson's block attempt: 'What the %$#& is he doing, man?' 
Racing to the first-place line following Alex Bowman's accident with 21 laps remaining at Auto Club Speedway on Feb. 27, a three-way fight developed between Larson, Elliott, and Joey Logano. As Larson and Logano raced side-by-side, Elliott went high to slingshot around the two leaders. 
Running the wall, Elliott appeared to have enough momentum to pass his teammate. Larson, however, aggressively turned to execute a block. He missed and contacted the No. 9 Chevrolet, sending it into the retaining wall and out of contention. 
Moments after Larson's decisive move, the generally even-keeled Elliott shouted a string of expletives over the team radio: "What the %$#& is he doing, man?"  
Larson claimed he didn't see his teammate, and spotter Tyler Monn shielded Larson. Via Twitter, Monn took the heat. 
Monn's act is commendable, but don't believe it.
Larson made a move to win a race. His teammate happened to be in the way.
Elliott feels he was 'way in there' and could have executed the double pass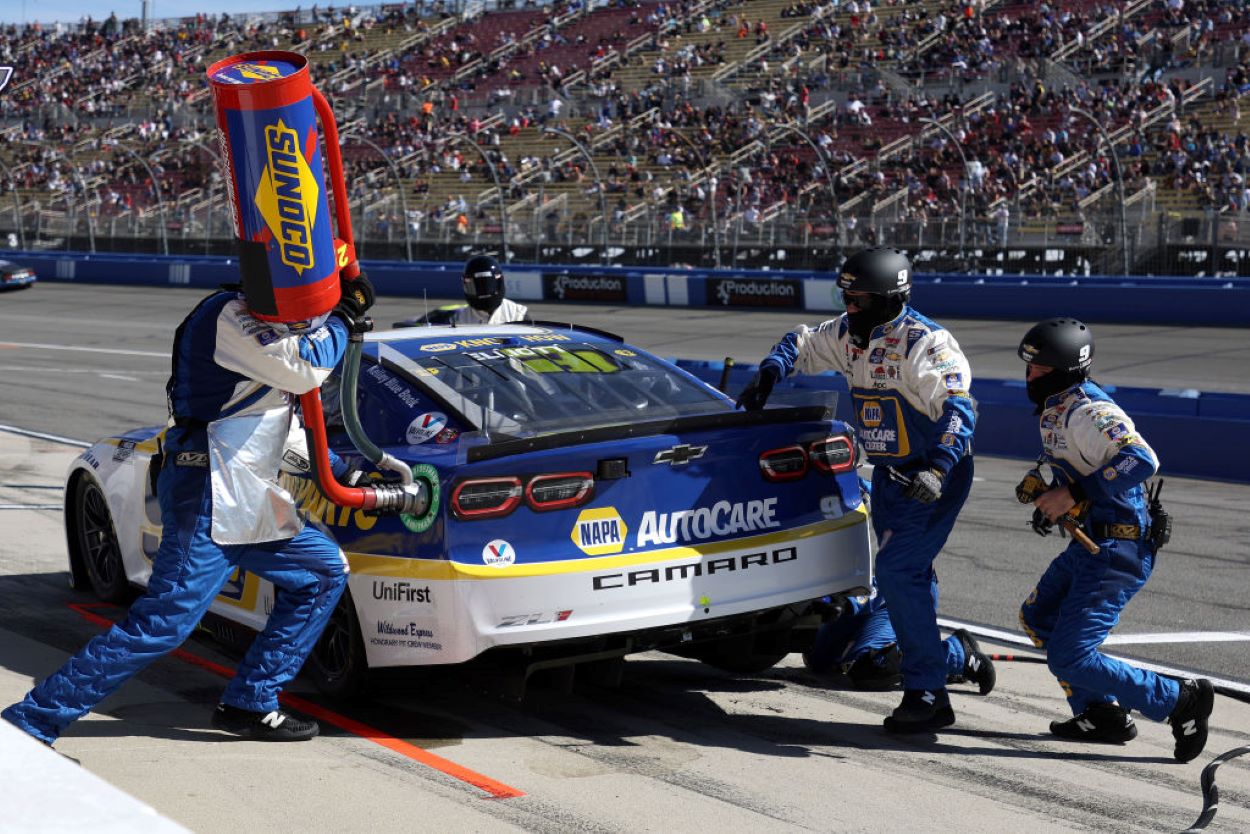 Elliott endured an eventful NASCAR weekend in Fontana, California.
About halfway through Stage 1 of the Wise Power 400, Elliott led the field early but hit the wall for the first time after losing control while racing alone. He recovered and maintained the advantage, but he dropped five spots over the next few two-mile revolutions.
Elliott also hit the wall during a wind-blown qualifying practice session a day earlier. 
Attempting to check his temper after Larson's late-race block attempt, Elliott said over his team radio: "Can somebody watch a replay to make sure I'm seeing things straight that I was way in there on that deal before I say anything I shouldn't." 
Elliott was "way in there," and Larson must have known Elliott had momentum for the double pass. His turn was too abrupt and calculated. 
Elliott doesn't believe Larson's explanation.
Elliott sends a message to Larson with a late spiteful spin 
NASCAR fans' opinions vary on Elliott's spinout with nine laps remaining. Let's call it a spiteful spin. He finished 26th because of it.
Three laps earlier, Larson pulled out to a 1.6-second advantage. Larson approached Elliott's limping ride to attempt a safe pass and put him a lap down. Generally, slower cars surrender track position. Elliott did, too, but made a point doing it. Larson came in high, and Elliott moved up for a casual block. Larson dipped down to the low side without any traffic to contend with, and Elliott briefly turned the wheel in Larson's direction.
Nothing dirty, but he delivered a message.
Nearly six miles down the road, riding by himself, Elliott suddenly lost control of the Next Gen car, igniting a smoky spinout and bringing out a caution period. It eliminated Larson's commanding lead. Larson still won, but the message was clear.
If team officials attempt to spin the incident into team unity after Elliott and Larson meet, don't believe it.
Hendrick has a family feud festering.
Like Sportscasting on Facebook. Follow us on Twitter @sportscasting19.
RELATED: Road-Weary Chase Elliott Gets Dirty in California with Kyle Larson