Chase Young Viciously Sacking Cam Newton Is His Way of Reminding Everyone He's One of the Best Young Defensive Ends in the NFL
Chase Young is one of the top young defensive ends in the NFL, and it didn't take long for him to remind everyone of this fact during the Washington Football Team's first preseason game.
Squaring off against the New England Patriots, Young came screaming off the left side of the line and viciously sacked Cam Newton. The Patriots' starting quarterback smacked shoulder first onto the grass, and the ball came loose.
Chase Young wasted little time showcasing his elite talent during the NFL preseason
While it's preseason, Young's first-quarter sack helped showcase why experts around the NFL are so high on his ability to rush the passer.
In this one rep alone, Young showcased his speed, strength, explosiveness, and ability to finish plays by forcing a turnover. The Patriots' left tackle had no chance against Young on the edge, which is saying something considering he's only 22 years old.
Newton took many hard hits during his time as the Carolina Panthers' starting QB, but this rep against Young looked to have rattled him. Newton is a large human — it's rare to see him get flattened so easily.
Chase Young established himself as a force to be reckoned with during his rookie seaosn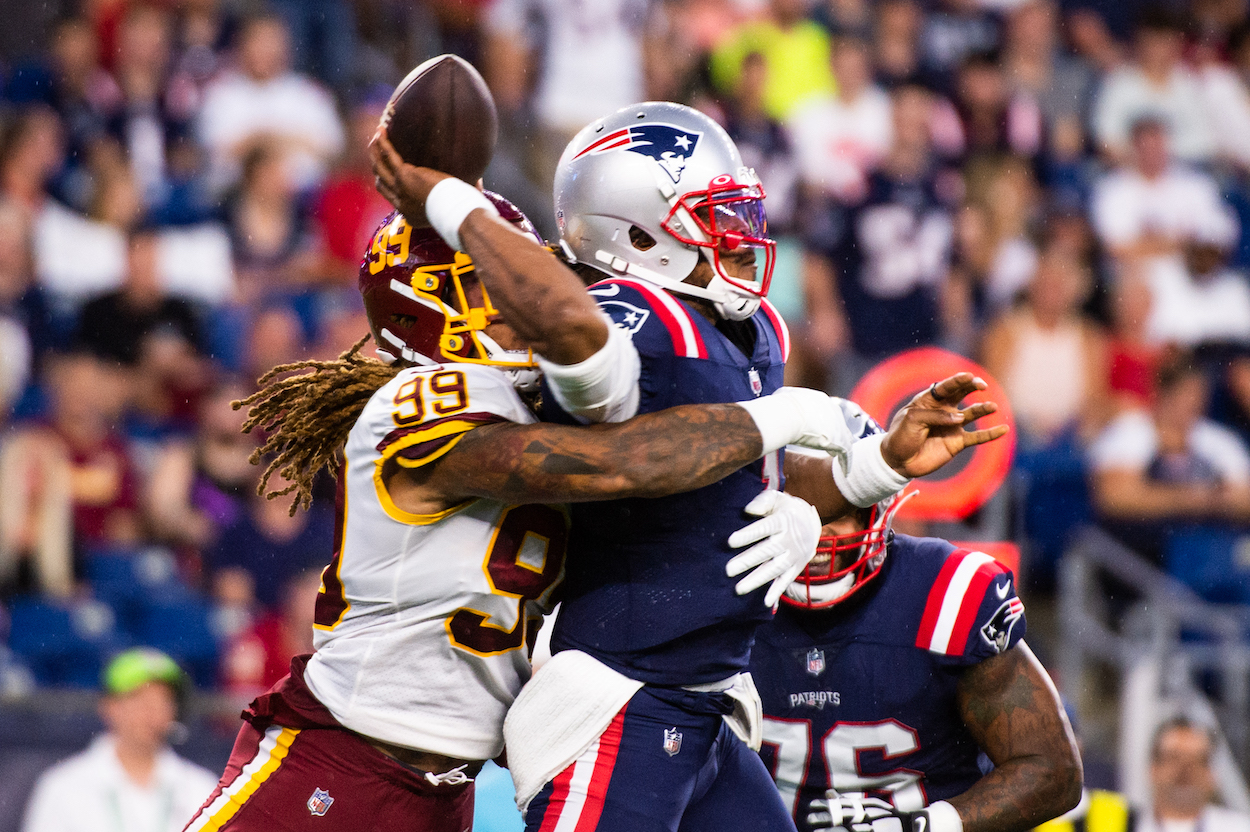 If plays like this look familiar — good, they should. The number two overall pick during the 2020 NFL Draft, Young established himself as one of the NFL's top defensive ends during his rookie season.
Young recorded 7.5 sacks, 10 tackles for a loss, and 12 quarterback hits in 15 games. Young's presence on the defensive line is one of the biggest reasons Washington won the NFC East, earning themselves an unlikely trip to the postseason.
The consensus amongst NFL analysts heading into Young's rookie season was that he was primed to impact the Football Team immediately. However, the season that he ended up logging exceeded a majority of those expectations. Outside of leading Washington to a division title, Young was named Defensive Rookie of the Year and a Pro Bowler.
The Football Team and the Patriots are both looking to crack the postseason in 2021
For Washington, their goal is pretty simple. Repeat as division winners.
Their defense — led by Ron Rivera — is exceptional and projects to improve as Young blossoms into a superstar edge rusher. If his preseason rep against Newton is an early indication of what's to come, expect a big sophomore season from the Football Team's starting edge rusher.
It's also worth highlighting that Washington took strides to improve their offense. Quarterback Ryan Fitzpatrick and wide receiver Curtis Samuel were both added via free agency,
For the Patriots, their goal is a little less clear.
Newton recaptures his MVP form in a perfect world and leads New England to the promised land while first-round rookie Mac Jones gets to watch and learn on the sideline. In a less-perfect world, Jones gets forced into action due to Newton struggling.
Regardless, one thing is certain. Young is going to be an absolute joy to watch this year. If you somehow forgot how good this kid is, here's your wake-up call.
All stats courtesy of Pro Football Reference.