Chauncey Billups' Pre-Draft Criticism of Ben Simmons Should Effectively Rule out the Portland Trail Blazers as a Destination for the Disgruntled Star: 'I Don't Even Know if I Would Take Him With the Number One Pick'
The Ben Simmons saga continues in Philadelphia. The disgruntled point guard wants to leave the Philadelphia 76ers, giving them no choice but to find a new home for the player they took first overall in 2016. One of the rumored homes is the Portland Trail Blazers, who could have an interest in pairing the guard with superstar Damian Lillard.
With the NBA season fast approaching, the Sixers would like to get a deal done soon and end the Simmons drama. But after hearing what Portland head coach Chauncey Billups had to say about Ben in 2016, it might be best to re-think discussions with the Trail Blazers.
The Portland Trail Blazers and Philadelphia 76ers have reportedly discussed Ben Simmons
In four seasons, Simmons has made three All-Star teams, two All-Defensive teams, and an All-Rookie team. He was also an All-NBA selection in 2019-20, the same season he led the NBA with 2.1 steals per game. But right now, the 6-foot-11 point guard's stock has never been lower.
Simmons was apprehensive in Philadelphia's second-round playoff series against the Atlanta Hawks. The guard, who has never been much of a shooter, attempted just 14 total shots in Games 5 through 7. Even worse, Ben attempted three shots the entire series in the fourth quarter, including none in the last four games. The one-seed Sixers dropped three of the final four games and lost the series.
The Trail Blazers, meanwhile, haven't struck the jackpot with Lillard and CJ McCollum. Portland is coming off of back-to-back first-round exits, with persisting questions on Lillard's long-term future with the team. So it's fitting that rumors would swirl about the Blazers shaking things up and inquiring about Simmons. One possible trade could see McCollum, Robert Covington, and a couple of first-round picks moving to Philly in exchange for Simmons, but the Sixers have not budged.
Trail Blazers head coach Chauncey Billups wasn't a fan of Simmons in 2016
Billups was brought in this offseason to replace Terry Stotts as head coach. While that doesn't give him the final say in any roster decisions, his opinion will surely be taken into consideration. And his opinion of Simmons back in 2016 wasn't all too complimentary.
The veteran point guard, whose NBA career ended in 2014, was a guest on The Dan Patrick Show in April 2016. The top NBA Draft prospects were a topic of discussion, particularly Simmons. When Patrick asked the five-time All-Star whether Simmons, a freshman at LSU, was a once-in-a-lifetime player worth tanking for, Billups gave a resounding answer:
"No. No, I don't think so. I don't even know if I would take him with the number one pick, right now."

Chauncey Billups
Billups, who said he would choose Brandon Ingram number one instead, wasn't entirely critical of Simmons. But he didn't see the pass-first guard as a number one option.
"I like Simmons, I really do. I think he's a basketball player," said Billups. "It's tough to be great in this league if you can't really shoot. And I know Magic [Johnson} wasn't the greatest shooter, but he's maybe one of the greatest winners of all time."
The three-time All-NBA selection also addressed some of Simmons' pre-draft comps. While he said he didn't see the Australian as a Magic or LeBron James-type player, he likened the phenom to another playmaking lefty in Lamar Odom.
"Lamar was a great player. I played with Lamar, I love Lamar," Billups said. "And that's OK if you're going to be the third or fourth-best player on the team. You know, that's fine. But Ben is labeled as 'once in a lifetime.'"
The Philadelphia 76ers are running out of options for Ben Simmons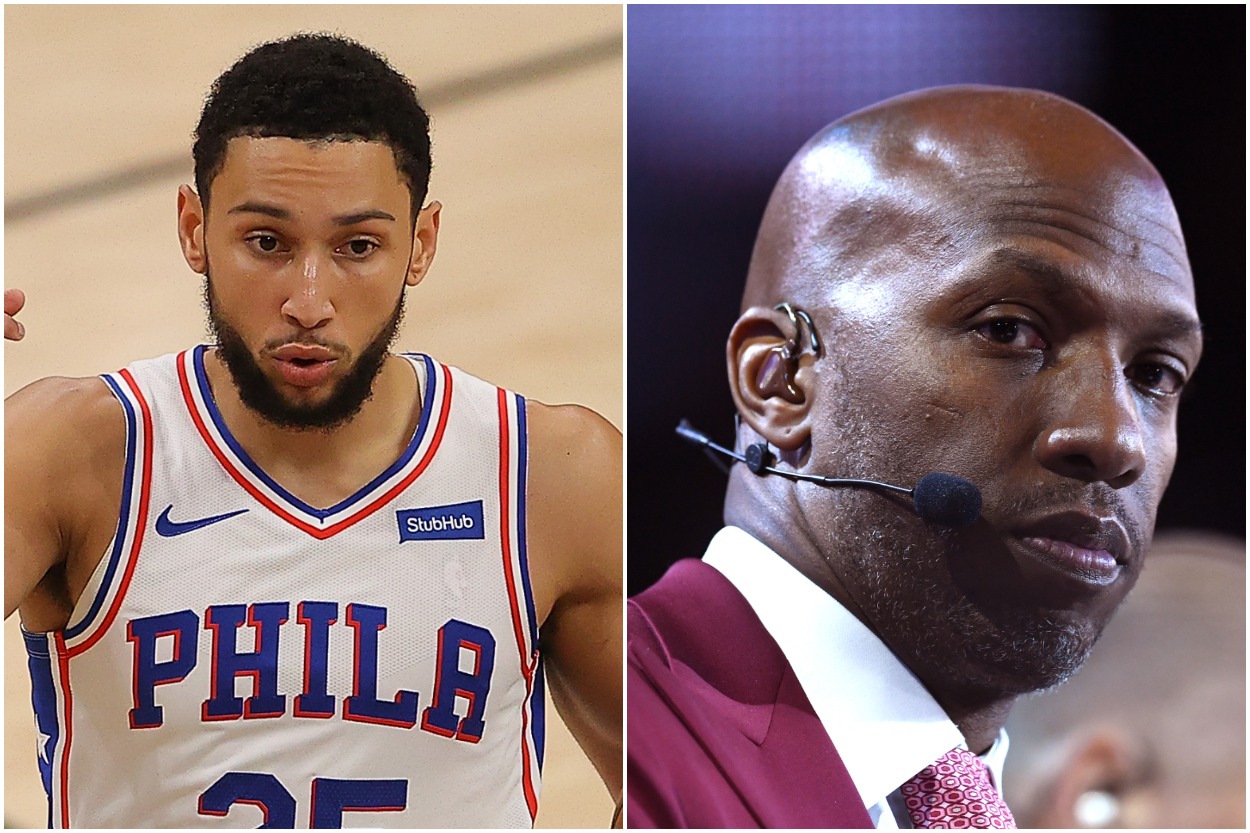 Billups didn't see Simmons as a generational player in 2016, and the guard has done nothing to dispel that five years later. Therefore, it's wise to imagine Portland being hesitant about upping their already-generous offer, an offer the Sixers have been firmly against. So who is left among potential suitors?
The Golden State Warriors were one option, but GM Bob Myers shut down any big trades happening in the future. The Minnesota Timberwolves have also been linked to Simmons, but they are hesitant to part with any of their young stars or a bevy of draft picks. The Cleveland Cavaliers and Toronto Raptors are two other potential destinations, but neither has been linked strongly enough to be considered a real threat.
Ultimately, Philadelphia may have to dramatically lower its asking price on Simmons. The 2017-18 Rookie of the Year year is prepared to sit out the whole season if he isn't traded. If that's the case, the 76ers would be severely overmatched by the Milwaukee Bucks and Brooklyn Nets in their quest to win the Eastern Conference.
The 76ers should still try everything they can to strike a deal for the disgruntled Simmons, and that includes negotiating with the Trail Blazers. But based on Billups' comments, don't expect Portland to throw in everything but the kitchen sink to get him.
All statistics courtesy of Basketball Reference.
RELATED: Charles Barkley Knows Why Philadelphia 76ers Fans Are Upset at Ben Simmons: 'They're Mad Because He's Afraid'