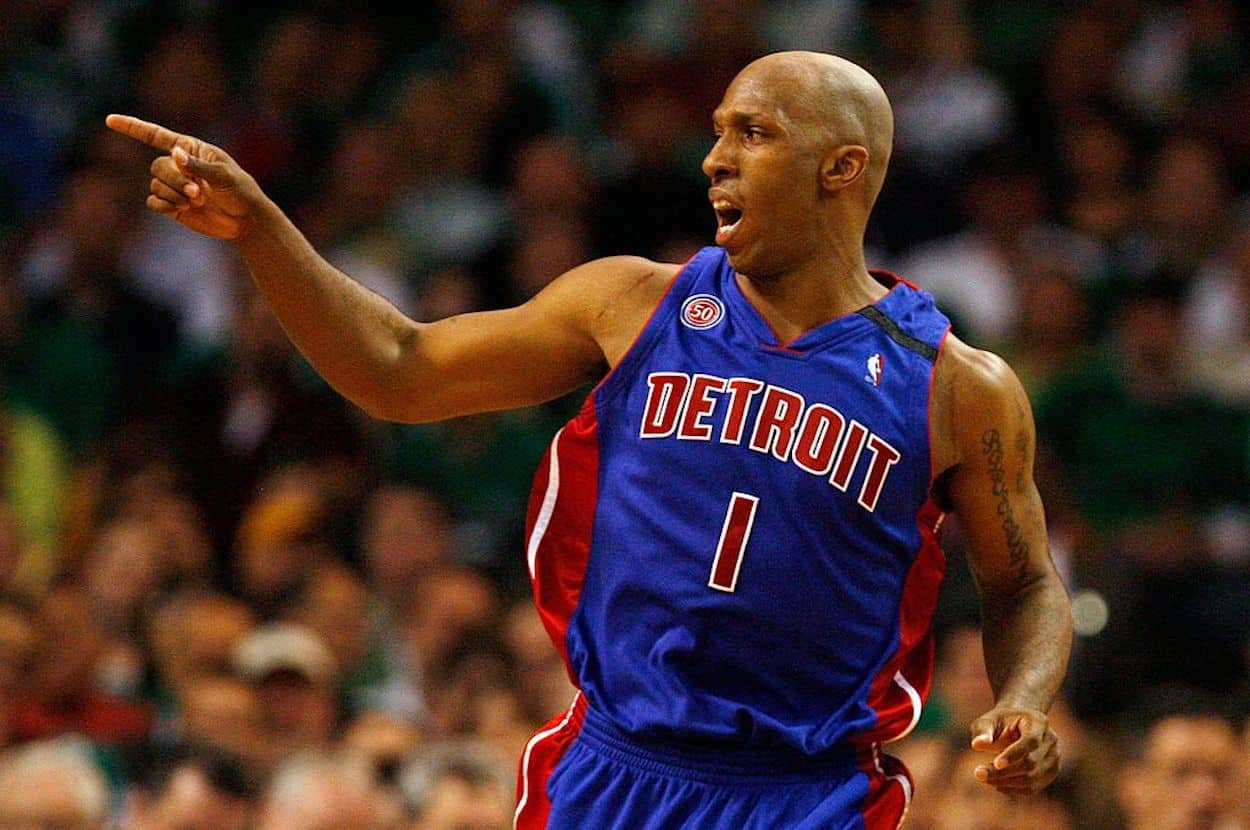 Chauncey Billups Reveals 'What Most People Really Don't Know' About the Malice at the Palace
While the Malice at the Palace is an ugly part of NBA history, Chauncey Billups' perspective still contains an important lesson.
In the world of sports, there are certain moments that immediately become part of history. While many of those are positive — think a record-setting home run or a championship-winning performance — there's also room for darker moments. As any NBA fan can tell you, the Malice at the Palace sits firmly in the latter group. No matter your rooting interests, no one will forget the images from that ill-fated Detroit Pistons-Indiana Pacers game and everything that followed.
Years later, though, Chauncey Billups offered his perspective on the All the Smoke podcast. The guard even went as far as sharing something that he believes most people don't know about that infamous night. In his mind, NBA players are a fraternity, and, had everything stayed on the court, things would have turned out much differently.
Chauncey Billups shares his take on the Malice at the Palace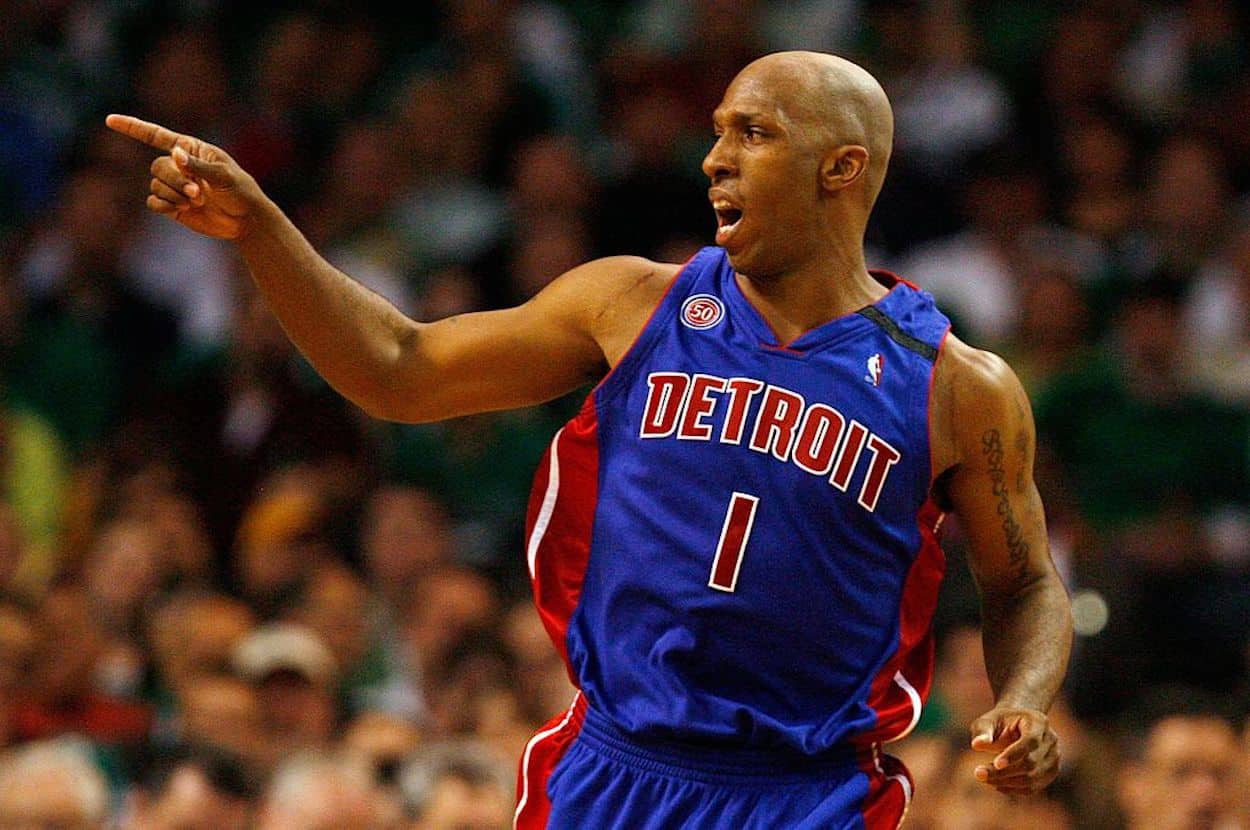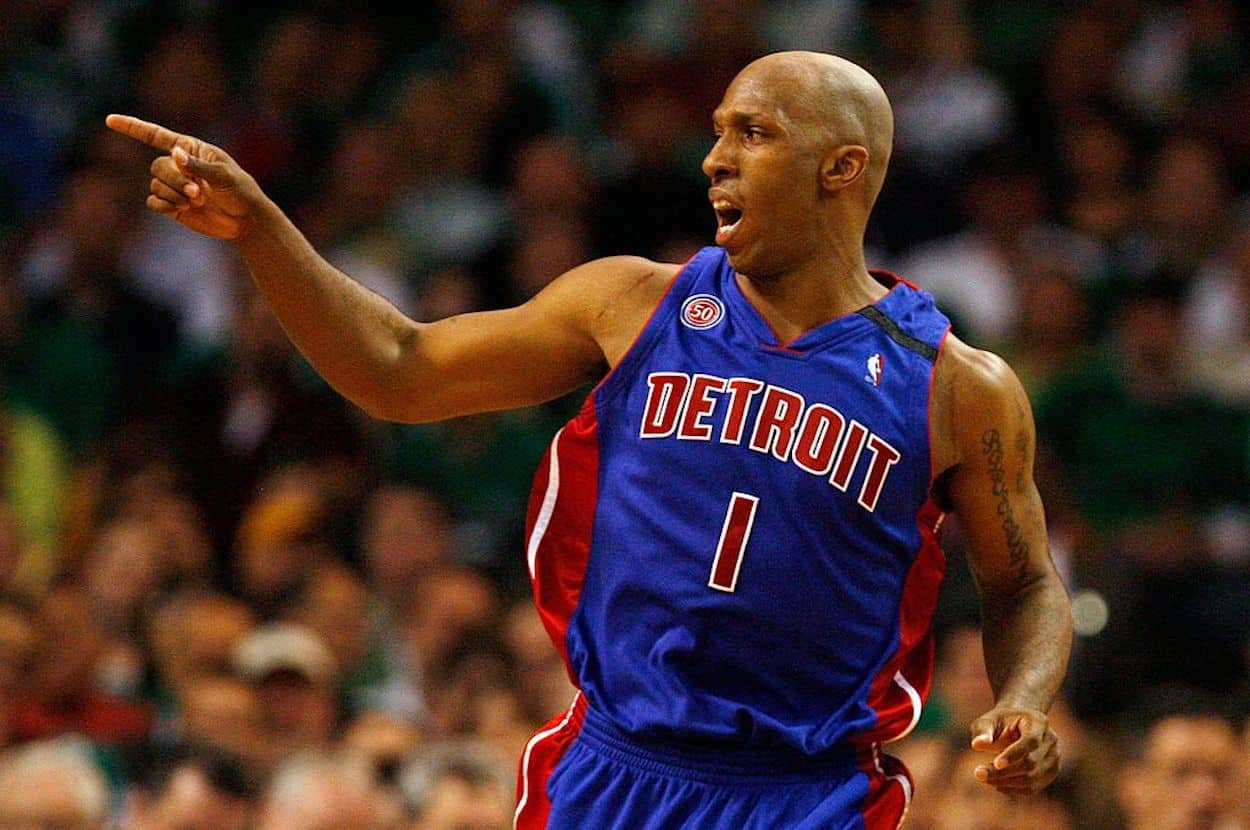 During his time on the NBA hardwood, Chauncey Billups saw plenty of basketball history unfold before his eyes. Unfortunately, the Malice at the Palace was a darker moment to witness.
During a recent appearance on the All the Smoke podcast, the guard-turned-coach took a walk down memory lane and shared his take on that infamous evening. While there were plenty of poignant details, like Larry Brown crying in the locker room "like somebody died," Billups also shared a perspective that he feels like most outside observers miss.
"I say this all the time, like, it wouldn't have," he explained. "If Ron [Artest] would have just fought the dude that wanted to fight him, it wouldn't have been no Malice at the Palace. We'da gave the people what they wanted. Just fight the dude that grabs you on your neck. If he'da just done that, we wouldn't be talking about it, we'd just be like, 'Damn, they boys got at it.' That's it, which is what the league used to be anyway. But that didn't happen."
The former Piston then went on to explain that, like it or not, NBA players are largely friends. In his mind, that means things would have taken care of themselves if everything had stayed confined to the court.
"It was really unfortunate because what most people don't know is that even though when we in a battle, it's on, but we all friends, though," Billups continued. "We all homies, though. We work out in the summer, like we all cool. So, that's what the world don't know. And what the perception is is that we were fighting [the Pacers.] The reality is none of us fought. It was the fans fighting y'all. And it was everyone else like, 'Wait, hold on.' But, you know, perception is everything, you know?"
Independent of the brawl, Billups' perspective is relevant in modern sports
Since we haven't seen anything like the Malice at the Palace since that fateful night, Billups' point has thankfully become irrelevant when it comes to all-out brawls. With that being said, though, his note about player relationships is still a valuable perspective for the modern sports fan.
These days, you'll inevitably hear someone complain when players on opposing teams shake hands before the game or share a quick joke during a stoppage in play. "Back in the day," the critique will explain, "players hated each other. Today, the game has gone soft."
Billups words, however, cast those interactions in a different light. It's not about being tough, weak, or any other adjective. These days, the world of professional sports has gotten smaller. Between the blue-blooded NCAA programs, the biggest agents, and the most popular trainers, most players share at least one connection with someone on the other team. And, once that connection exists, pro athletes are human beings. They have the mental capacity to say hello to someone without immediately losing every ounce of competitive juice.
That's especially relevant today, as social media continues to occupy an inescapable place in our lives. Our favorite players aren't robots, incapable of doing anything besides playing their chosen sport. They're real people with friendships, hobbies, and outside interests. Showing that doesn't mean they're weak, soft, or otherwise uninterested in basketball.
So, whether you're watching the early weeks of NFL action, getting ready for the MLB postseason, or sitting tight waiting for the NBA to tip-off, keep that perspective in mind. If nothing else, it will make watching sports a bit less frustrating.
Holding someone, even a pro athlete, to an unrealistic standard is simply a recipe for disaster.
Like Sportscasting on Facebook. Follow us on Twitter @sportscasting19 and subscribe to our YouTube channel.