Chauncey Billups Rips His Blazers Team With Words That Could Send Damian Lillard Running For the Hills
The Portland Trail Blazers likely hoped Chauncey Billups could be the head coaching presence the team needed to keep Damian Lillard happy and prevent him from seeking a trade. Indeed, Lillard said before the start of the season that he liked some of Billups' defensive philosophies and felt they were necessary for the team's general progression.
But the Blazers are in crisis mode, and Lillard could eventually look for an out.
Billups ripped his team after Portland lost its fifth game in the last six tries. His admonitions might be meant to inspire the Blazers. However, they could also disillusion Lillard and contribute to his desire to play for a more stable NBA organization.
Chauncey Billups said "lack of pride" is killing the Blazers and ripped into his starters
Chauncey Billups already had ample reasons to be upset following Portland's blowout loss at the hands of the Boston Celtics on Dec. 4. He felt even more frustrated by the apparent lack of effort.
Billups chastised the Blazers after the game. He said (h/t Sean Highkin of Bleacher Report) his players exhibited very little passion or any sort of determination to get back into the contest.
"Lack of pride, of course that bothers me. If that doesn't bother you, there's something going on. Sometimes it's not your night, cool, it happens. There's a way I'm willing to lose, and that's not the way I'm willing to lose. It was embarrassing."

–Chauncey Billups after Saturday's loss to the Boston Celtics
Yet Billups had even more criticisms in store.
The former All-Star point guard, per Highkin, ripped into the veteran players on Portland's roster for not instilling more fight in the young guys.
"The young guys, they don't know the politics of the league. But that's something the vets should be teaching them," Billups said, per Bleacher Report. "I was more mad at the starters for putting [the bench] in that situation."
This is a pretty damning indictment of Portland's roster and player-coach relationships. The continued Blazers turmoil should perturb Damian Lillard, who in the offseason asked for more accountability throughout the organization despite initially refusing to request a trade.
Damin Lillard could be thinking trade amid all the Blazers dysfunction
Damian Lillard routinely shut down trade rumors this past summer. But while he hitched himself to the Blazers cart, he also had stern warnings for members of the front office.
Lillard said during Team USA Basketball camp that Portland could not be content with simply making the playoffs. He demanded a sense of direction and implored all parties to take strides in helping the Blazers be a more competitive franchise.
Well, the fact is that the Blazers are a totally stagnant club right now. If anything, they could be on the downswing.
Portland has shown zero defensive growth under Billups. The Blazers rank last in the NBA in defensive rating and 24th in net rating. To make matters worse, management is in shambles.
The Blazers recently fired former general manager Neil Olshey after determining he violated their code of conduct. His departure leaves a void in the front office at a time when Portland can least afford such a mess.
Loyalty aside, what incentive does Lillard have to stay with the Blazers. Their head coach simply hasn't been the right fit for the team's current personnel, which isn't good enough to win, anyway.
Where could Damian Lillard end up if he asks for a trade?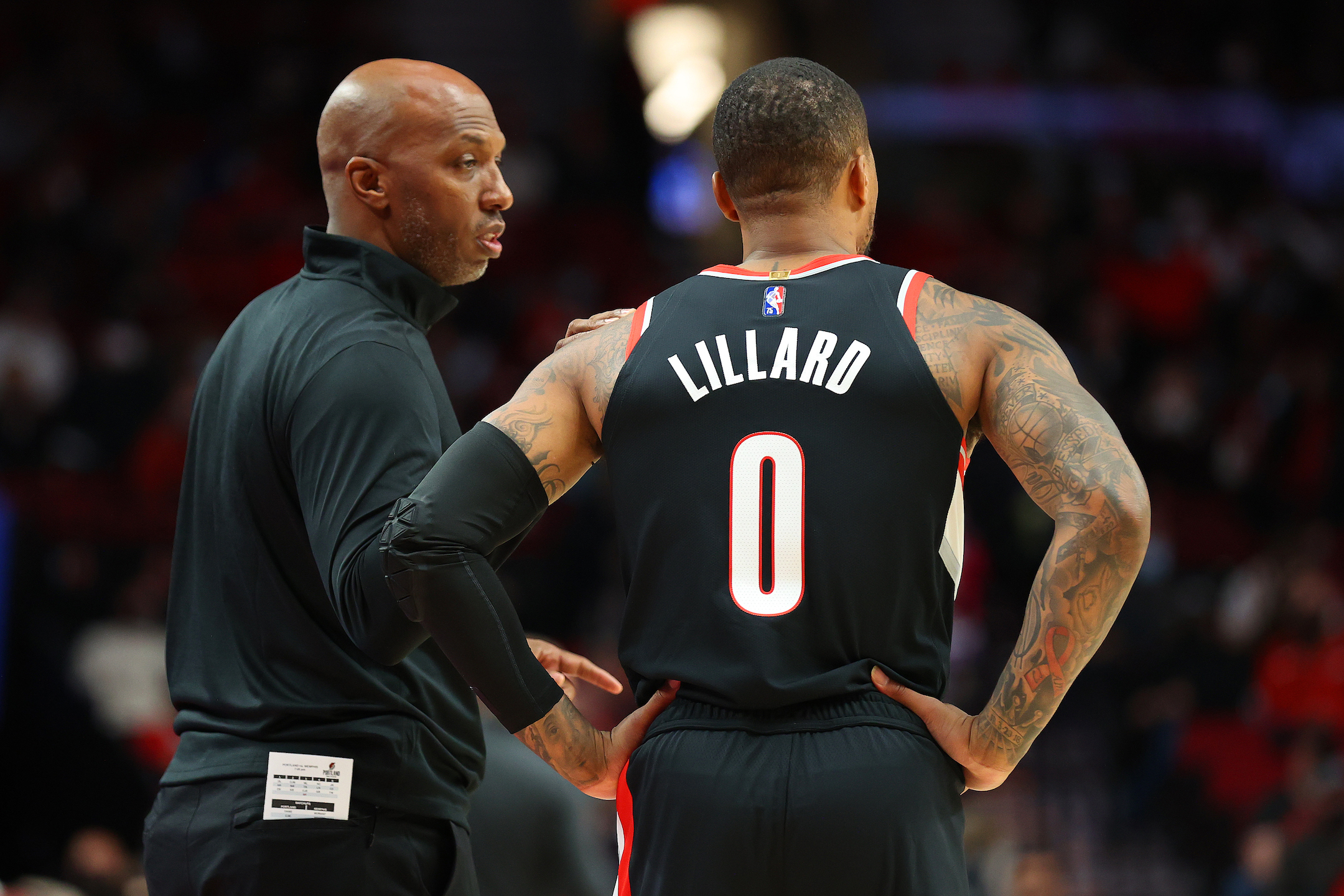 Should Damian Lillard ultimately demand a trade, one potential destination stands out: Philadelphia.
The 76ers have long been rumored to be in hot pursuit of the star point guard. They even hired Lillard's collegiate trainer. With no end in sight to the Ben Simmons saga, it's possible the Sixers and Blazers can line up on a deal that could probably get Portland some needed draft capital.
Another team of intrigue could be the Denver Nuggets. Would Denver consider moving Jamal Murray to acquire Dame? Is Portland in a position to take on added risk by trading for an injured star?
Then there are the Knicks, a team Stephen A. Smith has long claimed would fit Lillard's eye. However, New York's backcourt is already a bit crowded, and it might be hard to swing a Kemba Walker trade, something the Knicks would surely like to do.
As of now, these questions are purely hypothetical. Lillard hasn't asked for a trade. But if Billups' latest remarks are any indication, it might only be a matter of time.
Stats courtesy of Basketball Reference.