Chelsea FC and Manager Thomas Tuchel Used Backstreet Boys as Motivation to Win Upcoming Premier League Title
How does one of the most popular clubs in European soccer prepare for the Premier League after winning a Champions League title? Well, if you're Chelsea FC manager Thomas Tuchel, you inspire your players using Backstreet Boys.
The Blues are one of the favorites to win the Premier League title following their Champions League triumph, though Liverpool and Manchester United are likely to be near or at the top of the table by season's end as well. Chelsea would do well to find levity over the course of a long season, which might mean harkening back to preseason practices and Backstreet Boys karaoke events.
Thomas Tuchel brings a different feel to Stamford Bridge
Thomas Tuchel took over as gaffer for Chelsea FC at an extraordinarily confusing time.
Tuchel's hiring came on the heels of the dismissal of former manager and club legend Frank Lampard. He faced ample scrutiny, less so because of his own individual track record and more due to the unpopularity of the Lampard sacking. Yet, Tuchel thrived amid all the calamity.
Chelsea was ninth in the Premier League when Tuchel took over. But the Blues surged back up the table, moving all the way to fourth and earning a place in the Champions League for the 2021-22 season. That wasn't all, as Chelsea stunned all of Europe by defeating English rival Manchester City to win the Champions League this past May.
Tuchel has more than gained the respect of everyone at the club. He is also maintaining a sense of fun by keeping things light.
The German manager hilariously stipulated that the losing squad had to sing Backstreet Boys before a competition during the team's offseason camp in Ireland. A club insider told The Athletic that Tuchel also spiced things up with basketball games and more singing and dancing.
The Premier League season is long and demanding. Tuchel wants to maximize the effort of each player at the club, but he seems to understand a change of pace is necessary every now and then.
Chelsea thrashed Crystal Palace in its Premier League opener
Chelsea's Premier League season got off to a flying start over the weekend.
The Blues were matched against Crystal Palace and an old club nemesis in Patrick Vieira, making his first appearance as Palace's manager. Tuchel and Co. spoiled that debut.
Chelsea cruised to a 3-0 victory, with goals from Marcos Alonso, Christian Pulisic, and Trevoh Chalobah. The win marked Chelsea's eighth straight victory over Palace.
Chalobah's goal was especially stunning, given the circumstances. The 22-year-old has been a popular candidate to possibly go out on loan this summer. However, Chalobah turned in an impressive performance in his Premier League debut, smashing in Chelsea's third goal from well outside the penalty area.
Tuchel had been adamant that young players like Chalobah embrace their opportunities and make veteran stars feel uncomfortable. That message appears to have been heard loud and clear.
The club's youngsters will really have a chance to shine under the brightest lights in the next two weeks. Chelsea's schedule includes back-to-back games against Arsenal and Liverpool. A fixture with Tottenham follows shortly thereafter.
The Blues get an added boost from Romelu Lukaku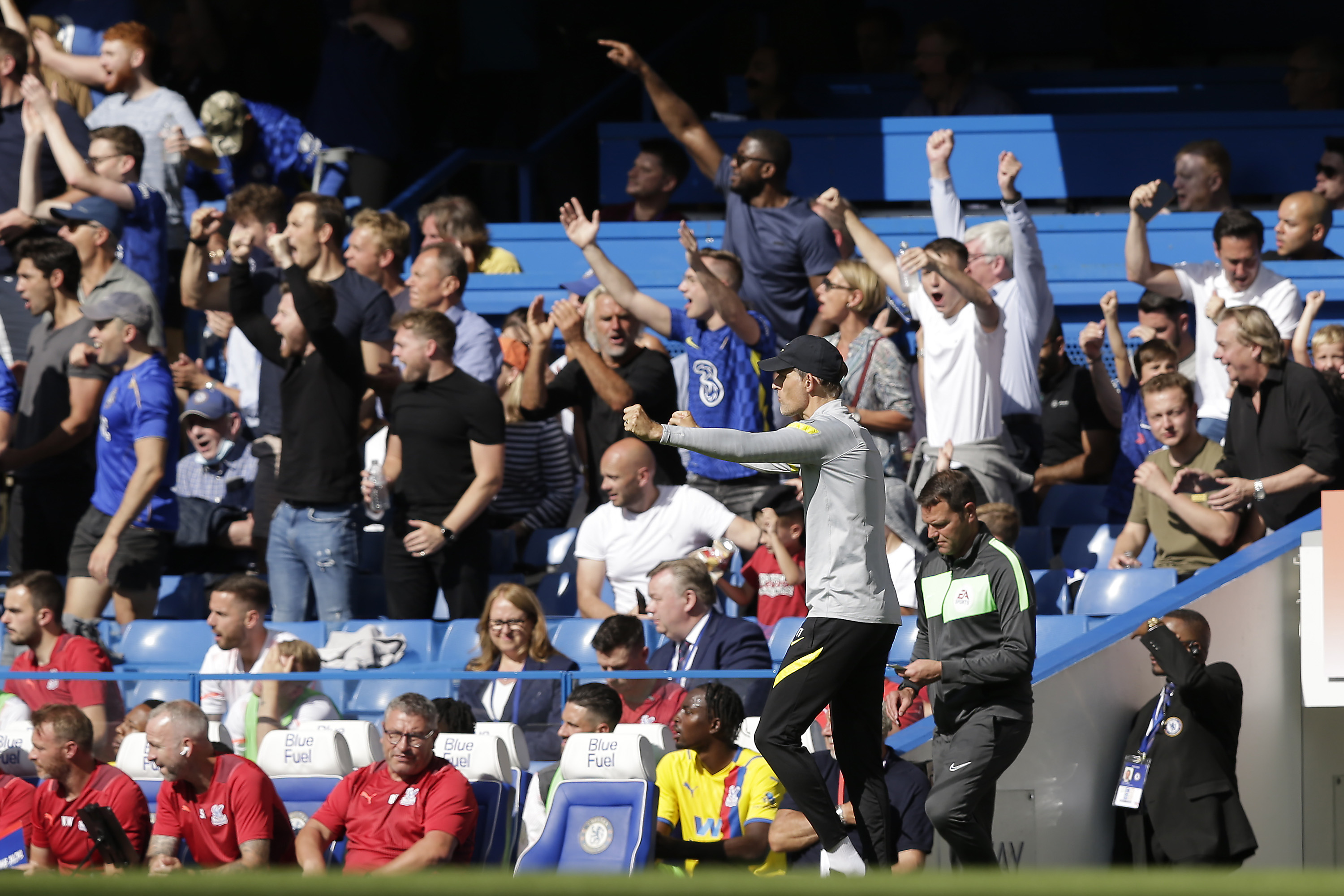 Chelsea already had the makeup to win the Premier League. Tuchel's group only grows more dangerous with the impending arrival of Belgian striker Romelu Lukaku.
The Blues completed Lukaku's signing on a five-year deal, bring the former Chelsea player back to his former club. He gives Tuchel a force up top, having scored at least 23 goals in the past two seasons at Inter Milan in Serie A. Lukaku led Serie A with 35 combined goals and assists during the 2020-21 campaign.
The 28-year-old's fun-loving style should be a strong match for Tuchel's club, one quite accustomed to quirky competitions. Lukaku might also be the final piece to ending Chelsea FC's title drought, which extends back to 2017.
Stats courtesy of FB Reference.