Chet Holmgren's Premature Arrogance Is Going to Come Back to Bite Him
Chet Holmgren will learn sooner than later why rookies shouldn't open their mouths.
Chet Holmgren hasn't even played in an NBA game yet, but he's already talking as if he's a perennial All-Star. The second overall pick in the 2022 NBA Draft has prematurely dubbed himself the best player in the NBA, and his arrogance continued into his Oklahoma City Thunder debut in the NBA Summer League.
There's nothing wrong with being confident as a young player, but Holmgren's cockiness is going to come back to bite him when he has to go up against the Joel Embiids and the Giannis Antetokoumpos of the league.
Chet Holmgren's NBA career is off to a cocky start
NBA franchises want their top draft picks to be confident. Mental weakness has ruined the careers of so many promising talents over the years. But there's a fine line between confidence and arrogance, and Holmgren has already lept over that line with his 7-foot-1 frame.
Speaking with Bleacher Report Hoops ahead of the 2022 NBA Draft, Holmgren was asked who he believes is the best player in the NBA. "Myself in two months," he responded with a smile.
But that's not all.
After dropping 23 points, seven rebounds, and six blocks in his dazzling Summer League debut this week, Holmgren learned in his postgame interview with ESPN that his six blocks set a Summer League record. He wasn't impressed.
"Only six? That's the record? Oh, well I'm coming to break it again, so," he said smugly. Holmgren returned to the court the next night and recorded just two blocks while getting bullied in the paint by 6-foot-7, 275-pound Kenneth Lofton Jr. in the paint.
And it'll be even worse when Holmgren has to guard the bigger, more physical centers in the NBA.
Holmgren's arrogance is going to come back to bite him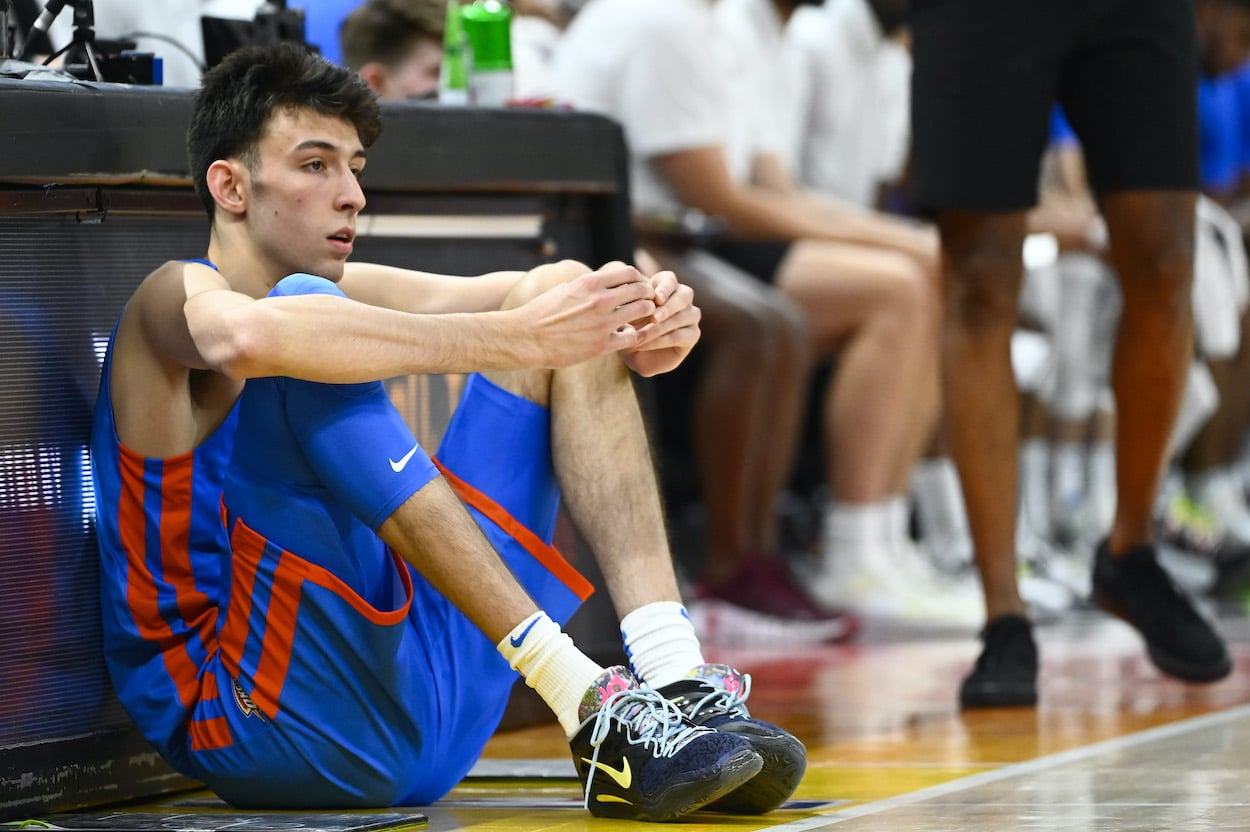 Holmgren entered the NBA with the same mindset many top prospects do. These guys dominate the less competitive high school and college ranks with ease, and they think it'll be more of the same in the NBA.
But that's never the case.
Holmgren has never guarded a player like Joel Embiid (7-foot-0, 280-pounds), Zion Williamson (6-foot-6, 284-pounds), or Boban Marjanović (7-foot-3, 290 pounds). He's never stood in front of the freight train that is Giannis Antetokounmpo. At just 195 pounds soaking wet, Holmgren is in for a rude awakening when he plays in a real NBA game.
Talk is cheap, but the true NBA stars are going to make Holmgren pay for his cocky words.
Like Sportscasting on Facebook. Follow us on Twitter @sportscasting19.