The Chicago Bears Fumbled on Its Top 2001 Draft Pick, David Terrell
Some NFL first-round draft picks become legends. Others move on to careers as solid, dependable contributors. Others flame out as busts. The Chicago Bears have had their fair share of busts in the years they've had high picks. One of those was a wide receiver named David Terrell. Here's the story of how Chicago fumbled its 2001 draft pick. 
The Bears made David Terrell their top pick in the 2001 NFL Draft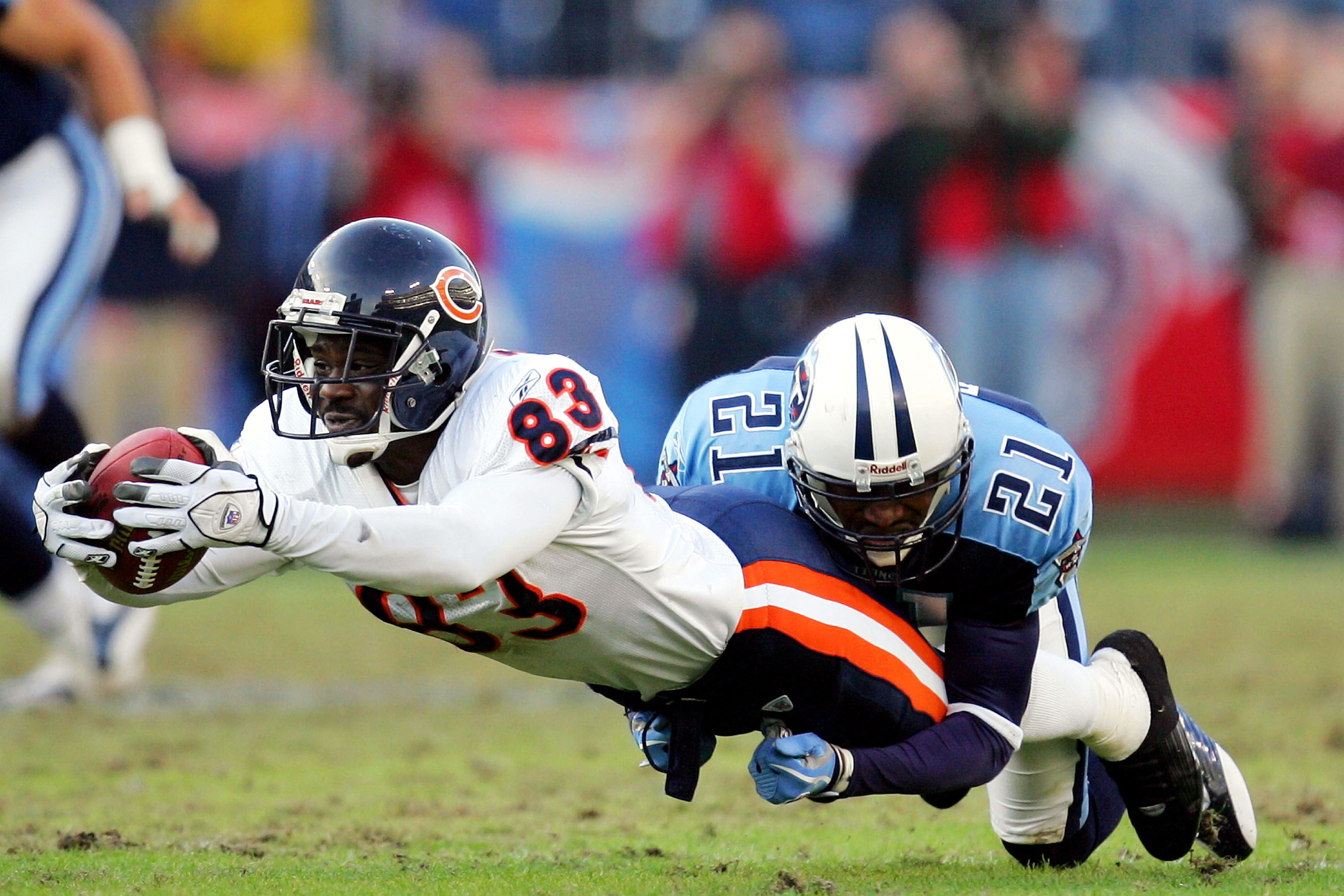 RELATED: The Chicago Bears Could Ruin Their Next Quarterback if They Fail To Re-Sign Allen Robinson Long-Term
Terrell was a wide receiver for the University of Michigan during his college career. He garnered plenty of attention from NFL teams, not just Chicago. According to Football is Future, here was a portion of his scouting report heading into the draft: 
"Prototype receiver with the perfect ingredients (size, strength, speed)…Flashes an explosive upfield burst and quick acceleration to easily gain advantage over the defender in deep routes…Has a sharp release off the line, using his hands well to extend and push off the defensive back…His outstanding leg drive and impressive size make it very difficult for his opponent to apply press coverage…"
Terrell finished his time as a Wolverine with 152 catches for 2,317 yards and 23 touchdowns. That potential was enough for Chicago. According to Pro Football Reference, they selected him with the eighth overall pick in the first round of the 2001 NFL Draft.
It seemed like a safe pick at the time. Michigan was known for producing solid receivers, and Terrell had produced in one of the best conferences in college football. What could go wrong? 
In an NFL Draft filled with legendary players, David Terrell was a bust
The 2001 NFL Draft may have been the best in league history. It produced great players such as LaDainian Tomlinson, Steve Hutchinson, Drew Brees, Michael Vick, and Steve Smith. Unfortunately for the Bears, Terrell was not one of those players.
In his rookie season, Terrell played all 16 games but only started six. He was targeted 63 times with a paltry 34 receptions. In 2003 and 2004 he had 43 and 42 receptions, respectively. The Bears cut him loose after that. He finished his career with only nine touchdowns and 1,602 receiving yards. 
For a pick that high, the Bears certainly expected a much better output from Terrell. Unfortunately, they never saw it before cutting him.
What David Terrell has been up to since his run with the Bears
Terrell went to Denver in 2005, but got into only one game and logged zero receptions for the team. That was the end of his NFL career. Since then, he's had some legal trouble.
According to the Chicago Tribune, in 2012 Terrell was charged with misdemeanor domestic battery. In 2014, the Tribune reported he was found not guilty on charges related to drugs and battery to police. 
Following the verdict, the single father Terrell was happy to have his name cleared:
"I felt great. . . I felt great. . . I felt like I got my life back a little bit."
According to that article, Terrell also noted that it was his ability to be there for his son that really mattered, even as he went through this struggle: 
"It's just one of those things. . . You've got to be a man when something happens…There's nothing more important than being a good parent and being there for him in every way."
Terrell never quite panned out for the Bears and has faced challenges in his post-football career, but the story has something of a happy ending. According to the Detroit News, as of June 2020, Terrell owns a Chicago restaurant as well as several real estate properties. 
All stats courtesy of Pro Football Reference