Chicago Bears Head Coach Matt Nagy Says Andy Dalton Is the Starter Over Justin Fields … for Now
If Chicago Bears fans thought rookie quarterback Justin Fields would start this season, head coach Matt Nagy killed all of their expectations by announcing that Andy Dalton will start for the Bears.
This may come as a surprise to many who thought Fields would be the Bears starter in week one. Is this just a temporary position for Dalton? When would Nagy allow Fields to take over?
Matt Nagy's announcement about Andy Dalton
Bears head coach Matt Nagy already announced about a month ago that Andy Dalton would be the starter for this team over Justin Fields, ESPN reports. But he felt the need to reiterate his position again on July 29:
"Andy has played a long time in this league and has a lot of success. He understands where this city and this organization and where we are all as coaches stand with Justin but right now Andy is the starter and Justin is the backup and they accept that and understand that."
Nagy may have made this announcement to take the pressure off of Fields since there are high expectations for the young quarterback going into this season. The coach already knows what fans expect and understands their excitement. But for now, the veteran QB gets the nod.
Justin Fields is struggling in training camp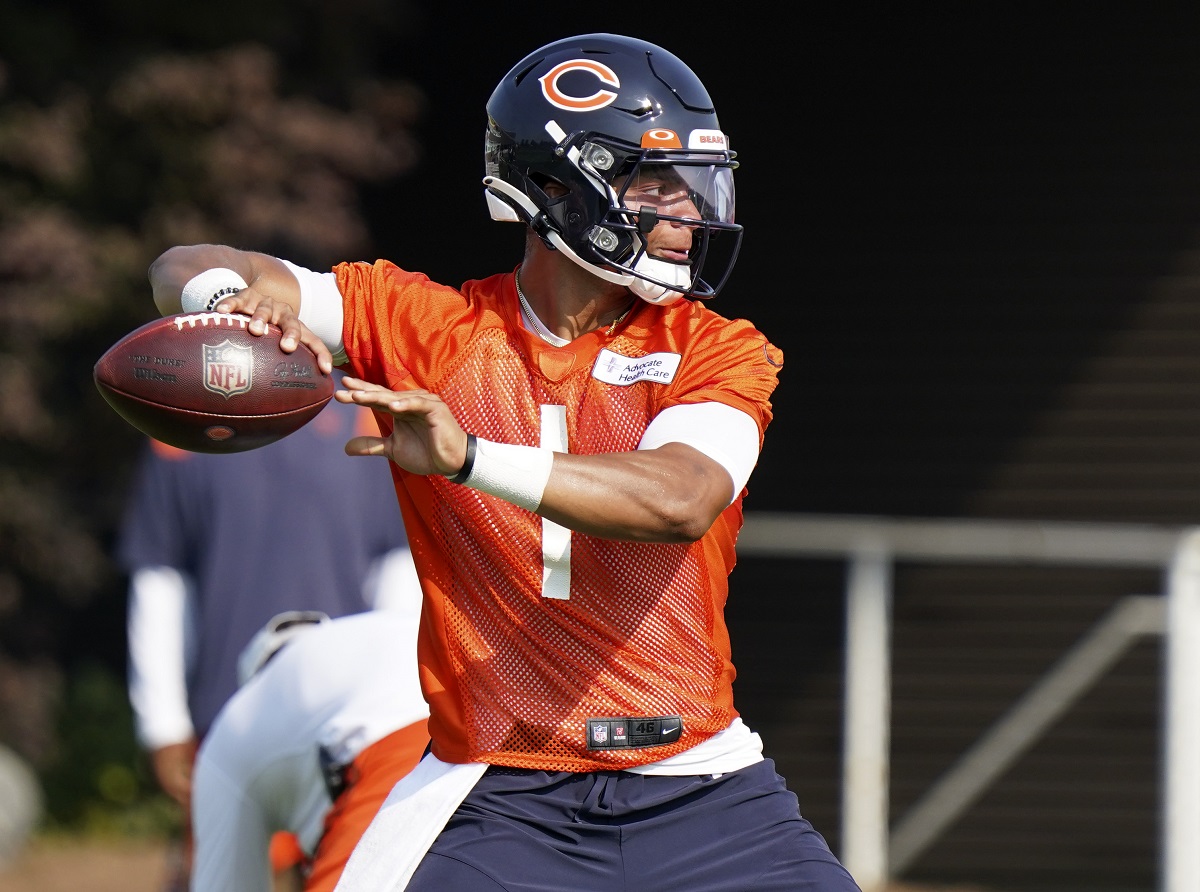 There are already reports out of Bears training camp that Fields is struggling, which may also explain why Nagy is starting Dalton.
Adam Jahns, who covers the Bears for The Athletic, tweeted about the Fields and Dalton quarterback competition: "Andy Dalton was the best of the QBs. Good day overall, though some drills the defense clearly won. Justin Fields had another day with some growing pains. But that's OK. He's a rookie."
Brad Biggs with The Chicago Tribune also seems to agree with Jahns. He tweeted: "Experience difference between Andy Dalton & Justin Fields was clear. The rookie was slower making reads and struggled some with ball placement."
What's happening in the Bears' training camp is not unusual in a quarterback competition. For example, in New England, the Patriots Talk podcast recently reported that veteran quarterback Cam Newton is slightly behind in his quarterback competition with rookie Mac Jones. Just like Nagy, Patriots head coach Bill Belichick named his veteran quarterback the starter before camp opened.
Dalton was named one of the worst quarterbacks in the NFL
Despite the vote of confidence from his head coach, The Athletic named Dalton one of the worst quarterbacks in the league. Additionally, NFL personnel who were anonymously surveyed by The Athletic made unflattering comments about the quarterback:
"I would not even say legitimate starter at this point," said one NFL evaluator. "I think he has really fallen off. Throughout his career, you would say he was a 3, but his accuracy was bad last year, his arm was poor, not real mobile."
Not the best endorsement for a guy who may be the starting quarterback for a team that went to the playoffs last year. Despite the naysayers, Dalton doesn't have to be great for the Bears to win. The Bears aren't asking Dalton to be Fields, but they might be using him as a placeholder for Fields until he is ready to make his Bears debut.