The Chicago Bears Can Help Carson Wentz's Career by Dragging Their Feet With Allen Robinson's Contract
The Chicago Bears are still on the hunt for their next quarterback. They were contenders in the Carson Wentz sweepstakes, but the Indianapolis Colts snagged him first. Just because Wentz isn't coming to the Windy City doesn't mean the Bears can't help him thrive in Indianapolis. 
The Bears could make a great pass catcher available if they don't stop dragging their feet. They've had more than enough time to lock up Allen Robinson long-term. He could end up joining the Colts and leave the Bears with little offensively.
The Chicago Bears missed out on acquiring Carson Wentz
Only two teams made their interest in Carson Wentz public, and the Bears were one. They need another signal-caller after the Mitchell Trubisky and Nick Foles experiments failed miserably. When the team promoted John DeFilippo to the passing game coordinator position, many took it as a signal the Bears were planning to bring the $128 million quarterback to Chicago.
Unfortunately, the Philadelphia Eagles traded Wentz to the Colts. Philadelphia shipped him to Indy because they were the only ones who made an offer. According to a Feb. 18 tweet by FOX Sport's Jay Glazer, Chicago "did their homework" on the North Dakota State product but never made the Eagles an offer.
Failing to acquire Carson Wentz might not be that bad for the Bears. His humongous contract would've been on their books with no guarantee he'll return to his 2017 self. On the other hand, the Bears still don't have a starting quarterback in a drying market. They will need to do more homework to gauge their options for someone new under center.
The Chicago Bears didn't see enough in Wentz to make an offer, but they could give him some much-needed help. If the team continues to take their time with Allen Robinson's contract situation, he could end up taking his talents elsewhere.
Allen Robinson's complicated contract situation with the Bears
Allen Robinson's play the past three seasons has been the lone bright spot in the Chicago Bears' offense. He's racked up 255 receptions, 3,151 receiving yards, and 17 touchdowns since joining the team, flourishing as their top option.
He's scheduled to become a free agent this offseason but has said he'd welcome a return to Chicago per Pro Football Talk. Despite knowing this information, the team has shuffled their feet signing Robinson to a long-term deal.
The Bears have tried to get Robinson re-signed since the beginning of the 2020 season. He's proven that he is deserving of a big contract after thriving in a Chicago offense that had a revolving door at quarterback and an inconsistent run game.
According to Go Long With Tyler Dunne, Robinson hasn't heard from the Bears about a potential contract since the season ended. Not hearing from them could mean the franchise tag is coming. If Chicago uses the tag on their No. 1 receiver, he'll make $16.43 million next year, according to Over the Cap.
The Chicago Bears have until March 9 to place the franchise tag on Robinson. If they don't and he hits the free-agent market, it would be great for Carson Wentz. It's no sure thing, but he could convince the Colts to inquire about what it would take to sign the Pro-Bowl receiver.
Carson Wentz and the Indianapolis Colts could use Allen Robinson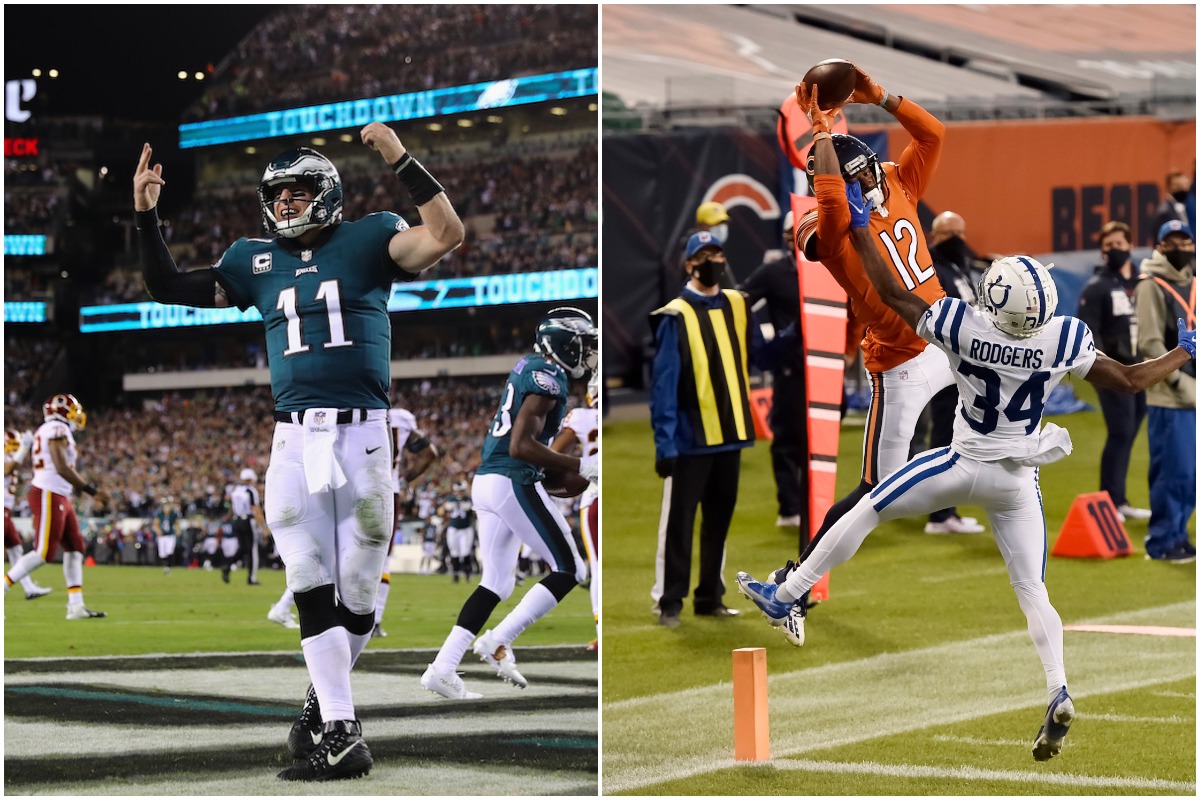 Carson Wentz will join an Indianapolis Colts team with a tremendous offensive line and a dominant rushing attack. Their receivers are decent, but a big question mark surrounds T.Y. Hilton's future with the team. He'll be a free agent, and the Colts must decide if it's worth re-signing him.
Injuries have slowed down Hilton's productivity in recent years, but he's still a speedster when healthy. However, Indy could let him walk depending on his asking price. If Allen Robinson is available, the Colts should definitely consider signing him. According to CBS Sports, the Colts are one of the top landing spots for the seven-year pass catcher. 
Being paired with the former Eagle gives the 27-year-old receiver a capable quarterback. Wentz has experience throwing to big-bodied receivers thanks to his time with Alshon Jeffery in Philly. Robinson can be used in a similar fashion, particularly in the red zone. If the 28-year-old quarterback plays up to his capabilities, he and the Penn State product could be a dynamic duo in the making.
The Chicago Bears are taking their time with Allen Robinson's contract, and it could come back to bite them. Unless they put the franchise tag on him, he will be a free agent and could find a home in Indianapolis. The Bears might end up helping Carson Wentz's career by letting one of their own stars walk out the door.
Stats courtesy of Pro-Football-Reference