The Chicago Bears Just Announced Matt Nagy's Eventual Demise With a Simple Play-Calling Change Against the Lions
Matt Nagy appears hell-bent on digging his own grave with the Chicago Bears.
Between his constant commitment to Andy Dalton over Justin Fields and an overall lack of creative play-calling, it does appear the veteran head coach is nearing a Chicago exit. The team already rinsed through one young quarterback in Mitchell Trubisky under Nagy. It's hard to imagine the organization allowing him to oversee another in Fields.
A simple yet significant alteration to the team's play-calling structure signals as much.
Matt Nagy gave up Bears' play-calling duties against Detroit
Following a disastrous six-point outing against the Cleveland Browns the week prior, Nagy finally conceded power regarding the team's offensive scheme. Nagy has long expressed a lack of willingness to give up play-calling duties — Week 4 against the Detroit Lions was a welcome change.
The Bears' offensive coordinator, Bill Lazor, was the one calling plays against the Lions. The change in productivity was instantly noticeable. Chicago scored 24 points en route to a victory, and Justin Fields passed for 209 yards.
Granted, the Lions' defense isn't comparable to the Browns'. However, every Sunday afternoon is a battle in the NFL. Scoring 24 points with a rookie quarterback under center (coming off a touchdown-less performance the week before) is impressive no matter how you slice it.
Justin Fields looked more comfortable
At this stage of the 2021 season, the Bears don't look like legitimate playoff contenders. However, that doesn't mean they should be expected to bottom out moving forward. The Bears are a team desperate for stable quarterback play; developing Fields is easily their top priority.
Fields doesn't need to play like Patrick Mahomes every Sunday for the Bears to be successful, but he needs to show steady signs of progress every time he steps foot on the field. The difference between Nagy and Lazor calling plays is the perfect example of coaching a young quarterback's strengths.
Nagy is stubborn and unbendable; he wants to run "his" offense a certain way. Lazor appears far more open to adjusting based on a QB's needs; he played to Fields' strong points against Detroit.
Lazor drawing up multiple deep shots was great. Fields' biggest strength is his cannon of an arm. Allowing him to air it out on more than one occasion seriously aided the Bears' offense.
Why would the Bears keep Nagy around past 2021?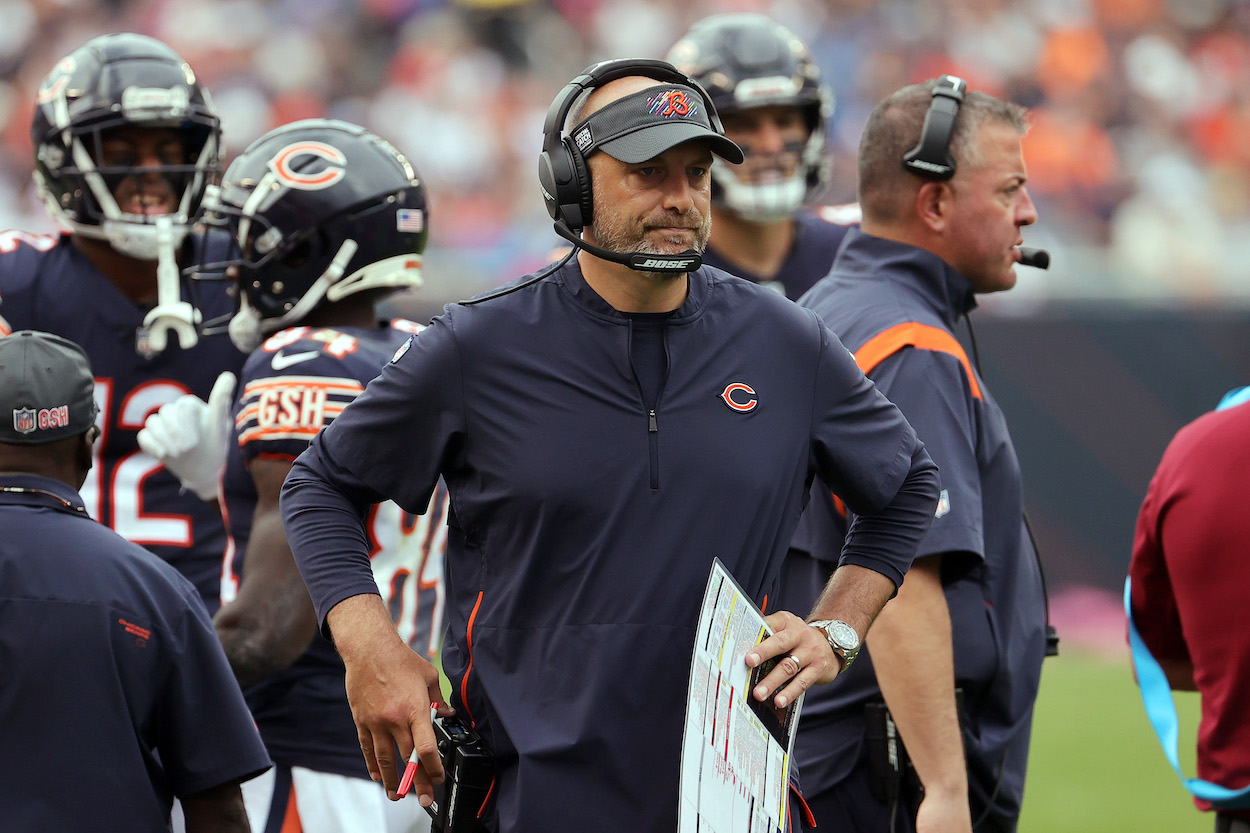 After seeing the stark difference between Nagy and Lazor, one must wonder what logic there's to be had in bringing Nagy back for another season? His track record as a head coach is slightly above average compared to the rest of the NFL, but the damage he is inflicting upon Fields is impossible to ignore.
For Fields to have a successful NFL career, he needs an innovative head coach willing to play to his strengths while simultaneously coaching up his weaknesses. Nagy is giving zero indication that he can do either of these things.
Nagy's job status was already in question before he enacted this play-calling switch. Now, a coaching change in Chicago feels like a foregone conclusion.
All stats courtesy of Pro Football Reference.
RELATED: Cam Newton's Shocking Prediction About Bears QB Justin Fields Is Finally Coming True