The Chicago Bears Just Suffered Another Brutal Blow That Forces Justin Fields to Sink or Swim Against the Packers
Following a disastrous starting debut against the Cleveland Browns in Week 3, first-round rookie quarterback Justin Fields is off to a promising start to his Chicago Bears career.
He led the team to back-to-back wins against the Detroit Lions and Las Vegas Raiders in Week 4 and Week 5 and continues to flash potential with above-average arm strength.
However, this doesn't mean it's all sunshine and rainbows in Chi-Town. The team is battling constant injuries at the running back position, which puts immense pressure on Fields to finally experience a breakout game of sorts in Week 6.
The Chicago Bears lost another RB this week
The Bears were already without regular starting running back David Montgomery entering the week. They placed him on injured reserve with a knee sprain on October 9.
Now, they're set to be without their primary backup as well. On Thursday afternoon, Damien Williams was placed on the Reserve-COVID-19 list, ruling him out for the team's looming Week 6 game against Aaron Rodgers and the Green Bay Packers.
Khalil Herbert, a sixth-round rookie out of Virginia Tech, is the Bears' primary back Sunday. He only has 21 career carries in the NFL.
While Fields is 2-1 as a starter this season, Matt Nagy and the Bears have yet to really pull the training wheels off their rookie QB. The Bears' offense has been centered around the run game.
That's going to have to change following yet another loss to the RB room.
The pressure is on Justin Fields to have a breakout game
Fields passed for 209 yards during his win over the Lions and 111 yards during his win over the Raiders. While the Bears won both games, it's worth highlighting that Fields wasn't particularly dominant in either contest.
At times, he flashed signs of franchise-quarterback potential, but the ground game ultimately drove the Bears' success in both wins. If Chicago wants to stand a chance against a high-scoring Packers' offense, they're going to have to keep up, and they're going to have to do it through the air.
The Bears will likely keep the playbook relatively simple for Fields as he's still easing into the world of the NFL, but they'll still need to trust him to pass for more than 200 yards.
The Packers have scored 25 points in each of their last four games (all wins). It will presumably be a high-scoring affair.
Can the Chicago Bears put Fields in a position to succeed?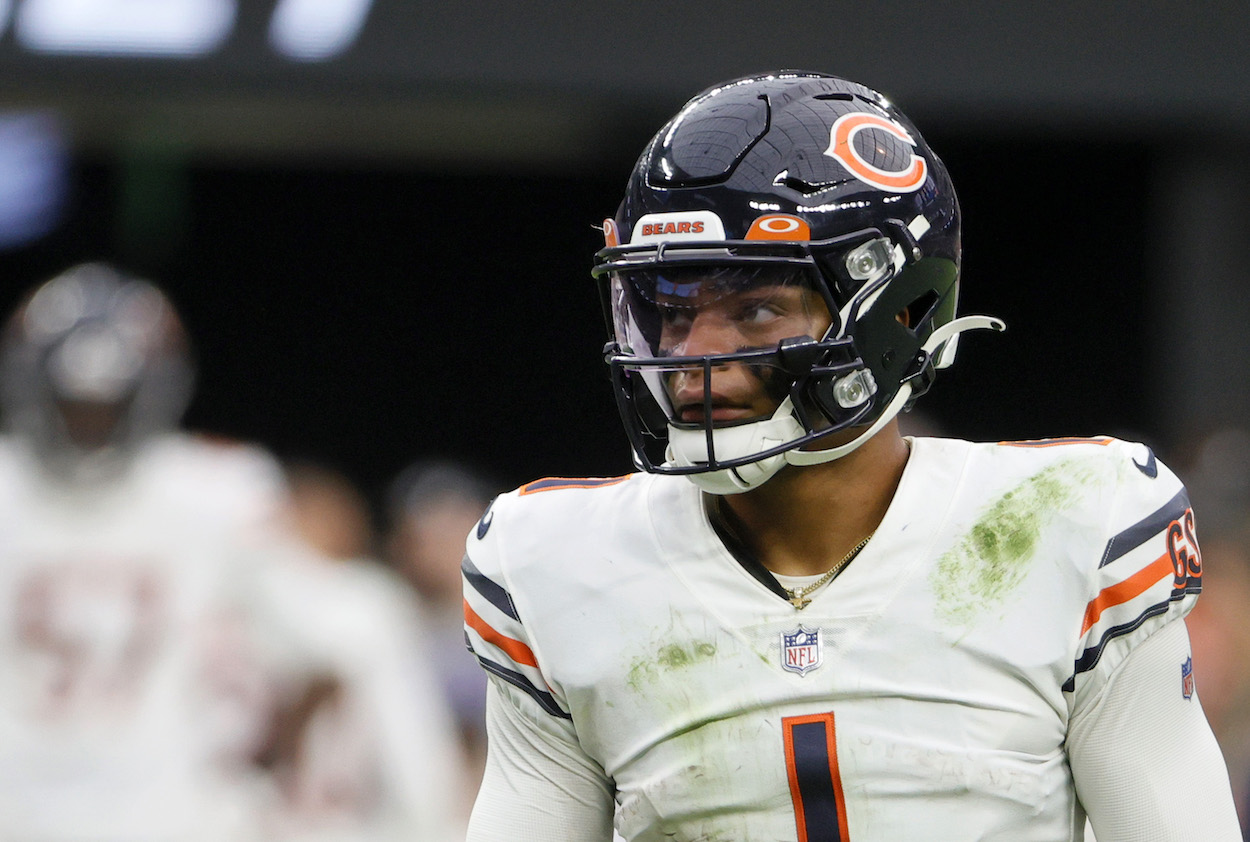 While Fields is the one who makes reads and delivers passes, the Bears' coaching staff also needs to do their part and start implementing more creativity.
While their run-first scheme has technically been successful the past two games, it's also largely limited Fields' ability to show off his passing game. You don't want to put too much on a young QB's plate (like the New York Jets are doing with Zach Wilson). However, that doesn't mean you need to wrap a rookie QB in bubble wrap.
The Bears drafted Fields to be the face of their franchise moving forward. They need to let him be that.
The loss of Damien Williams, in addition to the absence of David Montgomery, is unfortunate. Still, it definitely sets the stage for a more pass-heavy Bears' offense against Green Bay. Only time will tell if Fields can deliver when asked to do so.
All stats courtesy of Pro Football Reference.
RELATED: Former Ravens Linebacker Bart Scott Takes a Vicious Shot at Hollywood Brown, Claims He Shouldn't Be a Starter