The Chicago Bears Will Lose $86 Million if They Break Their Lease With Soldier Field in the Next 5 Years in Order to Move 1 Hour North
Chicago's got beef. And it's not the delicious Italian beef found in the Windy City's famous sandwiches. No, this is a real beef between billionaire NFL owners and powerful city politicians. A beef that could end up ripping the heart out of die-hard Bears fans. 
The Chicago Bears, one of only two charter members of the NFL still in existence — the other, the Phoenix Cardinals began in Chicago as well — is one of the most storied franchises in American history. Their 1,000-game history began in 1920 in Decatur, Illinois. They moved to Chicago a year later, playing at Wrigley Field.
In 1971, the Bears moved to their current home in historic Soldier Field where they have remained for 50 years. That should be the end of the story. Unfortunately, leave it to billionaires and power-hungry politicians to potentially make the Bears leave Chicago after 100 years.
What's happening with the Chicago Bears' lease on Soldier Field?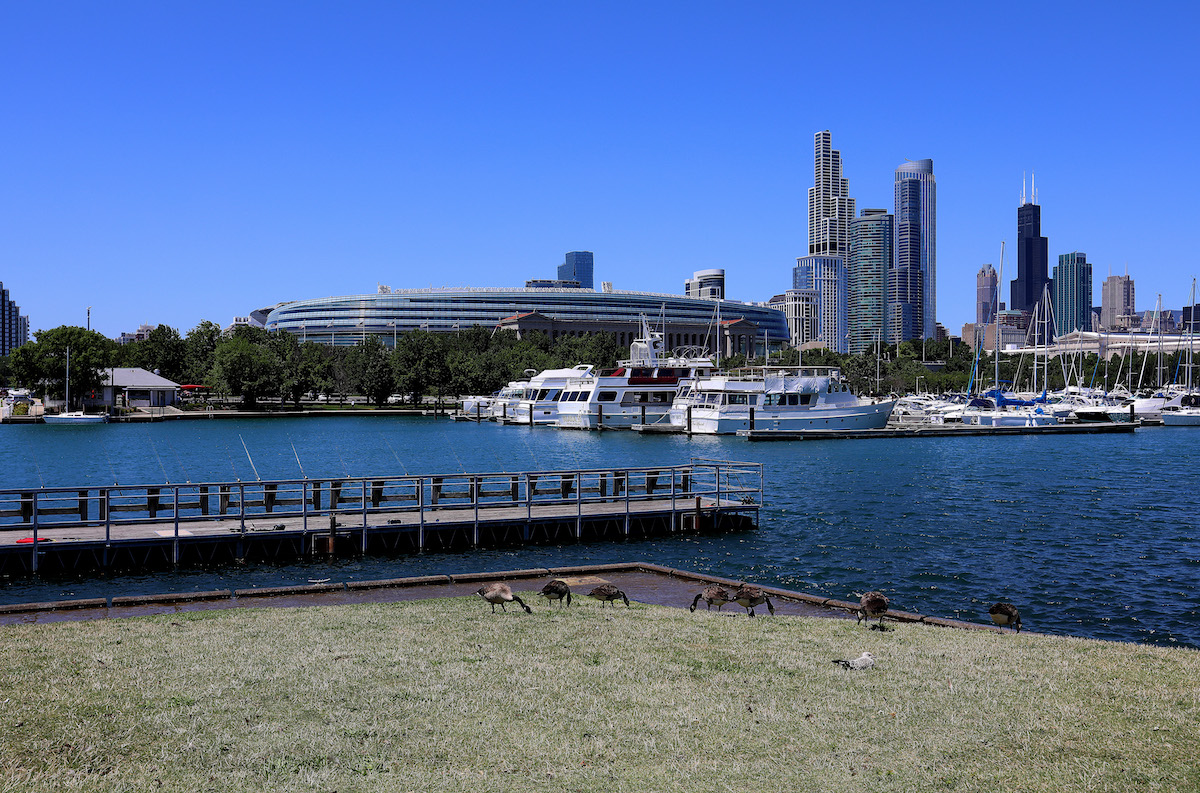 Why are the Bears looking to head to the suburbs? Money, of course, according to Huddle Up. Though historic and beautiful, Soldier Field is the smallest stadium in the NFL. To add insult to injury, since 2000, the Bears have seen several new stadiums with billion-dollar price tags. Some examples:
SoFi Stadium in LA ($5.5 billion)
Allegiant Stadium in Vegas ($1.9 billion)
MetLife Stadium in Jersey ($1.7 billion)
Mercedes-Benz Stadium in Atlanta ($1.5 billion)
AT&T Stadium in Arlington, TX ($1.48 billion)
The one thing billionaires hate the most is being out billionaired. Last June, the principal owner of the Bears, the McCaskey family, announced they put in a bid to purchase the Arlington International Racecourse, a piece of property 30 miles north of Soldier Field and outside Chicago city limits.
In September, they closed the deal for over $197 million.  The Village of Arlington Heights, eager to attract the Bears and its money, formally approved zoning of the site for a football stadium.
Chicago politicians get involved
Obviously, this did not sit well with Chicago city bureaucrats. Chicago officials have been negotiating with the Bears about upgrades and repairs to Soldier Field, and Mayor Lori Lightfoot faces a difficult balancing act.
On one hand, she has an angry NFL franchise wanting the city to spend millions on upgrades to an outdated stadium with thousands of devoted fans behind them. On the other hand, if she gives away too much taxpayer money to a billionaire owner, she could face backlash from taxpayers. Chicago taxpayers are still paying off a $632 million bond for stadium upgrades from 2003, reports the Chicago Tribune.
Rumor is that negotiations have been cutthroat, and Mayor Lightfoot was caught off guard by the Bears purchasing the property in Arlington Heights. This may explain her angry statement that made waves in Chicagoland: 
While her frustration is understandable, it did not go over well in the Bears front office.  Reportedly, the Bears canceled an upcoming meeting with the Mayor and have refused to disclose their terms for staying at Soldier Field. 
Murky future for Soldier Field
Currently, both sides seem to be digging in their heels and the future is uncertain. The Bears are locked into their lease until 2033. It would cost them at least $86 million to break it, as Huddle Up details. In addition, even if they broke their lease and announced their exit, the Bears would still need to play at Soldier Field for a few years as the new stadium is built. 
$85 million is just a drop in the bucket for the amount of financing it will take to build a new stadium. As noted above, a new stadium would cost at least $1.5 billion and probably more. Is that price tag and the ill will for leaving Chicago proper worth it?
At the moment, no one seems to know. Negotiations are still in their infancy, but the stakes have been raised significantly. For the time being, grab some popcorn and enjoy the drama. 
RELATED: The Colts Stadium Surprisingly Almost Killed a Woman in the Crowd