The Chicago Bears Reportedly Tried Offloading Their $24 Million Mistake but 'Nobody Wanted Him'
Everyone makes mistakes. The big question, though, is whether you can admit when you've made one. The Chicago Bears made a pretty significant mistake last offseason when they traded for quarterback Nick Foles. While they were luckily able to rework the massive contract he signed with the Jacksonville Jaguars, the trade still didn't work out for Chicago, as Foles played mediocre at best in 2020.
The Bears have essentially admitted they made a mistake by acquiring him, too, as a report recently surfaced that they tried trading Foles earlier this offseason.
So, why is he still in Chicago?
Quarterback Nick Foles was a $24 million mistake for the Bears
Nick Foles was a hot commodity after he led the Philadelphia Eagles to a win in the Super Bowl during the 2017 season in place for an injured Carson Wentz. This led to him signing a massive four-year, $88 million contract with the Jaguars before the 2019 season.
The deal proved to be horrific for Jacksonville as Foles went 0-4 in just four starts in 2019 and threw for only 736 yards, three touchdowns, and two interceptions.
The Bears then decided to trade for Foles in 2020, as they were in the market for a quarterback and hoped they could reignite some of his magic from when he won the Super Bowl with Philadelphia.
Luckily for the Bears, they were able to restructure Foles' contract in April 2020. They made it to where he only had three years and $24 million left on his deal, instead of the $56.9 million they still owed him, per CBS Sports. 
However, trading for Foles still proved to be a significant mistake.
The former Super Bowl MVP went 2-5 in seven starts in Chicago and threw for 1,852 yards, 10 touchdowns, and eight interceptions. Between him and Mitchell Trubisky, the Bears' offense failed to get into a groove the entire year, only scoring 23.3 points per game, which tied for 22nd in the NFL.
Chicago has since parted ways with Trubisky and the team signed Andy Dalton this offseason, while also drafting a young guy in Justin Fields out of Ohio State. So, at this point, it looks like Foles could be the third QB on the depth chart in 2021, despite his $24 million contract.
The Chicago Bears tried trading Nick Foles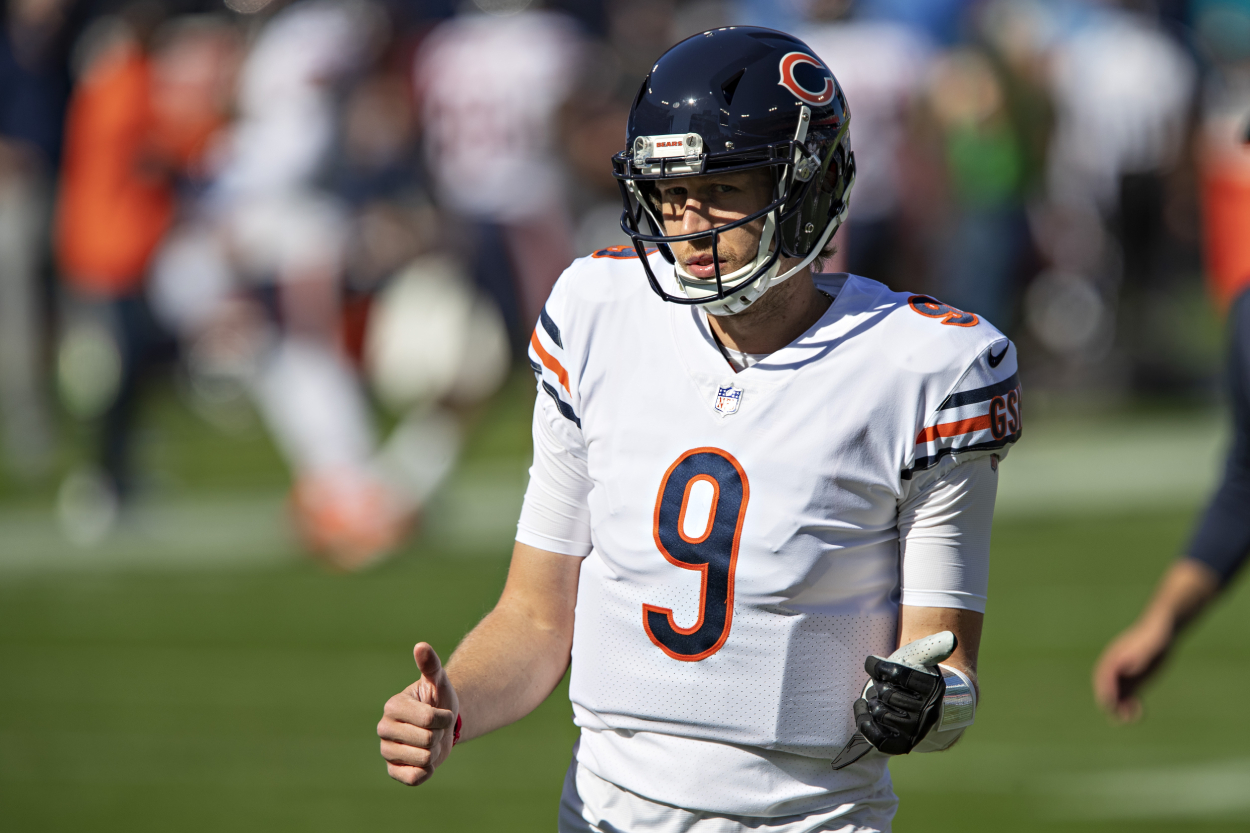 With the Bears paying Foles so much to most likely just sit on the bench this year, a report recently surfaced that they tried trading the veteran QB.
"They fully guaranteed his $8 million back in March, he's on the football team; he's not moving," Adam Caplan of FOX Sports Radio recently reported, per 247Sports. "They tried to trade him to Philly and other teams, nobody wanted him. He's still there."
This isn't all that surprising. Of course, the Bears would probably love to get out of paying Foles, but other teams don't want to pay him either. In fact, NFL Network's Ian Rapoport reported that Foles will be "extremely difficult" to trade due to his current contract.
So, as of right now, with Foles not becoming a free agent until 2023, it appears Chicago will be reminded of its big mistake for the next two seasons.
At least they have a bright future.
Justin Fields has a bright future as the Bears' quarterback
All signs point toward the Bears starting Andy Dalton this year, but Chicago is Justin Fields' team.
The Bears traded up from No. 20 to No. 11 to get Fields in the 2021 NFL draft, and it's because of his dominant play in college at Ohio State.
Fields threw for 3,273 yards, 41 touchdowns, and three interceptions in 2019 and ran for 484 yards and 10 TD, which helped lead the Buckeyes to the College Football Playoff. He then followed that up in 2020 with 2,100 yards in a coronavirus-shortened season to go with 22 touchdowns and six interceptions. Fields also led Ohio State to the national championship game last season.
The former Buckeye has a massive arm and can move around the pocket with ease, a drastic change from Foles and Dalton. He's exactly what NFL teams look for in their quarterbacks today, which means the Bears have potentially found their franchise guy.
Fields also has a chance to learn from guys like Dalton and a Super Bowl winner in Foles, which could significantly pay off for him and the Bears down the road. It also means that the money Chicago is spending on Foles won't be a complete waste.
There seems to be a bright side to every mistake.
Stats courtesy of Sports Reference and Pro Football Reference