The Chicago Bears Could Ruin Their Next Quarterback if They Fail To Re-Sign Allen Robinson Long-Term
The Chicago Bears are one of the many teams looking for a quarterback this NFL offseason. Mitchell Trubisky will be a free agent, and Nick Foles didn't prove he is a capable starter when given his opportunity.
Regardless of who's the next Bears quarterback, though, his future could already be hanging in the balance. If they don't secure what will be one of his top targets in Allen Robinson, the Bears' next quarterback won't have a strong supporting cast to help him succeed.
Allen Robinson is a star receiver despite the Bears' quarterback struggles
The one bright spot on the Chicago Bears' offense is Allen Robinson. The seven-year receiver has become a star in Chicago, no matter who was throwing him the ball. Robinson was the only receiver to have over 700 yards receiving on the team in 2020.
Robinson has caught 200 passes in the past two years for 2,397 yards and 13 touchdowns, per Football Reference. His 1,250 yards receiving in 2020 were the ninth-most in the NFL. According to Pro Football Focus, he was the fifth-best receiver in the league last season based on their season-long grades of the top pass catchers. His exceptional route running and strong hands made him a security blanket for Trubisky and Foles.
The star receiver's contract is up, meaning he could leave the Bears for another team. He and Chicago haven't worked out a new deal yet, but Robinson wants to come back. At the same time, though, the receiver isn't wed to staying in the Windy City
"I'm not opposed to being back in Chicago by any means. Everything is on the table," Robinson said per Pro Football Talk.
Will Allen Robinson return to the Chicago Bears?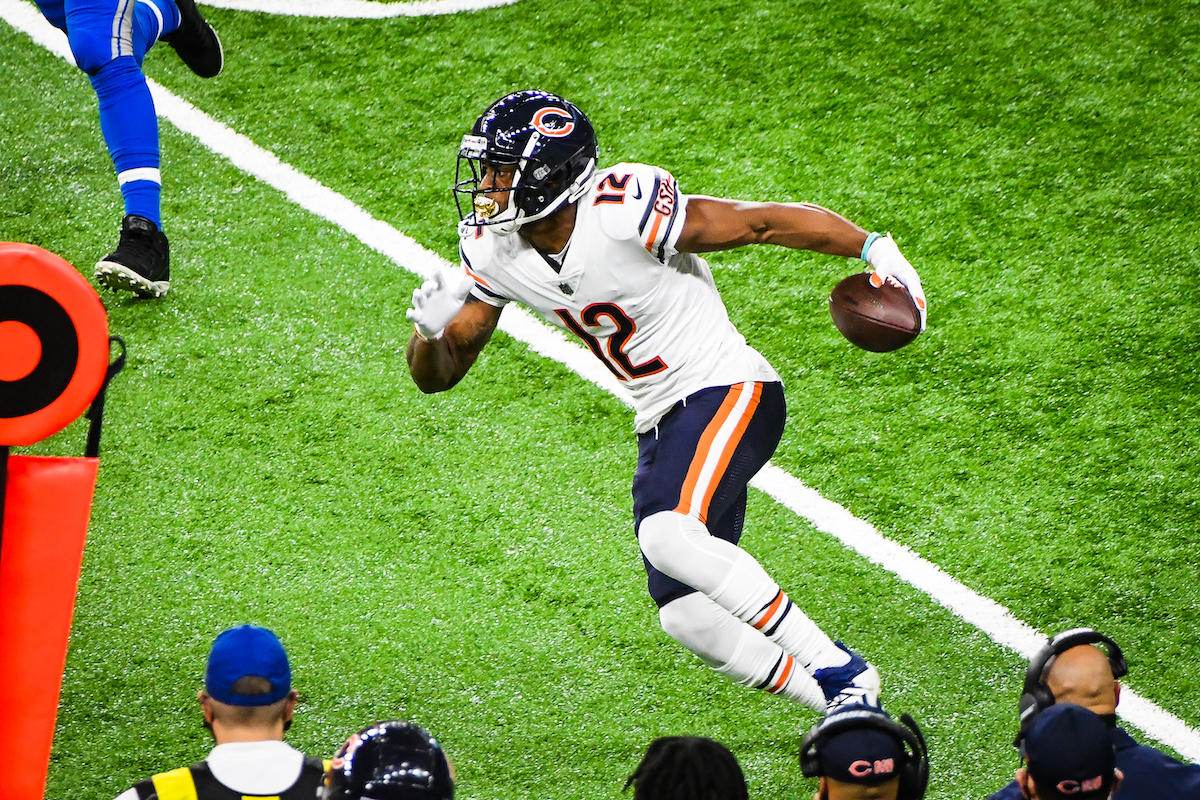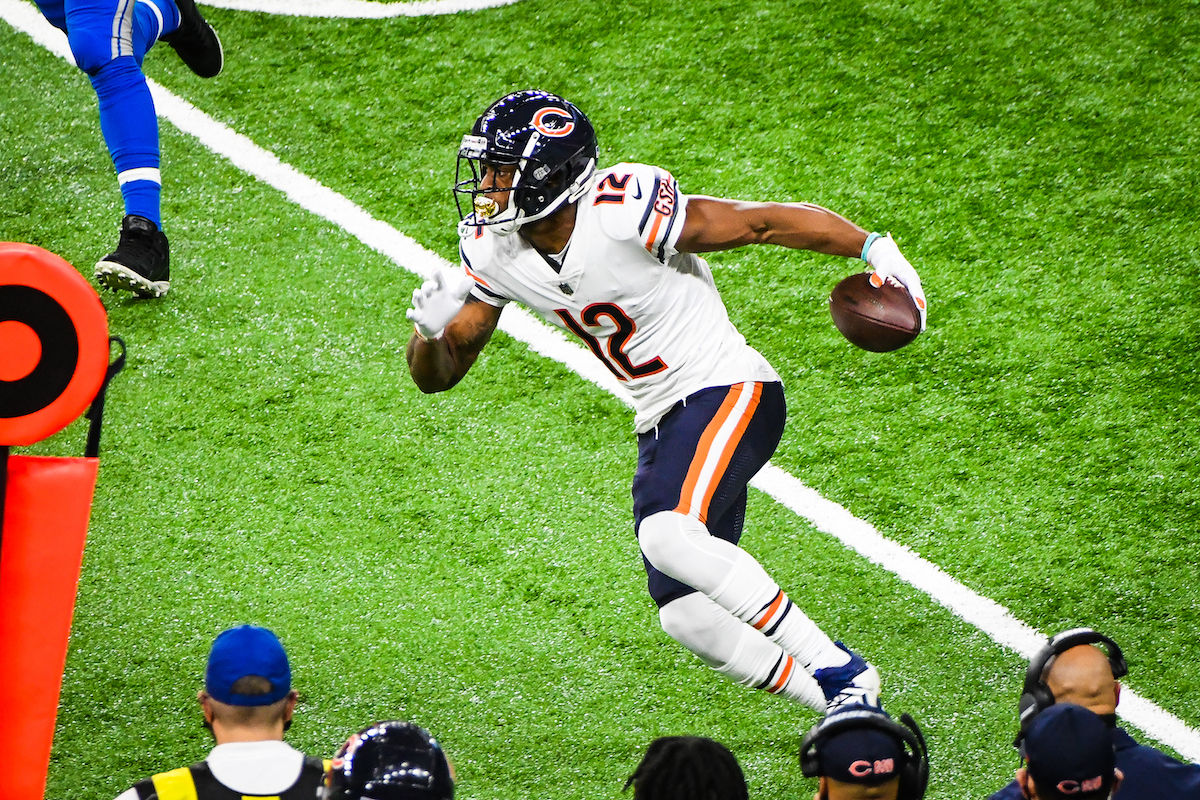 Allen Robinson is open to returning to the Bears, even though they have a huge question mark at quarterback. He's proven that he can have success with a mediocre signal-caller. The receiver has aspirations of writing his name in the Bears' history books.
"I've even expressed that over the last couple of years — wanting to be the all-time leading receiver in Chicago which, I believe, I'm under 2,000 yards away from that. With all that being said, unfortunately, we've come to what seems to be a fork in the road. But not even a fork. We haven't even been given a viable option to be able to do those things that we want to do without sacrificing a ridiculous amount pretty much for the rest of my career," Robinson said per Pro Football Talk.
If the two sides can't agree to something long term, the Bears can use the franchise tag. If they do, it brings a price tag of $16.43 million, according to OvertheCap.com. Using the franchise tag also gives the team and Robinson until mid-summer to finalize a deal.
Chicago has been trying to get their 1,000-yard receiver locked up since the beginning of the 2020 season. However, the offers they sent to Robinson weren't fair in his eyes. He missed out on his big payday the last time he was a free agent, recovering from an ACL tear at the time. Whether it be with the Bears or someone else, he wants his next deal to be fair.
"For myself — as much as I wanted a deal done — I wanted a fair deal," says Robinson per Golongtd.com
The Chicago Bears' next quarterback needs Allen Robinson on the team
After having an entire year to find an agreeable solution, the Chicago Bears still haven't signed Allen Robinson. His contract situation something the team should've solved a while ago. If they don't franchise tag him or sign him to a contract, their next quarterback's future doesn't stand a chance.
Watching Chicago's offense over the past three seasons, Robinson was the fuel behind its success. Letting him walk isn't the best solution for a Bears team that lacks productivity at receiver outside of No. 12. Placing the franchise tag on him keeps him around for a year at the minimum but will put the Bears in the same situation next offseason if no long-term agreement is reached.
The Bears' next quarterback might want the security of knowing Robinson will be there with him for the foreseeable future. A one-year franchise tag doesn't provide that. It would be even worse if Chicago trades or gets rid of their star receiver before their next quarterback arrives. If the next quarterback doesn't have a reliable No. 1 receiver, his time in Chicago could be doomed before it even begins.
The Chicago Bears are looking for another quarterback, but maybe their priority should be getting Allen Robinson on a long-term deal. He's the best receiver on the team and could be the perfect player to pair with their next quarterback. Chicago hasn't had success at that position for decades, and it could continue if Robinson isn't on the roster when they introduce their next signal-caller.
Stats courtesy of Pro Football Reference