The Chicago Bulls' Current Big Three Is Doing Things Michael Jordan's Late '90s Trio Never Could, and the Stats Back It Up
Michael Jordan, Scottie Pippen, and Dennis Rodman are among the most successful Big Threes in NBA history. The group went three for three in titles, cementing each player's Hall of Fame legacy. (Alright, maybe Jordan's was already cemented).
But as the 2021-22 Chicago Bulls find success the franchise hasn't seen since those '90s teams, the new Big Three of DeMar DeRozan, Zach LaVine, and Nikola Vucevic are performing in ways even MJ's trio could not.
(An argument could be made that Lonzo Ball is actually the third member of this year's Big Three. But compared to Vuc, Lonzo takes a back seat in terms of production, and he does so willingly).
Under the guise of different eras, this year's Bulls are achieving statistical greatness Jordan, Pippen, and Rodman were never able to obtain.
The Chicago Bulls remain the talk of the NBA in 2021-22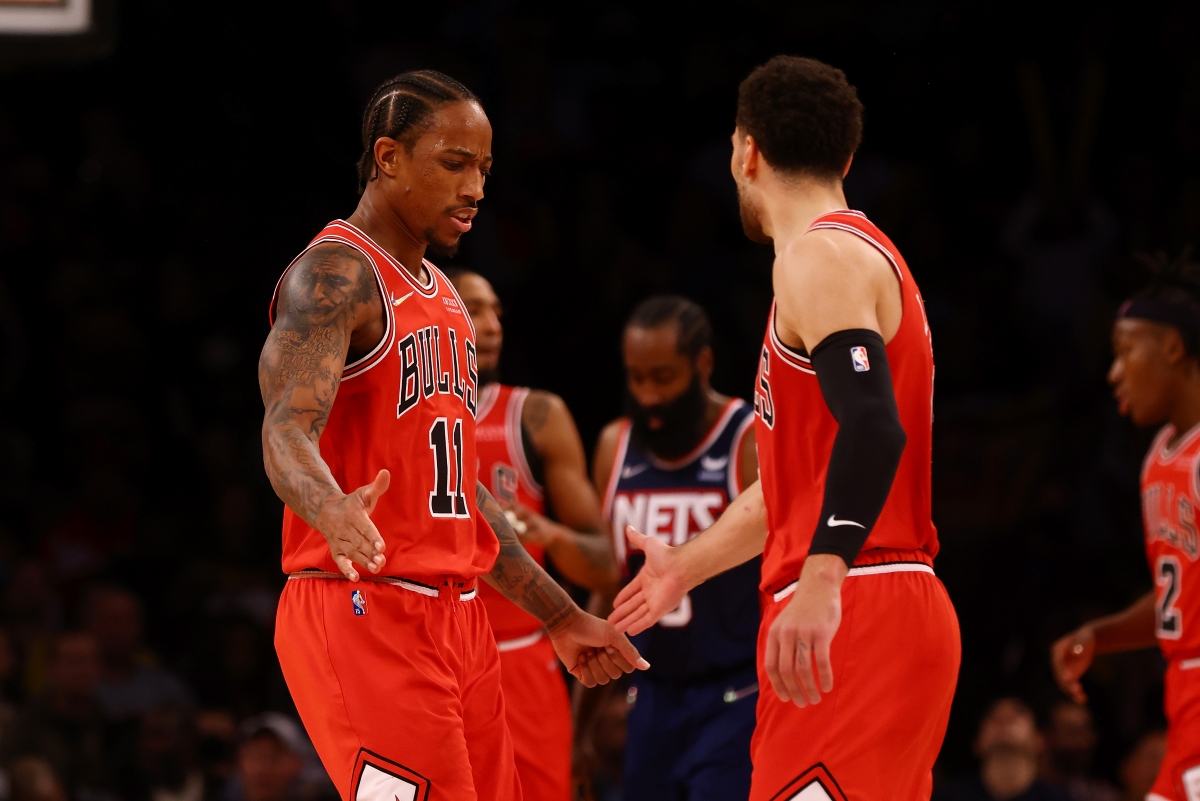 Chicago got off to a surprising start in October and November. Surely, though, the Bulls would crash back to Earth, right? They couldn't sustain this level of play.
But they have.
Led by a career year from DeRozan and supported by LaVine, Vucevic, and Ball, Chicago remains atop the Eastern Conference standings with a record of 25-10 through 35 games.
The Bulls' .714 winning percentage is fourth in the NBA, behind only the Golden State Warriors, Phoenix Suns, and Utah Jazz. All three of them are cemented as legitimate title contenders, by the way, even the often ignored Jazz.
Offensively, Chicago is top 10 in points per game (110.7), field-goal percentage (47.3), 3-point percentage (first overall at 38.5), free-throw percentage (81.3), and turnovers (13.2).
Defensively is where the team has surprisingly shined, however. Not a single member of the team's Big Three was known as a strong individual defender until this season. But the Bulls are 11th in defensive rating (107.9), seventh in opponent points off turnovers (14.9), and eighth in opponent fast-break points allowed (11.2).
Put alongside one of the best and most efficient offenses in the league, Chicago's defense is plenty good enough.
And statistically, this year's Big Three is either matching or surpassing anything accomplished by the Bulls' dynasty of the late '90s.
DeRozan, LaVine, and Vuc are cruising by Jordan's teams of the late 1990s
DeRozan leads the pack at 26.9 points per game. LaVine is averaging 26.3, and Vucevic 15.9. Together, the Bulls' top three scorers are scoring 69.1 points a night.
MJ, Pip, and the Worm averaged 52.9 in 1995-96.
DeMar is shooting 49.4% from the floor, and Zach Attack 49.7. Collectively, the '95-96 Bulls' trio shot 48%.
The current Big Three also bests the peak '90s Big Three in free-throw percentage and 3-point percentage. Even defensively, they give a Bulls' team that ruined offenses during the 1990s a run for their money in specific categories.
No one will argue DeRozan, LaVine, and Vuc are better than MJ, Scott, and Dennis. But the fact that they're going step for step with what may be the most remarkable trio of teammates in league history means something.
Now, there's only one question left to answer.
Chicago's new Big Three has to prove they can match MJ's Bulls when it matters most
Beyond statistics and personal accolades, that iteration of Jordan's team will be remembered for winning three consecutive titles. Those Bulls flipped every switch and button when they needed to.
As of now, Chicago leads the East. But there's still more than half of the 2021-22 season left to be played. The more these Bulls win, the more they look like the real deal.
But none of these stats matter if DeRozan, LaVine, and Vucevic (and Ball) aren't holding the Larry O'Brien trophy at the conclusion of the season.
That's where the Bulls made their mark in the 1990s. And that needs to be where this year's Chicago team ultimately leaves its mark in 2022.
All statistics, unless otherwise noted, courtesy of NBA.com.