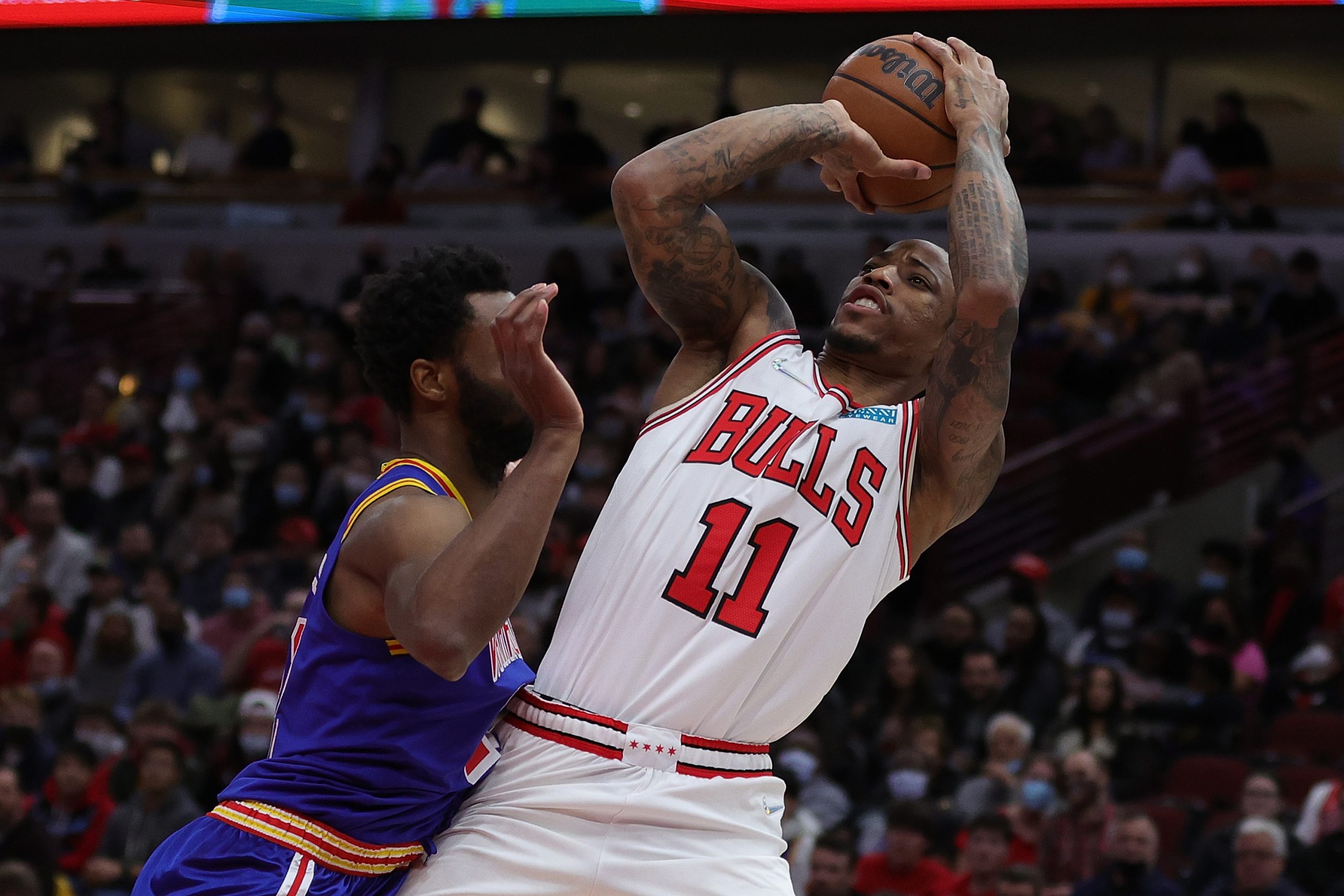 Chicago Bulls Star Guard DeMar DeRozan Continues to Dominate With His Mid-Range Mastery
Chicago Bulls star guard DeMar DeRozan ranks eighth in the NBA in scoring despite shooting very few 3-point shots this season.
The defining moments of this young NBA season straddled 2021 and 2022 when Chicago Bulls star guard DeMar DeRozan set some league history by drilling game-winning, buzzer-beating 3-pointers on consecutive nights.
Want to know how many 3-pointers DeRozan has made since those magical moments when he won games in Indiana and Washington, D.C. on consecutive nights?
Zero. 
Yep, you read that correctly. In this day and age when analytical eggheads shape so much of basketball's style and have determined that any 3-point attempt is a good one, DeRozan is either a throwback or a dinosaur, depending on how you look at it. In some ways, he's the middle-aged man still stubbornly using a flip phone, the little old lady printing out her boarding pass for a flight, and the baby boomer hanging onto that collection of CDs.
Chicago Bulls guard DeMar DeRozan is one of the NBA's top scorers despite shooting few 3s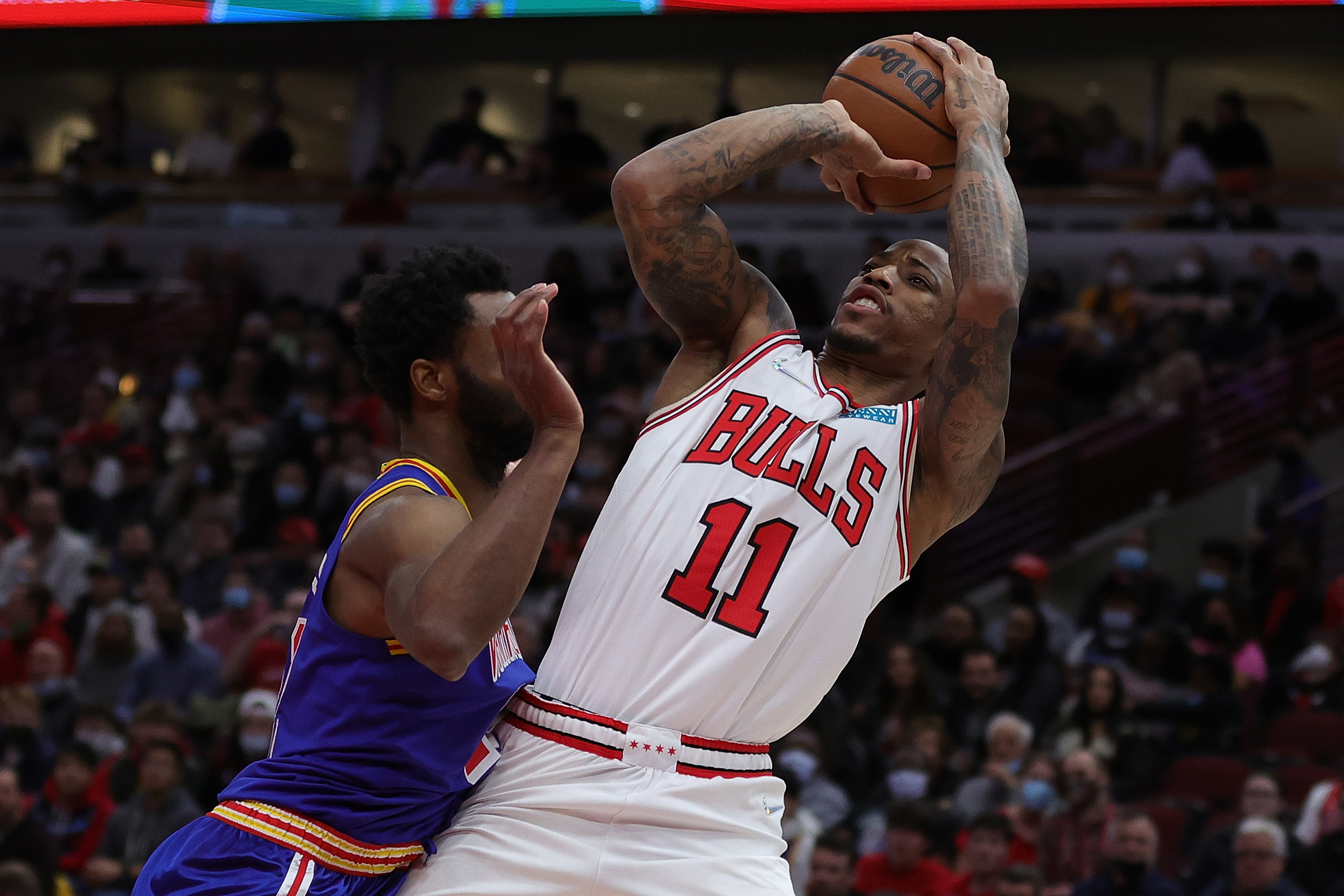 DeMar DeRozan poured in 30 points on Wednesday night to help the Chicago Bulls beat the upstart Cleveland Cavaliers and stop a losing streak at four games. DeRozan scoring 30 points was hardly breaking news since he's hit that plateau 10 times already in this renaissance season. It's how DeRozan scored his 30 points that made the night especially significant.
This season, it was the third time that DeRozan scored at least 30 points without even attempting a 3-pointer. How rare is that in this day and age of teams regularly jacking up 40-some 3-pointers a night? Of all the players in the NBA to have 30-point games without attempting a 3-pointer, it's happened just three other times. Again, DeRozan has done it three times himself while simultaneously leading the Bulls to the top of the Eastern Conference and transforming himself into an MVP candidate.
"This is one of the greatest stories of this generation," former 3-Point Shootout champion Tim Legler said on ESPN's SportsCenter on Wednesday. "To think that he can put up all those numbers without using the 3-point line when that's all guys do now is amazing."
DeMar DeRozan is doing it differently, but it's still very effective for the East-leading Bulls
DeMar DeRozan, 32, ranks eighth in the NBA in scoring at 25.7 points a game. It's the most points DeRozan has scored in five seasons when he was in his mid-20s and seemingly in his prime.
DeRozan is doing all that while averaging less than one made 3-pointer a game (0.6) and less than two attempts (1.8) a game. He has hit three 3-pointers — a good quarter for Stephen Curry, Donovan Mitchell, or Chicago teammate Zach LaVine — just twice, and he's attempted five in a game just two times.
All seven NBA players ahead of DeRozan in scoring are making more than one 3-pointer a game on average, including 7-footers Nikola Jokić (1.5) and Joel Embiid (1.3). 
Conversely, DeRozan is doing it by dominating with mid-range jump shots — the attempts analytics staffs have taught their defenders to surrender while protecting the 3-point arc. While he's shooting just 28.4% from 3-point range, DeRozan is burying 50.4% of his 2-point tries.
DeRozan has taken 90.6% of his shots from 2-point range, which ranks second in the NBA among guard regulars, trailing only Elfrid Payton's 93.9%.
The veteran guard makes 2.5 baskets a night from 15-to-19 feet and 2.4 baskets a game from 10-to-14 feet. He ranks third in the NBA in pull-up points (11.1 per game) and eighth in drive points (9.7 per game).   
"A lot of (opposing) teams will live with it," DeRozan said of the mid-range shot to NBC Sports Chicago. "I look at it like, if a team will live with that, why not try to figure out how to master that?"
It's hard to argue with DeMar DeRozan's success in sticking to mid-range jump shots
Not only does DeMar DeRzoan know exactly who he is as a player, but he is also intelligent enough to take advantage of defenses stretched thin to the 3-point line by attacking in the mid-range. He's been in the NBA's top five in mid-range field goals in eight of the past 10 years.
The Bulls are an impressive 9-1 with seven consecutive victories when DeRozan scores at least 30 points this season. Incredibly, he hasn't made a 3-pointer in half of those 10 30-point nights.
As for those aforementioned buzzer-beating, game-winning 3-pointers on Dec. 31 in Indiana and Jan. 1 in Washington? Those shots, of course, were DeRozan's only made 3-pointers.
In this day and age of 3-point shots dominating basketball, DeRozan is doing things differently. Most importantly, he's an effective difference-maker while doing things differently than just about every other player in the NBA.