The Chicago Bulls Could Get a Major Backcourt Boost From an Overlooked Hometown Kid
Second-round draft picks don't usually garner much media attention in the NBA. This is especially true for a team like the Chicago Bulls, who made multiple offseason splashes this summer in the hopes of making a playoff push. Still, Ayo Dosunmu has the look of someone who will play a key role in Chicago.
Accomplished collegiate players such as Dosunmu can fly under the radar come draft time, considering NBA executives tend to prioritize younger players who presumably have higher upside. Yet Dosunmu's NCAA resume, early preseason play, and work ethic make him a player to watch in the Bulls backcourt.
The Chicago Bulls selected Ayo Dosunmu in the second round of the 2021 NBA Draft after he starred at the University of Illinois
The Chicago Bulls lost their first-round pick in the 2021 NBA Draft after it translated to the Orlando Magic as part of the Nikola Vucevic trade. As such, they had just one chance to decide which young talent would join the roster.
Chicago went with the hometown kid.
The Bulls drafted Chicago native and University of Illinois standout Ayo Dosunmu with the 38th overall pick. Dosunmu had been a standout prep star at Morgan Park High School before heading to Champiagn, where he made his mark as the top player for the Fighting Illini.
Dosunmu's stellar season earned him recognition as a finalist for the Wooden Award. He averaged 20.1 points, 6.3 rebounds, and 5.3 assists while ranking second in the Big Ten in both scoring and assists. The combo guard's size, length, and skill level helped to make him a nightmare for opposing guards, and Dosunmu also excelled in transition and moving without the ball.
Despite being a second-round pick, Dosunmu is already showing glimpses of the attributes that made him a star in college.
Dosunmu is having a strong preseason
Is it possible the Chicago Bulls have one of the steals of the 2021 NBA Draft? Judging by Dosunmu's preseason play, that could indeed be the case.
Dosunmu hasn't seen a ton of action in his first three games, but he's scored the ball efficiently and made big buckets at crucial junctures. The former Illini star scored nine points on 4-of-7 shooting in the final seven minutes of Sunday's game against the Cleveland Cavaliers, essentially powering the Bulls to a win.
Teammates such as DeMar DeRozan and Zach LaVine have praised Dosunmu, with LaVine saying the rookie guard is fearless and hungry.
"He (Dosunmu) doesn't have any fear at all, offensively or defensively," LaVine said, via NBC Sports Chicago. "He asks a whole bunch of questions. He probably asks more questions than any rookie I've been around, on- and off-the-court subjects. So he wants to learn."
LaVine is the centerpiece of Chicago's backcourt. Lonzo Ball has looked impressive as the team's new point guard, and Alex Caruso should play a big role as one of the team's best perimeter defenders and a strong off-ball mover.
But while much of the focus will be elsewhere, Dosunmu could eventually soak up minutes and be a valuable two-way playmaker in light of recent Bulls injuries.
Emerging as a valuable Bulls reserve amid recent injuries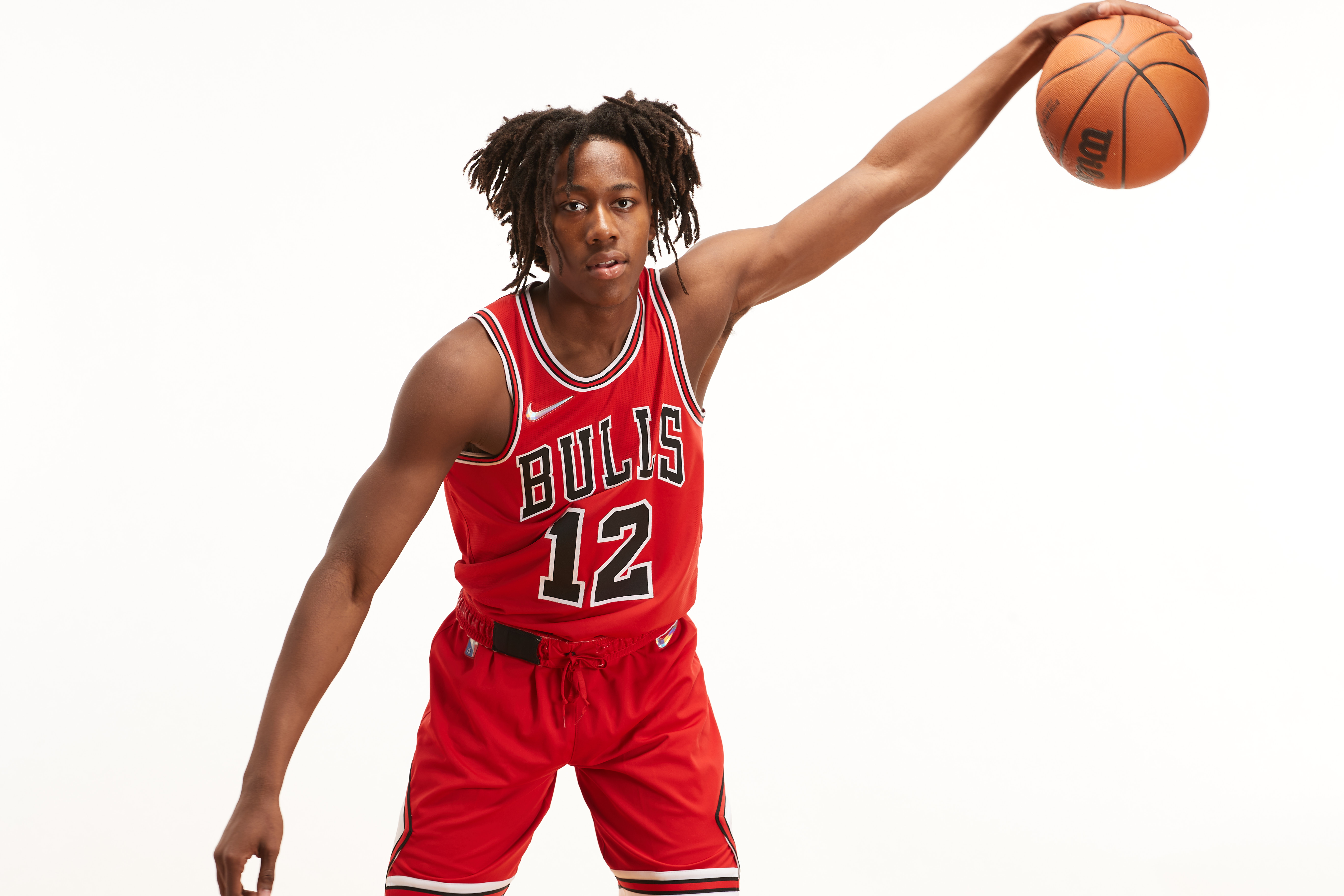 Alex Caruso will almost certainly get his minutes because of his defensive acumen. But it might not be a surprise to see Ayo Dosunmu eventually steal some minutes from Coby White, even when the 2019 first-round pick is healthy.
Dosunmu shows better scoring variety and has been more efficient in the midrange, an area where White — who is currently out with a shoulder injury — struggles. His finishing ability makes him a more demanding challenge at the rim and allows him to make plays for cutters or rolling bigs. He also has more defensive awareness than White as someone who hounds the passing lanes.
At the very least, Dosunmu should get an opportunity with White and Patrick Williams both nursing injuries. It might not be a surprise to see him capitalize on that opportunity and grow as a more important player in head coach Billy Donovan's rotation.
Stats courtesy of CBB Reference and NBA.com.
RELATED: Zach LaVine Reportedly Wants to Go the Michael Jordan Route in Chicago and It Could Result in NBA Championship Contention for the Bulls