The Chicago Bulls Are Missing 1 Crucial Piece in Their Chase for a Championship
The Chicago Bulls have been active during the early part of NBA free agency.
First, Chicago completed a sign-and-trade with the New Orleans Pelicans to bring Lonzo Ball to the Windy City. General manager Arturas Karnisovas then signed guard Alex Caruso to a four-year, $37 million deal. The Bulls followed that with another splash, acquiring DeMar DeRozan from the San Antonio Spurs in another sign-and-trade deal.
There's no question Chicago is more talented and better offensively than it was a week ago. But the saying isn't "offense wins championships."
The Chicago Bulls need to become better defensively if they hope to win a championship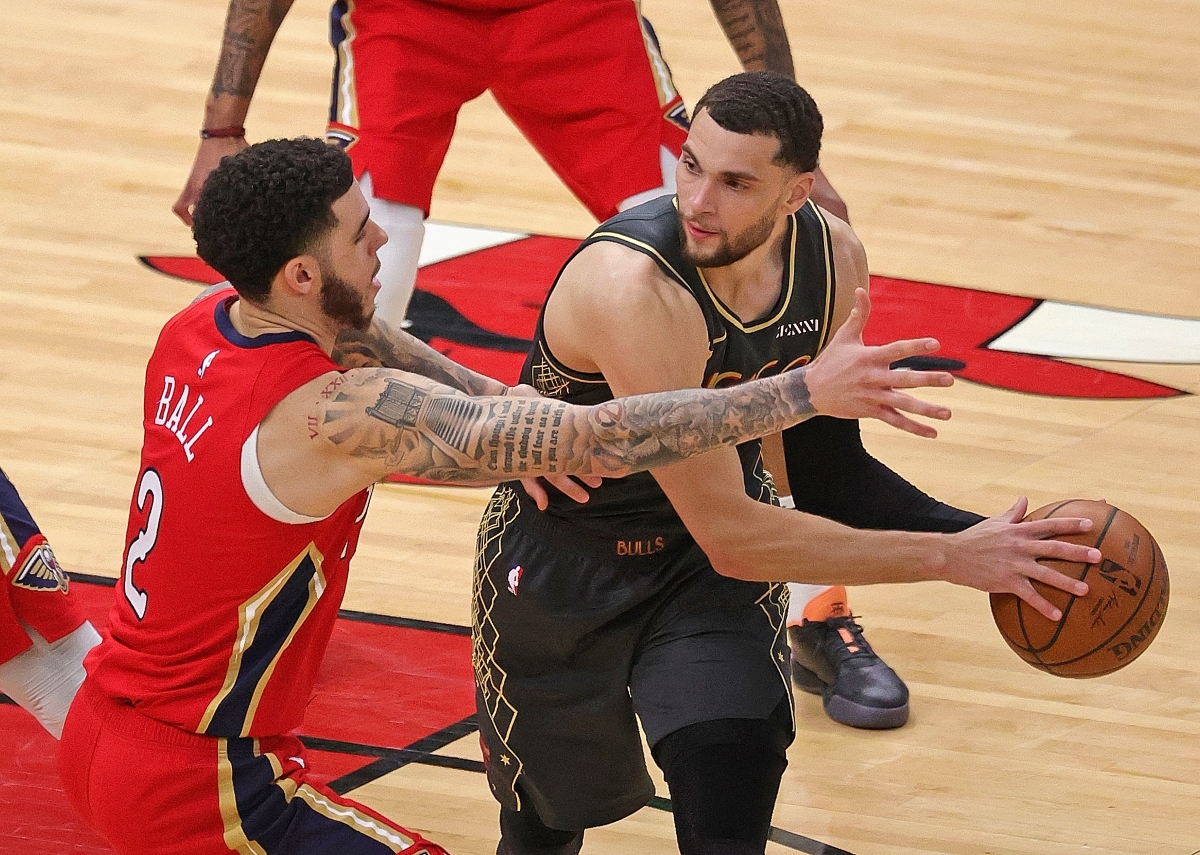 DeRozan is still a high-level offensive player and is a good fit for Chicago. He's been a mid-range assassin his entire career and still averaged 21.6 points per game last year with the Spurs, right around his career average of 20.1. He should also fit in well with both Ball and Zach LaVine on the perimeter. LaVine is the Bulls' go-to scorer and averaged a career-high 27.4 points in 2020-21. Ball will slot in as the unselfish playmaker with spot-up shooting ability.
The Bulls traded a haul at least year's trade deadline to acquire Nikola Vucevic from the Orlando Magic. Vucevic is also an excellent offensive player. He's averaged more than 20 points in four of the last five seasons on nearly 50% shooting.
But none of those players have ever been considered great defenders. LaVine and DeRozan have basically been useless on that end during their careers. Ball is above average because of his length and IQ, but he won't be a one-on-one stopper against the best perimeter players in the NBA. Vucevic is undersized as a rim protector, so if he's Chicago's last line of defense in the paint (which he often could be), the Bulls will be in trouble.
What is Chicago's path to developing championship-level defense?
The Caruso signing was likely the first step the Bulls' front office took toward improving the defense. He will never be a threat on offense, but Caruso was fourth in the NBA in defensive rating last year for players who played more than 21 minutes per game, according to NBA.com, and third among guards. He will become Chicago's perimeter stopper, but he also offers next to nothing offensively when he's on the court.
Patrick Wiliams was Chicago's first-round draft pick last season, and he was a pleasant surprise. He has potential as a versatile wing defender, but he's also 20 years old with only one year of NBA experience. Though the Bulls need him to take a leap forward, expecting him to be one of the team's best defenders is asking a lot at this point in his career.
Chicago also doesn't have much in the way of future draft picks to trade or financial flexibility. The defensive growth will have to come from internal development or value signings from the fringes.
The past few champions have proven it still takes defense to win in today's NBA
The league has transitioned into a pace-and-space offensive era. But defense still wins championships.
According to NBA.com, the Milwaukee Bucks were No. 1 in defensive rating during the 2020-21 playoffs. They won a championship. Their opponent in the finals, the Phoenix Suns, was third.
The Los Angeles Lakers won the 2019-20 title and were sixth in defensive rating during that year's playoffs. When the Toronto Raptors won in 2018-19, they were fourth.
The Bulls have added crucial pieces to bring themselves closer to their first championship since the Michael Jordan era. But if they don't find a way to play defense, that championship run isn't coming.
All stats courtesy of Basketball Reference unless otherwise noted.