Chicago Bulls News: Alex Caruso, Patrick Williams Nearing Critical Returns
The Chicago Bulls' chances of contending for an NBA title have taken a big hit in recent weeks, with the team falling to the No. 4 seed in the Eastern Conference following a five-game losing streak between Feb. 26 and March 7. However, the Bulls ended their skid with a win in Detroit against the Pistons, and they received massively encouraging news regarding the potential returns of Alex Caruso and Patrick Williams.
Caruso has not played since suffering a fractured wrist as the result of a controversial encounter with Milwaukee Bucks guard Grayson Allen. Meanwhile, Williams played all of five games before undergoing surgery to repair torn ligaments in his wrist.
Both players are instrumental to a Bulls defense that has been one of the worst in basketball for the past couple of months. Caruso guards multiple positions and sets the tone with his communication and excellence at the point of attack. Despite being just 20, Williams has the versatility and athleticism to make an impact at the 4-spot.
It's good news, then, that both players are taking critical steps toward getting back on the floor.
Alex Caruso and Patrick Williams are both nearing possible returns
At the start of March, the Bulls' uncertainty as to when team doctors would clear Caruso for contact appeared to muddy his timeline a bit. However, the 28-year-old has made good progress.
K.C. Johnson of NBC Sports Chicago reported Wednesday that Caruso has been cleared for full contact. He is in Chicago working out and will prepare to join the team for full practice on Friday. It's not a guarantee that Caruso plays in Saturday's showdown with the Cleveland Cavaliers, but he could make his return at some point during the team's upcoming West Coast swing.
Williams is a bit further away, but his update is every bit as encouraging. The No. 4 pick in the 2020 NBA draft has been cleared for partial contact and is partaking in 1-on-1 and 2-on-2 work. Johnson noted he could receive full clearance in the very near future if his healed wrist responds well.
Unfortunately for Bulls fans, injured guard Lonzo Ball only just began doing lateral movements and must undergo additional conditioning work. Still, Chicago can take solace in Caruso and Williams both trending in the right direction.
How Caruso and Williams can remedy team defense
DeMar DeRozan has played at an MVP level this season. Rookie guard Ayo Dosunmu has given the Bulls a massive lift on both ends. Zach LaVine is admirably battling through knee pain.
These things would seem to suggest that Chicago can withstand injuries and roster issues. The problem is that the Bulls were wholly dependent on Alex Caruso and Lonzo Ball to set the team's defense.
In 776 minutes with Caruso on the floor, Chicago has an excellent 104.3 defensive rating. But with AC out of the lineup, that number skyrockets to 115.8 points per 100 possessions. Why is he so critical?
Caruso is terrific defending pick-and-roll. He fights through screens and stays locked onto his assignment while getting his hands in the pocket and creating deflections. The Bulls guard also has terrific anticipation and helps organize cleaner rotations. He can help off his man or prevent straight-line drives.
Williams' defensive importance is less demonstrable in terms of experience. However, he's a long and athletic 4-man who can bait poor passes in transition, moves well laterally, and has strong timing as a guy who can help protect the rim and stop ball-handlers from getting all the way to the tin.
Caruso and Williams can help galvanize the Bulls' team defense upon their returns. They also make Chicago that much deeper in the second unit.
Making the bench group better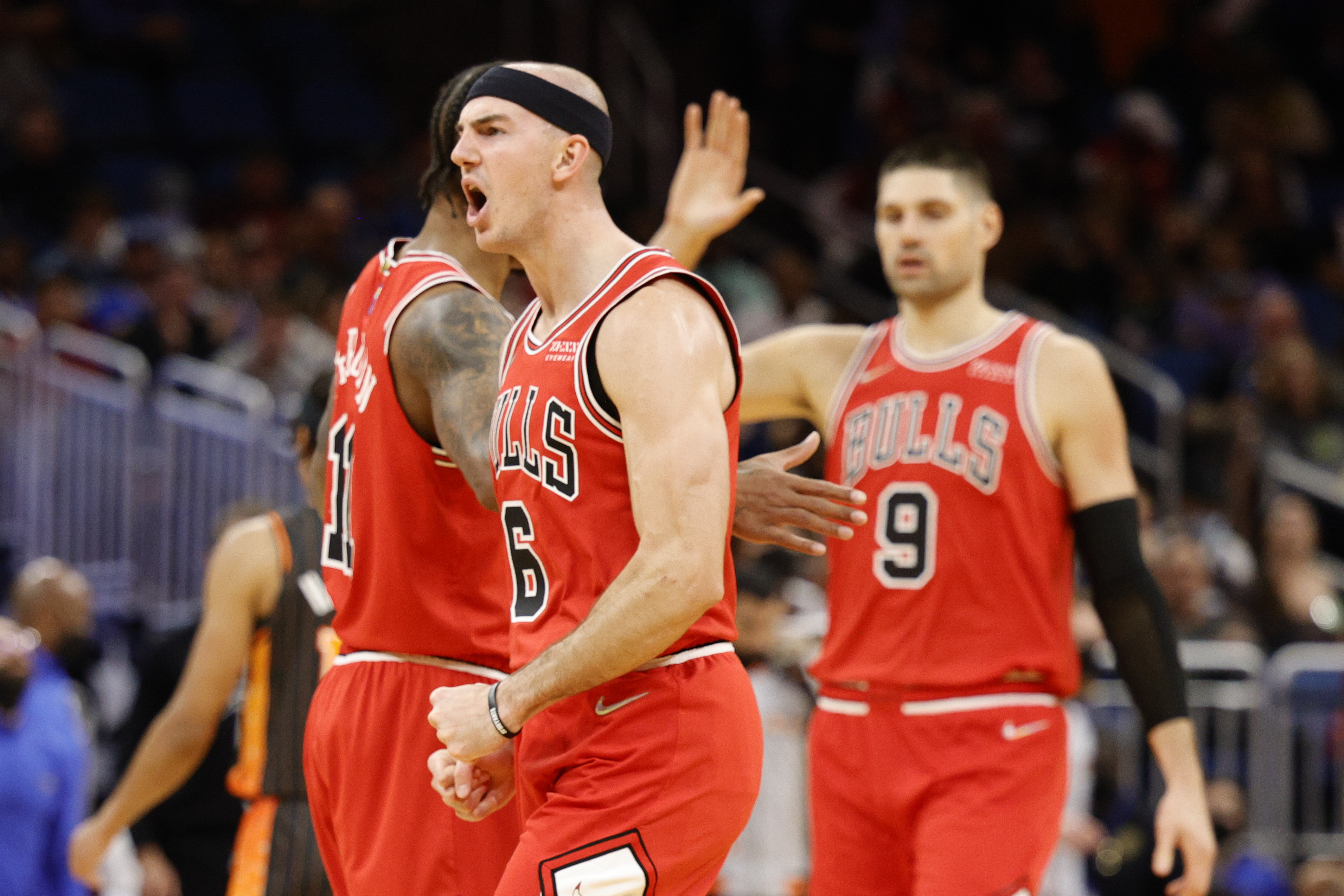 Say Alex Caruso and Patrick Williams are eventually inserted into the starting lineup. The bench group suddenly looks a whole lot better.
Dosunmu can come off the bench as a combo guard who can play-make and help head coach Billy Donovan stagger minutes for LaVine and DeRozan. Williams' ability to play an undersized power forward could allow Tristan Thompson to provide frontcourt depth in the second unit. He's probably better suited to that than playing next to Nikola Vucevic.
It will be a bit of a challenge for Donovan to allocate minutes and figure out rotations, especially as it pertains to Williams and his ramp-up. That said, these are undoubtedly good problems to have.
Improved team defense could ave the Bulls' season. Caruso and Williams can help resuscitate their chances of contending.
Stats courtesy of Basketball Reference.
RELATED: Injuries or Not, the Chicago Bulls Have a Devastating Concern Come Playoff Time