Chicago Bulls Rookie Ayo Dosunmu Exposes the Fatal Flaws Of Analytics-Based Scouting
In many ways, Chicago Bulls rookie Ayo Dosunmu is living a dream. A Southside native who attended Morgan Park High School, the 22-year-old stayed close to home during three standout seasons at the University of Illinois. The Bulls picked him with the 38th overall pick on draft night in July.
He's been better than advertised. In a strong draft class that includes standouts Cade Cunningham, Evan Mobley, Scottie Barnes, and Josh Giddey, Dosunmu appears destined for a spot on the All-Rookie team come season's end.
The rookie has been crucial for Chicago surviving lengthy injury absences from Lonzo Ball and Alex Caruso. So how did an NBA-ready talent fall so far down the draft board?
Because sometimes analytics giveth, and sometimes analytics taketh away.
Ayo Dosunmu was an outstanding player at Illinois
Coming out of Morgan Park in 2018, Ayo Dosunmu was the 32nd-ranked prep prospect in the country, according to the Recruiting Services Consensus Index. The headliners in the class included RJ Barrett, Cam Reddish, Nassir Little, Zion Williamson, and Romeo Langford.
Dosunmu stayed close to home, committing to play for coach Brad Underwood at Illinois. A three-year starter, the 6-foot-5 combo guard helped lead the Illini's resurgence. The team was 12–21 during his freshman year but would have been a postseason team in 2019–20 before the pandemic ended the season prematurely.
Last season, Dosunmu averaged 20.1 points, 6.3 rebounds, and 5.3 assists a game, and Illinois earned a top seed in the NCAA Tournament. An upset loss to Loyola Chicago ended their run in the second round.
The two-time All-Big Ten selection declared for the NBA draft. The scouting reports focused on his inconsistent and inefficient shooting. For a combo guard, it's the kiss of death for one's draft stock.
Defensively, Dosunmu projected as a solid on-ball defender with the versatility to guard 1 through 3. But did they mention his shooting was a question mark?
As a junior, he shot 39.0% from the shorter collegiate three-point line and hit 51.1% of his two-point tries. The scouting consensus was he was more of a project than a finished product.
Summer league revealed little about Ayo Dosunmu
During the Las Vegas Summer League, Ayo Dosunmu's introduction to NBA-esque basketball was solid. But he did little to quiet the doubters. He averaged 12.6 points and 4.4 rebounds a game and shot 51.1% from inside the arc. But he made only one of his 12 tries from deep and had six assists to go with eight turnovers in 130 minutes.
He played sparingly during the preseason, scoring 25 points in 35 minutes. But because of injuries and an early bout with the health and safety protocols for the Chicago Bulls, Dosunmu emerged as a rotation regular in early November. The rookie took over the starting point guard duties when Ball went down with a knee injury in mid-January.
In 21 starts, the Chicago native averages 11.6 points, 6.4 assists, and 4.2 rebounds in a hefty 37.0 minutes a game. More importantly, he's only coughing up the ball 1.9 times a night.
He's also shooting 39.7% on 3.5 three-point attempts and hitting a robust 60.3% inside the arc. Perhaps most impressively, given his scouting report, Dosunmu has been shooting 40.6% on catch-and-shoot threes since moving into the starting lineup.
Chicago is 11–10 in those games and has fallen two games behind the Miami Heat in the Eastern Conference. But with a rookie second-round pick playing 37 minutes a game, the Bulls didn't collapse.
Instead, Dosunmu is helping keep the team afloat until Ball returns.
The Chicago Bulls got an NBA-ready player despite the analytics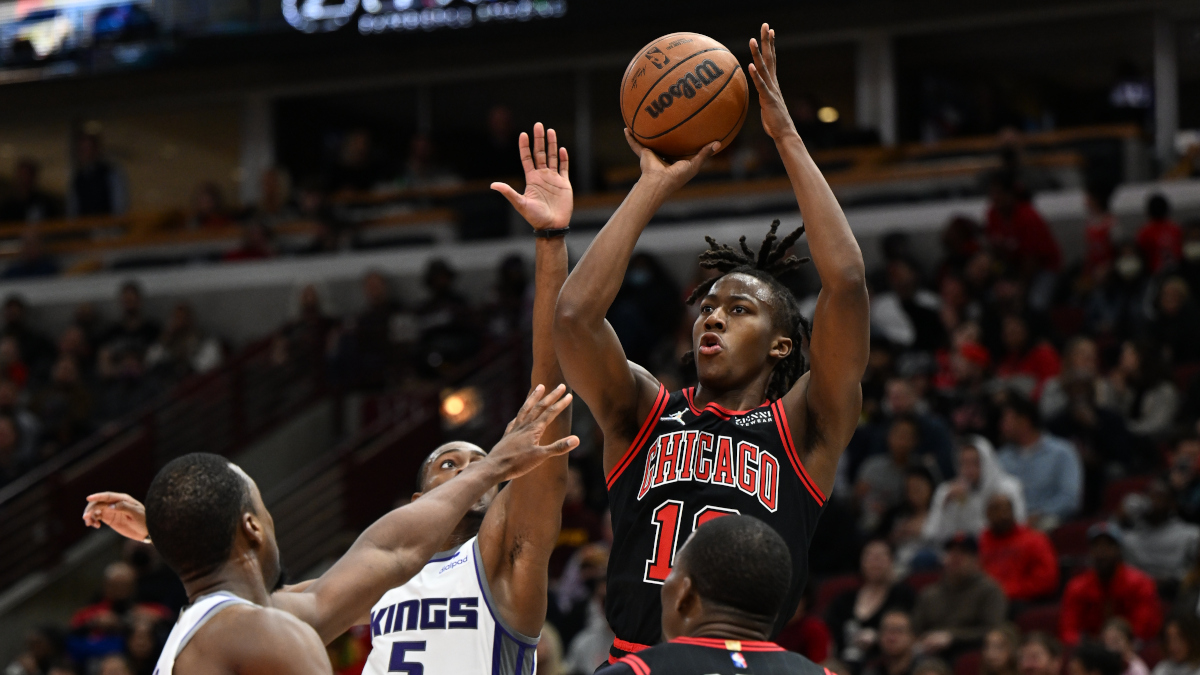 Analytics is a critical player-evaluation tool. But as Ayo Dosunmu shows, the numbers aren't foolproof.
The Chicago Bulls used a lottery pick on a point guard in 2019, taking North Carolina prospect Coby White seventh overall. But when Ball went down, coach Billy Donovan went with the rookie instead of the young veteran.
There were good reasons for Donovan to do so. Dosunmu exceeded expectations as a shooter in a reserve role, knocking down 41.7% from deep. His percentage dipped, but not precipitously, given the increased volume as a starter.
Instead, the 22-year-old is emerging as a solid role player for the future. Few teams go into the second round of the draft looking for superstars. Hey, picks like Nikola Jokić and Khris Middleton happen only a few times a decade.
But Dosunmu shook off less-than-glowing scouting reports and now looks like a solid rotational piece for a contending club in Chicago. He defends well, is a better playmaker than advertised, and has already emerged as a considerably better shooter than projected.
In short, the Chicago Bulls found a good basketball player when they got Ayo Dosunmu with the 38th overall pick. Because sometimes actions speak louder than numbers when evaluating young talent.
Statistics courtesy of Basketball Reference and NBA.com.
RELATED: Ayo Dosunmu Bolstering Both Chicago Bulls and Stellar NBA Rookie Class