Chicago Cubs Manager David Ross Part of High-Powered Windy City Couple
David Ross is Chicago royalty and further cemented that status over the weekend when rumors of Ross being part of a celebrity couple were confirmed. In his second season as manager of the Chicago Cubs, Ross became a folk hero in the city during the Cubbies' run to a World Series title more than a century in the making back in 2016.
That provided Ross a bit of a springboard into entertainment with a reality-TV appearance in 2017. And now he's dating a Hollywood star with strong ties to Chicago. Pretty heady stuff for a guy who hung around 14 years in the major leagues with the less-than-glamorous job as a backup catcher.
Actor confirms rumors of a relationship with Chicago Cubs manager David Ross
Torry DeVitto, who plays Dr. Natalie Manning on the Chicago-based Chicago Med, confirmed over the weekend via her Instagram account that she and Ross are dating. According to the Chicago Sun-Times, the relationship became more public when she attended a Cubs game against the Cincinnati Reds. DeVitto posted pictures of the sights around Cincinnati that included a photo of Ross from behind the Cubs' dugout.
DeVitto has been with the Chicago Med cast from the show's debut in 2015 (with the requisite crossover appearances on Chicago Fire and Chicago P.D.) Her IMDb bio also lists credits for a seven-year run on the HBO hit Pretty Little Liars, a recurring role on The Vampire Diaries, and one season as a regular on Lifetime's Army Wives in 2013. Her first credited role was on a 2003 episode of Dawson's Creek.
Ross and his sudden blastoff to stardom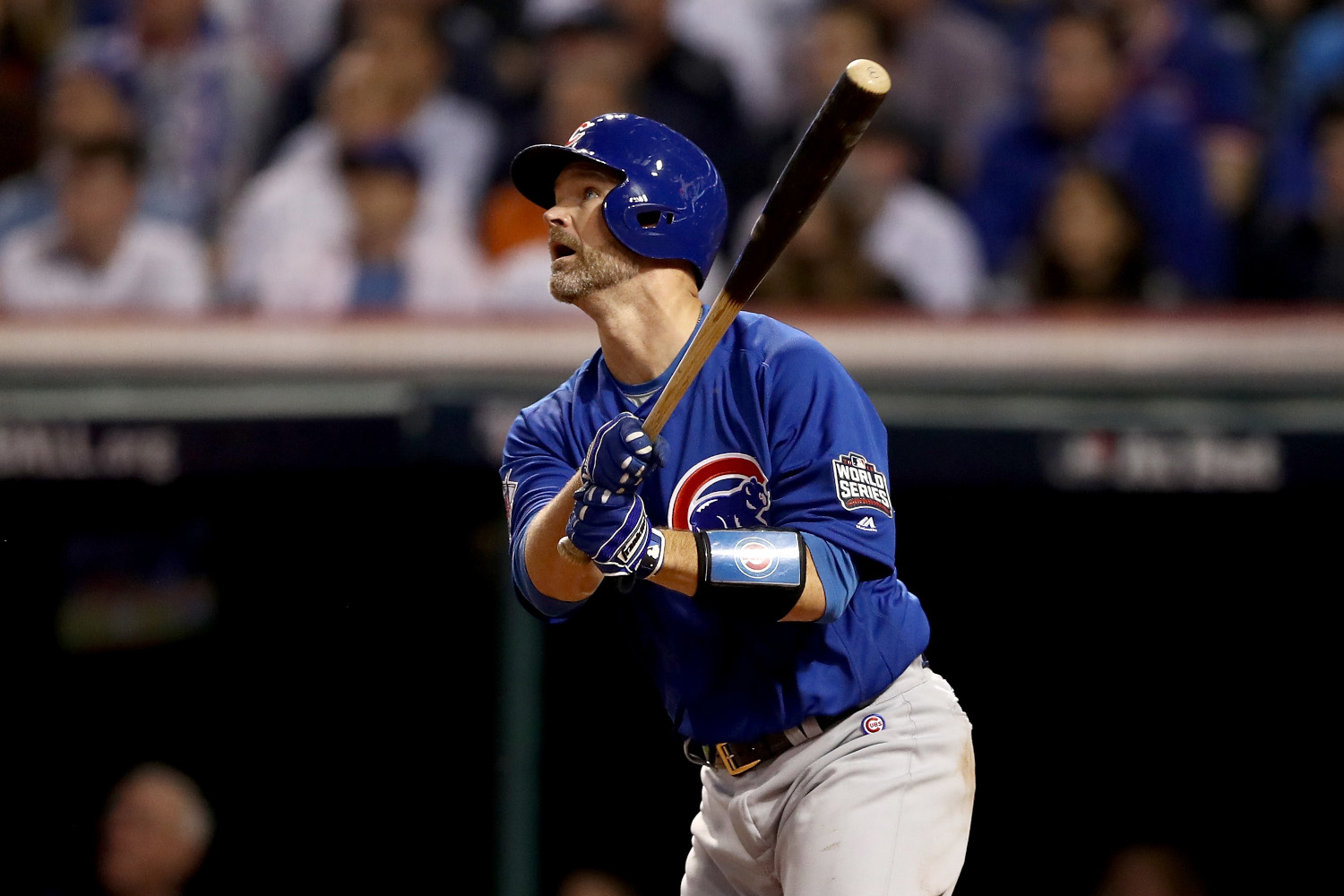 David Ross already had a World Series ring before he came to the Chicago Cubs as a free agent in December 2014, having appeared in four of the six games it took for the Boston Red Sox to beat the St. Louis Cardinals in 2013. But on an unseasonably warm night in Cleveland on Nov. 2, 2016, Ross cemented his place in Chicago lore in an unlikely manner.
By 2016, Ross was in his fourth season as the personal catcher for left-hander Jon Lester. In the bottom of the fifth inning of Game 7 against the Cleveland Indians, manager Joe Maddon called on Lester.
It wasn't a heroic start for Ross. The first batter Lester faced was Jason Kipnis, who hit a dribbler up the third-base line. Ross's throw to first landed somewhere near Akron (OK, it went into the seats down the right-field line). That allowed Kipnis to reach second as Carlos Santana advanced to third. A wild pitch by Lester allowed both runners to score. Again, less than stellar.
But in the top of the sixth, Ross blasted a solo home run off Andrew Miller. At age 39, Ross became the oldest player ever to homer in a World Series Game 7. Ross wasn't around for the end, a 10-inning, 8–7 win for the Cubs, but his legend status in Chicago was a done deal just the same.
He appeared the following year on Dancing With the Stars. Ross, who retired after the 2016 season, and partner Lindsay Arnold were an unlikely second-place finisher in the competition.
David Ross, the baseball player turned Chicago Cubs folk hero
David Ross was taken in the seventh round by the Los Angeles Dodgers in the 1998 MLB June Amateur Draft. He debuted in the big leagues in June 2002. He later played for the Pittsburgh Pirates, San Diego Padres, Cincinnati Reds, Atlanta Braves, the Red Sox, and the Cubs.
Like the prototypical backup catcher, Ross had some occasional pop at the plate but lacked consistency. He hit 106 home runs in 883 career games, including a career-high 21 for the Reds in 2006. But he was just a lifetime .229/.316/.423 hitter. His final big-league season was a revival of sorts. Ross hit below .200 in both 2014 and 2015, with eight home runs in 353 plate appearances.
But in 2016, Ross matched his career average at .229 and belted 10 home runs in 205 trips to the plate. He added two more long balls in the playoffs.
He also threw two perfect innings of relief for the Cubs in a pair of blowout losses in 2015. Ross even induced a swinging strike from Darin Ruf on a 69-mph heater (yes, you read that correctly), per ESPN's play-by-play log.
This season, Ross' Cubs are 17–17 after a 34–26 mark in the COVID-shortened 2020 season. The Miami Marlins swept Chicago in the Wild Card Series after last season.
Statistics courtesy of Baseball Reference.