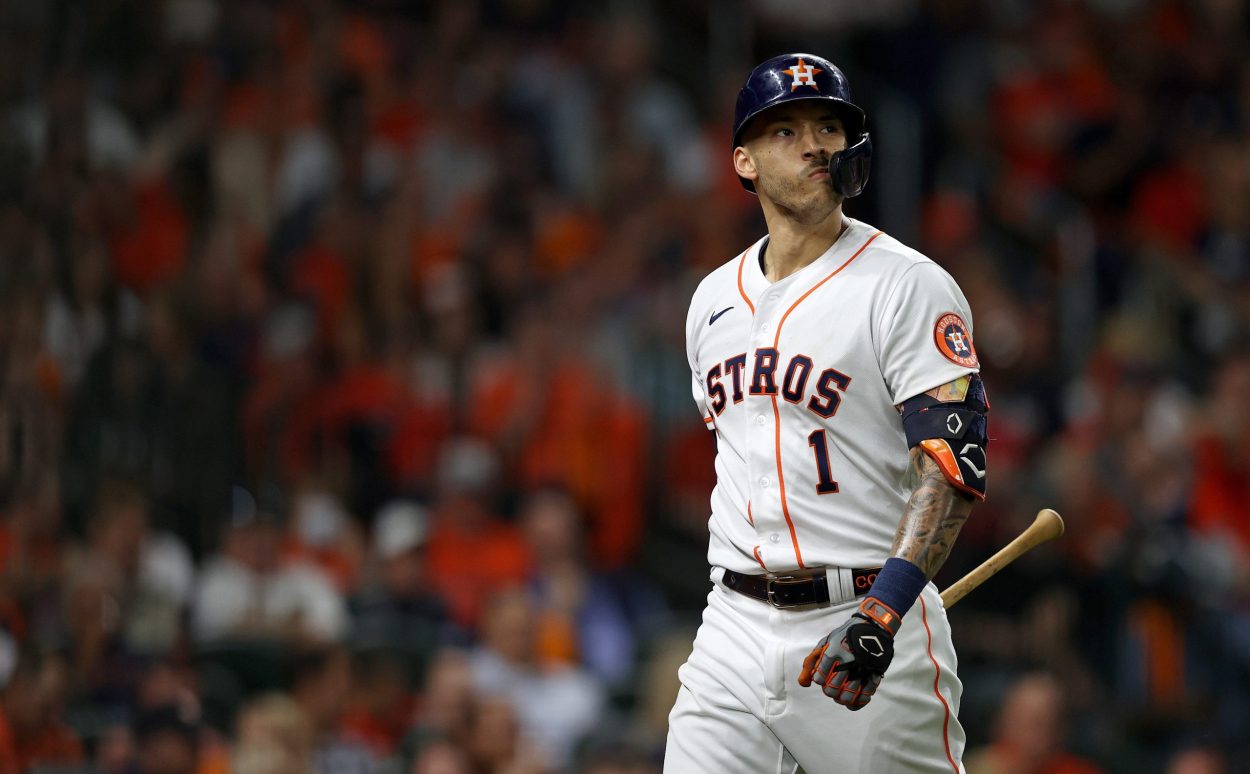 The Chicago Cubs Risk Missing Franchise-Altering Move With Carlos Correa
The Chicago Cubs risk missing a chance to galvanize the franchise back to a winning feel if they fail to sign Carlos Correa.
Having jettisoned impending free agents Kris Bryant, Anthony Rizzo, and Javier Baez at last year's MLB trade deadline and making consistent efforts to get well below the competitive balance tax, the Chicago Cubs seemed ready to spend big in free agency. Before the lockout, that appeared to mean making a run at superstar shortstop Carlos Correa.
Correa hit free agency as perhaps the No. 1 free agent on the market, a 27-year-old shortstop with elite defensive attributes and one of the strongest power bats at the position. Numerous teams figured to show interest in Correa once free agency reopened due to his age and magnetic talent.
However, the former Houston Astros star might have fewer suitors after Sunday's blockbuster deal sending Josh Donaldson and Isiah Kiner-Falefa to the New York Yankees. While the Yankees coming off the board presents an opportunity for the Cubs, Chicago's hesitance has already opened the door for Correa's most recent employer.
The Chicago Cubs have shown consistent interest in signing Carlos Correa in MLB free agency
The noise surrounding the Cubs' interest in Correa only grew louder once MLB and the MLBPA reached an agreement to end the lockout and brought an immediate restart to free agency.
Jon Morosi of MLB Network reported Chicago was poised to play a "major role" in Correa's market. He noted the numerous conversations between the Cubs and Correa's camp before the lockout, in addition to the financial flexibility the team has slowly created in recent seasons.
When Chicago traded away their star trio last July, the front office remained insistent that it demarcated more of a retool and less of a full-blown rebuild. President of baseball operations Jed Hoyer followed that by signing right-handed starting pitcher Marcus Stroman in free agency.
But Correa would be the biggest fish.
The two-time All-Star is coming off a season in which he hit 26 home runs with an .850 OPS while winning a Gold Glove. He is still quite young to be reaching free agency at this stage and, while injuries have played a role in his career, he still looks to be trending upward.
Moreover, Correa has established himself as a pretty timely hitter in October when the stakes are at their highest. Never was that more evident than in the 2020 postseason, when he clubbed six homers and drove in 17 runs in 13 games.
The Cubs already signed veteran shortstop Andrelton Simmons to a one-year contract. However, inking a player of Correa's talent is more of a needle-mover and affords Chicago some options.
Landing Correa could give the Cubs trade options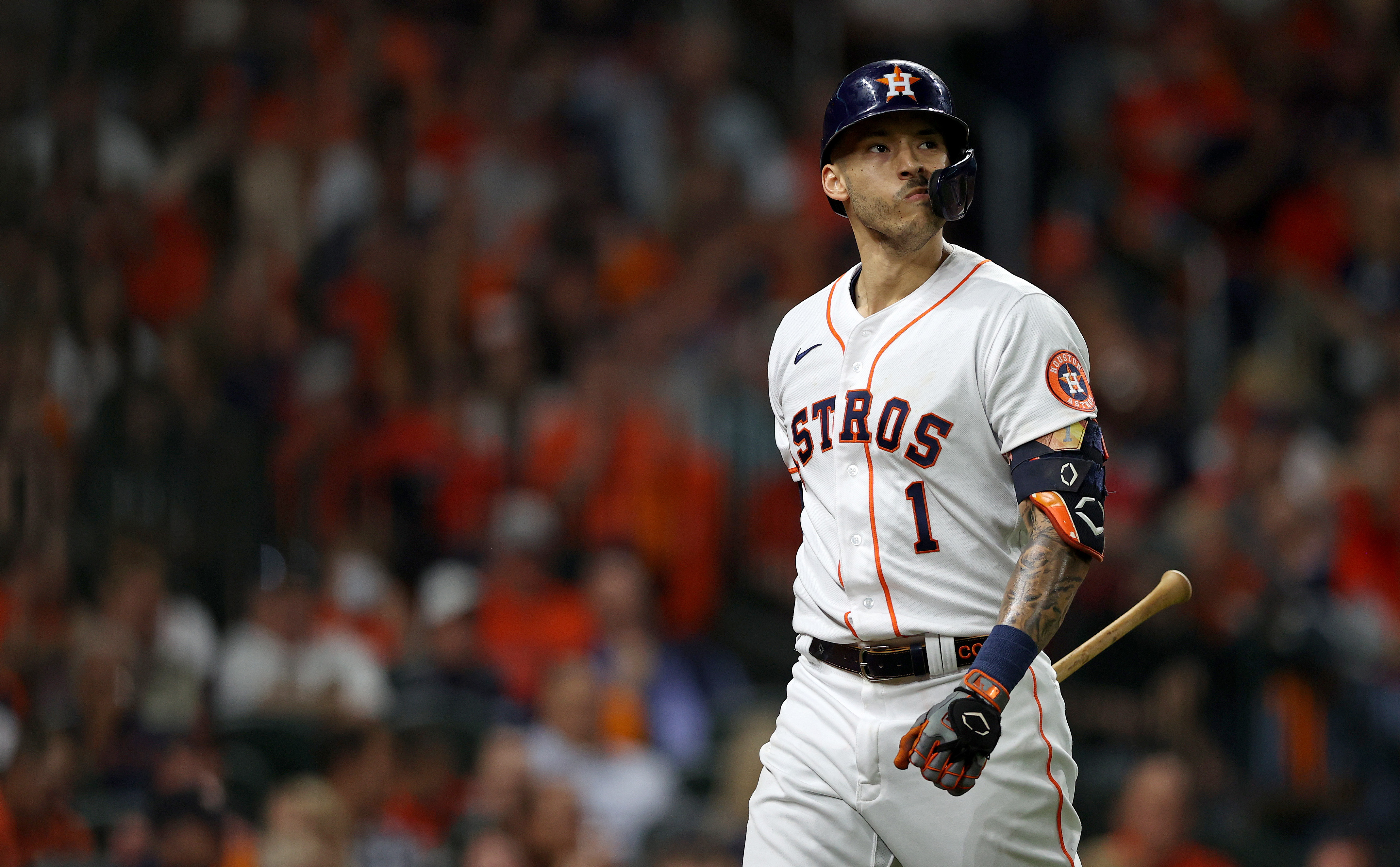 Should the Cubs ultimately sign Carlos Correa, they'd have a surplus of middle infielders in the pipeline. That's far from problematic, however.
Accruing talent up the middle is essential for just about every team in baseball. That's especially true as it pertains to shortstops, a premium position that has become home to some of the game's top talents.
The Cubs are fortunate to have enticing young talent at the shortstop position. Chicago drafted toolsy hometown kid Ed Howard with the No. 16 pick in the 2020 MLB Amateur Draft. It acquired Cristian Hernandez in the Anthony Rizzo trade, and the teenager has already begun to make waves. Not to mention, Nico Hoerner has impressed with plus defense and bat-to-ball skills, and the Cubs have another premium contact guy in Nick Madrigal.
Adding Correa to the mix gives the Cubs an option to trade from this group of middle infielders, perhaps in an effort to assemble more starting pitching.
Chicago has a solidified 1-2 in the rotation in Kyle Hendricks and Stroman. Veteran lefty Wade Miley joins the group after a career season with the Cincinnati Reds. Right-hander Adbert Alzolay has projectable stuff to be an excellent mid- to back-end option. Bullpen arms might also be on the radar.
If the Cubs hope to contend this season, they need to bolster the pitching staff. Signing Correa could have a domino effect that might result in them doing just that. In essence: A two-for-one special.
A return to Houston suddenly appears more likely
Much of the dialogue from Correa in 2021 indicated that he had played his last season in Houston. But things have shifted on that front.
Buster Olney of ESPN reported that the Astros have become more aggressive in trying to re-sign Correa. He also noted that agents around baseball believe the megastar shortstop could sign a deal that includes an opt-out after the first year and allows him to re-enter free agency next winter.
The Cubs will not give Correa a multiyear deal with an early opt-out because this roster, as currently constructed, is not ready to contend for a World Series this season. Conversely, the Astros can take on some risk because they are fresh off a World Series berth and hungry to return to the Fall Classic.
Chicago must decide on a path. Signing Correa to a long-term deal ties a lot of money to him, but it also reflects a win-now move that has massive ramifications for the future. If the Cubs fail to convince Correa to come to Wrigleyville, the 2022 season will likely be defined by mediocrity and frustration. That's become a holding pattern for a franchise once again seeking direction.
Stats courtesy of Baseball Reference.