Chiefs Great Dante Hall Boldly Compared His Legendary Kick Return Streak to Stephen Curry's Shooting Prowess: 'You Feel Like, Why Can't I Do It Again?'
Article Highlights:
Kansas City Chiefs legend Dante Hall compared his legendary kickoff return touchdown streak to Stephen Curry's shooting prowess
Hall returned kickoffs or punts for touchdowns in an NFL-record four straight games during the 2003 season
It's hard to argue with the two-time All-Pro product after examining his case
Over a decade before Patrick Mahomes began slinging touchdowns and carving up defenses, Kansas City Chiefs fans enjoyed watching Dante Hall, affectionately called the "Human Joystick," work his magic.
Actually, "enjoyed" might be an understatement. Hall, a two-time All-Pro selection, brought the crowd to its feet whenever he fielded a ball on special teams. Nearly 20 years after an incredible touchdown streak, the Texas A&M product looked back and compared his own skillset to that of Golden State Warriors great Stephen Curry.
If that sounds ridiculous, hold your judgment for a second. You might be surprised by what you're about to learn.
Dante Hall compared his legendary kick return streak to Stephen Curry's three-point shooting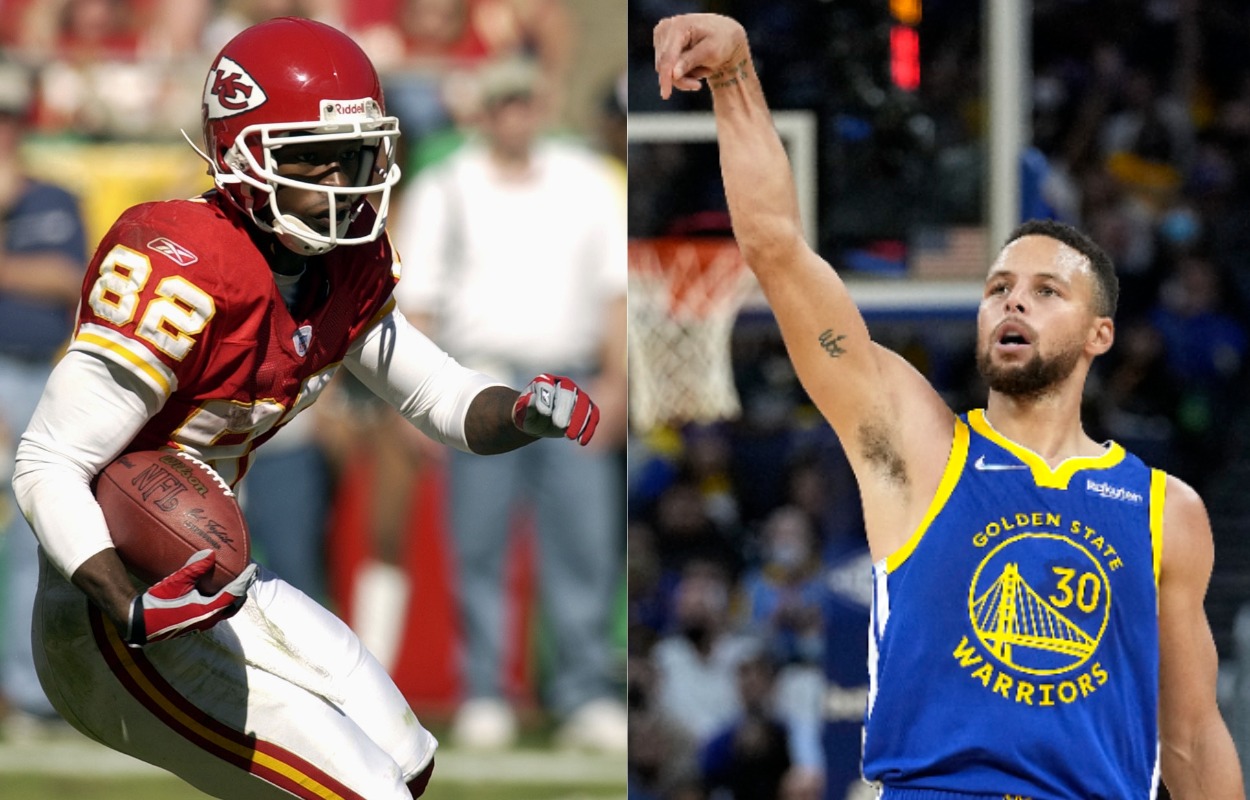 More often than not, kick and punt returns are relatively boring plays to the observer. Rule changes and added emphasis on player safety mean we're seeing more fair catches and touchbacks.
In years past, however, special teams provided no shortage of excitement. The NFL and its television partners regularly promoted bone-shattering hits, many of which came on kickoff coverage. And, as we still see now, there's the rare return for a touchdown.
Few have been better at the trade in NFL history than Hall, who scored 12 such touchdowns — six on punts and six on kickoffs — in a nine-season career. Four of those scores came during a four-game streak early in the 2003 season. As of November 2021, no other player has matched the accomplishment.
In a recent interview with The Athletic, Hall reflected on the streak, which included two touchdowns on punt returns and two on kickoffs. The two-time Pro Bowler referenced one where he fielded the ball at the Chiefs' 7-yard line and returned it 93 yards for a score against the rival Denver Broncos.
Why take the risk when he could have been tackled so deep in his own territory or even fumble? Hall said confidence played a significant role in his decision. 
"You feel like, Why can't I do it again? It's no different if Steph Curry gets hot and he pulls up from half-court. You just get in a zone."

Dante Hall
Hall totaled 2,446 all-purpose yards from scrimmage in 2003, which remains a Chiefs' single-season record.
Hall's claim is bold but it's certainly hard to argue against it
Some basketball fans might be outraged to hear a retired football player compare himself to Curry. The two-time NBA MVP is rapidly approaching Ray Allen's NBA record for most career 3-pointers and is arguably the greatest sharpshooter in league history.
Consider where Hall is coming from, though. He's not necessarily saying he was as proficient a returner as Curry is a long-range shooter, although Chiefs fans are free to make such an argument. The All-Pro returner is only comparing the "zone" and how comfortable a streaking player feels when he knows things are going his way.
It's hard to disagree with Hall in that sense. When you watch his highlights nearly 20 years later, you see how effective he managed to be on plays that tend to be extremely spur of the moment at their core. A receiver can plan for how he's going to beat a shutdown cornerback on an out route. Conversely, a returner has to account for everything from wind to where the ball is falling to how many blockers he'll have ahead of him.
Everyone involved knew the inherent risks of Hall fielding a ball at the 7-yard line, but he felt confident enough to do it anyway. He had no urge to leave the "zone" and we know how things turned out.
Hall and Devin Hester marked the last of the great kick return specialists
Returning a kickoff or punt for a touchdown is among the most difficult plays in sports, and it's also an event that we're gradually seeing less of each season.
As of Nov. 19, 2021, there have been four kickoffs — one coming on an onside kick — returned for touchdowns this season. No players had returned any punts for touchdowns in that span.
The likes of Hall and Devin Hester, the Chicago Bears' All-Pro returner who had 20 total return touchdowns from 2006-16, are long gone. Changes in college football, including a 2018 rule change mandating that catches on a kickoff are treated as touchbacks, are partly to blame for the downtick in kick returns.
Eventually, the NFL may remove kickoffs, and all we'll be left with are Hall and Hester's highlights. Actually, considering how fun those clips are, we'll take that reality.
Like Sportscasting on Facebook. Follow us on Twitter @sportscasting19.