Chiefs OC Eric Bieniemy's Troubling Rap Sheet Includes a Disturbing Assault Charge Against a Woman
Former NFL running back Eric Bieniemy is a rising star in coaching circles. In his fourth year as the Kansas City Chiefs' offensive coordinator, Bieniemy has drawn rave reviews for his work with star quarterback Patrick Mahomes.
Many, especially in the media, have called for an NFL team to hire Bieniemy as a head coach. But he was passed over for the opportunity again this offseason. Is Bieniemy's lengthy rap sheet, including an incident involving a woman, preventing him from receiving the keys to a franchise?
Eric Bieniemy is the Chiefs' star offensive coordinator
RELATED: Will Eric Bieniemy Be the Next Great Coach From the Andy Reid Tree?
Andy Reid is still reaping the rewards of promoting Eric Bieniemy to offensive coordinator in 2018. Led by all-world quarterback Patrick Mahomes, Kansas City spent last three years shredding opposing defenses. The Chiefs won Super Bowl 54 and ended the 2020 season at 14-2.
Although the 2021 season didn't end as the team hoped, Bieniemy has been a pivotal reason why the Chiefs still might have a potential dynasty on their hands. A former NFL running back, the 52-year-old has helped maximize Mahomes' talent at quarterback.
Understandably, teams hoping to follow the Kansas City model and create their own dynasty have zeroed in on Bieniemy. Unfortunately for him, no team has moved forward with a head coaching contract.
Bieniemy is a hot name on the coaching carousel
RELATED: What Will It Take for Eric Bieniemy to Score an NFL Head Coaching Job?
If a team has needed a head coach in recent years, they've almost certainly interviewed Eric Bieniemy at some point.
This didn't change in the 2021-22 NFL offseason. The New Orleans native interviewed with the Denver Broncos in late January and the New Orleans Saints in mid-February. He did not land the job with either franchise. This means Bieniemy has been interviewed by 15 NFL teams with head-coaching vacancies in the past four hiring cycles, reports KSHB. He hasn't received any of the 24 vacant head-coaching positions during this time.
Notably, former Dolphins coach Brian Flores mentions Bieniemy 15 times in his class-action lawsuit alleging racism regarding the NFL's hiring and retention practices for Black coaches and coordinators.
Eric Bieniemy had a lengthy arrest record as an active NFL player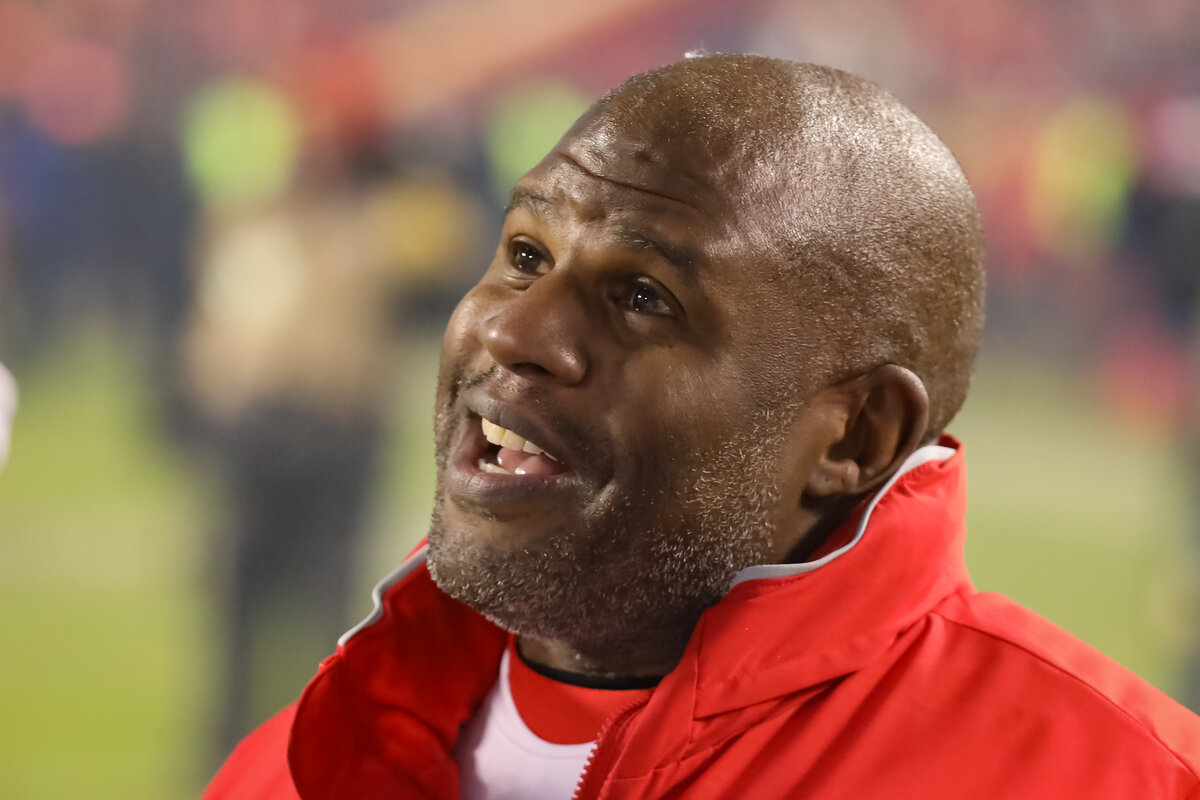 RELATED: Chiefs WR Tyreek Hill Gives Andy Reid and Eric Bieniemy Ultimate Praise: 'It's Like Shaq and Kobe'
Lost in his success with the Kansas City Chiefs is Eric Bieniemy's rap sheet of poor decision-making:
February 1998: According to the South Florida Sun-Sentinel, Colorado police arrested Bieniemy and teammate Kanavis McGhee after a bar fight. Bieniemy was charged with disorderly conduct and fighting in public, but he pleaded no contest. He and McGhee received deferred sentences and performed court-mandated community service.
July 4, 1990: According to the Orlando Sentinel, Bienemy pleaded no contest after allegedly shoving a firefighter. The University of Colorado Boulder suspended Bieniemy for one game in the upcoming season.
September 1993: Colorado police arrested Bieniemy, then in the NFL. The Orlando Sentinel reports that Bieniemy allegedly grabbed a female parking attendant by the neck and threatened her. The University of Colorado Boulder banned Bieniemy from its campus for one year as a result.
April 2001: According to the Daily Bruin, Colorado police arrested Bieniemy on a DUI charge, three months after he joined the football staff as a running back coach. He previously had his driver's license suspended after numerous violations. 
Bieniemy was also linked to allegations that Colorado's football program "used alcohol and sex to lure recruits." ESPN reported in 2004 that the university discovered there was evidence of drugs and alcohol being used to "entice recruits," but no university officials were guilty of misconduct.
Bieniemy left Colorado after the 2002 season to take the same position at UCLA.
When it comes to his on-field resume, Eric Bieniemy should check most, if not all, boxes for a potential head coach. However, Bieniemy's off-field history is much different, and a team will have to decide if they are still comfortable hiring Bienemy given his past decisions. 
As a successful offensive coordinator, he may become a terrific head coach. However, a team may prefer a safer choice than someone with Bieniemy's legal history.
Like Sportscasting on Facebook. Follow us on Twitter @sportscasting19.