Chiefs TE Travis Kelce Passes Rob Gronkowski and Joins Jerry Rice in Exclusive NFL Club Despite Upsetting Loss to Bengals
The Kansas City Chiefs watched their hopes of a third straight Super Bowl end at the expense of Joe Burrow and the red-hot Cincinnati Bengals. Patrick Mahomes went cold in the second half after taking a 21-3 lead, and Burrow continued to show why he is heralded as the next generational superstar of the NFL.
Nonetheless, Kansas City tight end Travis Kelce continued his unreal season and postseason with another impressive record. He even joined Jerry Rice in an exclusive club and passed Rob Gronkowski on the same day.
Travis Kelce made NFL history in the loss to the Bengals
Despite the frustrating loss in the AFC Championship Game, Kelce had a terrific game. He finished with 10 catches for 95 yards and a touchdown on 11 targets to lead the Chiefs.
Unfortunately for Kansas City, it wasn't enough, but Kelce did join an exclusive list that includes only Rice and Julian Edelman.
Furthermore, Kelce should have no problem passing Edelman on this list as soon as next postseason. With the way the Chiefs are built, there is a high possibility Kelce will overtake Rice for the NFL lead in postseason receptions before he calls it a career.
If that isn't impressive enough, Kelce is getting close to breaking another record.
The Chiefs tight end is inching closer to becoming the all-time postseason touchdown receptions leader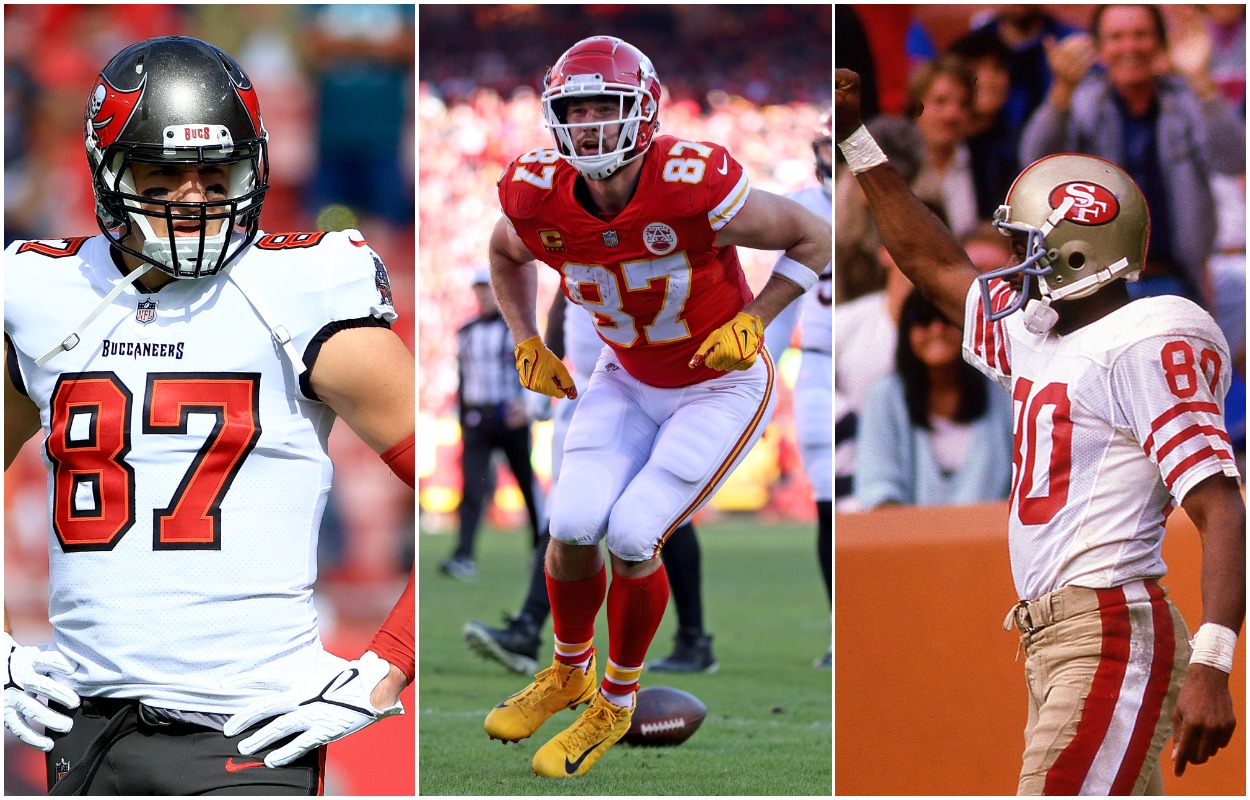 Kelce is on pace to shatter a ton of postseason records at this rate. With another big performance, he passed Gronkowski to join Rice and Edelman.
Also, the Chiefs tight end is now tied with John Stallworth for the third-most touchdown receptions in postseason history. However, Gronkowski is ahead of him for the time being.
Rice leads the way with 22 touchdown receptions, and Gronkowski has 15. Kelce caught his 12th in just his 15th career playoff game, so this is yet another record he should overtake in a matter of time.
As long as Mahomes throws passes to Kelce, he should continue to put up big numbers, barring unforeseen circumstances.
Another record worth monitoring is the yards. As it stands now, Kelce is fifth with 1,291, although Rice is 1,000 yards above him.
Patrick Mahomes raves about Kelce after the disappointing ending for the Chiefs
To the surprise of nobody, Mahomes was quick to sing the praises of Kelce after their season came to a screeching halt (h/t Lila Bromberg of The Kansas City Star).
"(Kelce's) just a competitor, man. Obviously, he's super-talented and everybody knows that."

Patrick Mahomes on Travis Kelce
Kelce caught the game-winner against the Buffalo Bills in a Divisional Round thriller, and he also had the game-winner in December against the Los Angeles Chargers.
He finished 14th in the NFL in receiving yards, 13th in receptions, and ninth in touchdowns — and he's a tight end.
The talent is obvious as Kelce continues to fly up the NFL record books, especially the postseason ones, and he should have no problem catching Rice for at least a couple of these records.
Sure, the season didn't end how the Chiefs had envisioned, but they aren't going anywhere. This team will remain a force for years to come.
Stats Courtesy of Pro Football Reference
RELATED: Chiefs TE Travis Kelce Made NFL History With a Touchdown Pass and Couldn't Believe It: 'I Thought I Burned All My Chances'