Chiefs' Tyreek Hill Sets Unmatched NFL Feat
Since entering the NFL, Kansas City Chiefs speedy wideout Tyreek Hill has proven to be one of the league's top playmakers and game-changing talents. Hill has made his mark with his big-play ability that has continued to put him in some rare air in NFL history. That has helped guide him to yet another impressive individual mark during Week 9 action against the Minnesota Vikings.
Tyreek Hill's strong start to NFL career
Through his first three-plus seasons in the NFL, Hill has quickly established himself as one of the league's brightest young stars.
The 25-year-old has become a key piece in the puzzle to the Chiefs' success behind his stellar play. Hill had initially entered the league making his bones being a significant threat on special teams with three total touchdowns that helped him earn his first Pro Bowl selection.
It didn't take long for that to translate into putting together back-to-back 1,000 receiving yard campaigns with at least 75 receptions and seven touchdowns that have landed him three straight Pro Bowl nods. He has become a legitimate threat in the passing game that has a bright future ahead of him.

What that has also led to is Hill adding an impressive NFL feat to his name that exemplifies what he brings best to the field.
Tyreek Hill's unmatched big-play ability
The one area that Hill has continued to excel in during his first few years in the league is his knack for creating big-plays down the field.
The 25-yar-old added another mindboggling feat to his resume as his 40-yard touchdown against the Vikings on Sunday pushed him atop the league with 20 touchdown grabs of at least 40 yards.
Hill has been as dynamic as they come as a deep-ball threat, as it was also his 15th scrimmage touchdown of at least 40 yards since he entered the NFL, which is the most by any player during that stretch.
He has proven to be a dangerous threat wherever he is on the field. Hill has proven to be a game-changing factor regardless of who is under center as the Chiefs continue to roll with Matt Moore, with reigning league MVP Patrick Mahomes still recovering from a knee injury.
What this speaks to more than anything is that Hill is back to playing at full strength, where he can play a major role in helping the Chiefs get back towards being regarded as one of the top teams in the league while competing for a Super Bowl.
Chiefs' outlook for rest of 2019 season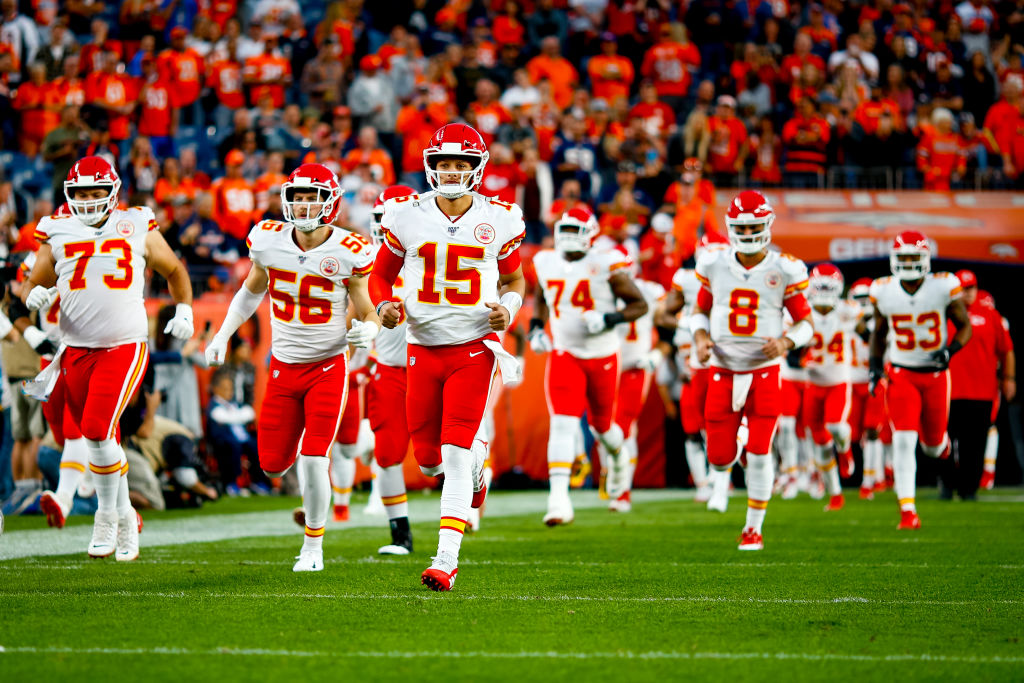 The Chiefs have hit a bit of a rough patch over the last few weeks that has been directly linked to Mahomes' health that has seen him miss the last two games due to a kneecap injury.
But Kansas City has tremendous confidence that once Mahomes returns healthy that they can shift gears into competing for one of the best marks in the AFC. Moore has provided stability in his absence that has pushed the team forward with some reliable offensive production.
Hill will factor greatly into that equation as the team's most dependable weapon in the passing game. He has recorded four touchdowns in his first five contests while notching more than 45 receiving yards in all but one contest.
Following the matchup against the Vikings, the Chiefs have a favorable schedule ahead facing a few struggling teams in the Los Angeles Chargers (twice), Chicago Bears, Denver Broncos, and Tennessee Titans. Their lone difficult matchup could come against the New England Patriots, which should be a strong gauge of where the team is at.
Time will tell if Kansas City can be the biggest threat to derail the Patriots' Super Bowl aspirations come late January.