Chip Kelly Is Reinventing the Philadelphia Eagles in His Image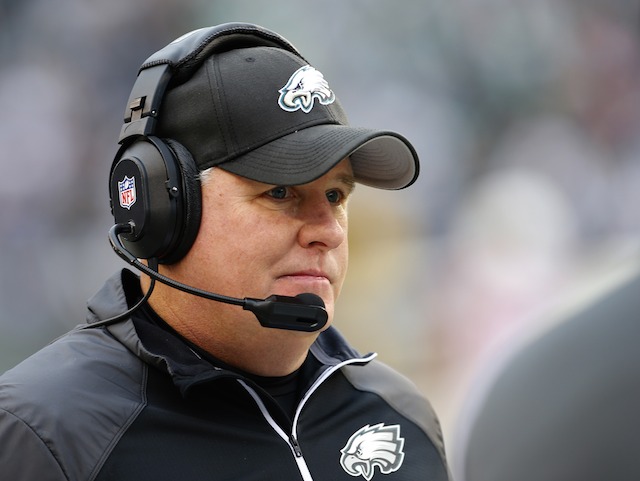 Philadelphia Eagles head coach Chip Kelly truly does believe that, "Culture beats scheme everyday." In a move that was shocking to practically anyone who does not work for the Eagles' coaching or personnel staffs, Kelly agreed to a trade on Tuesday night that would send All-Pro running back LeSean McCoy to the Buffalo Bills in exchange for inside linebacker Kiko Alonso. The blockbuster trade between the Bills and Eagles bears a striking resemblance to the Clinton Portis-for-Champ Bailey trade between the Denver Broncos and Washington Redskins that happened on this day 11 years ago. The move also makes it abundantly clear that Kelly is going to do whatever he feels is necessary to build a team that fits exactly into the mold that he believes will result in long-term, sustainable success for the Philadelphia Eagles.
Kelly is ready to build his vision into a reality. The former Oregon Ducks head coach was granted full control over personnel decisions following the 2014 season, when Eagles owner Jeff Lurie essentially demoted general manager Howie Roseman to vice president of football operations. Consquently, many people expect to see Kelly make several splashy moves in his first offseason with total control over the entire Philadelphia roster.
We got our first glimpse into Kelly's vision during the offseason last year when he abruptly decided to release (with the blessing of Lurie) talented yet controversial wide receiver DeSean Jackson, who seemed like a perfect fit for Kelly's up-tempo offense. He followed that up by releasing a plethora of veteran players, most of whom had been key players for the Eagles since Kelly's arrival in 2013. It started with tight end James Casey and offensive guard Todd Herremans last week, and continued with Cary Williams and Trent Cole yesterday. The icing on the cake was the McCoy trade. Kelly's willingness to part with a running back as productive as McCoy shows that he sincerely believes that his system makes running backs better, not the other way around. After unloading the leading rusher in franchise history, the Eagles now have close to $50 million in salary cap space to work with.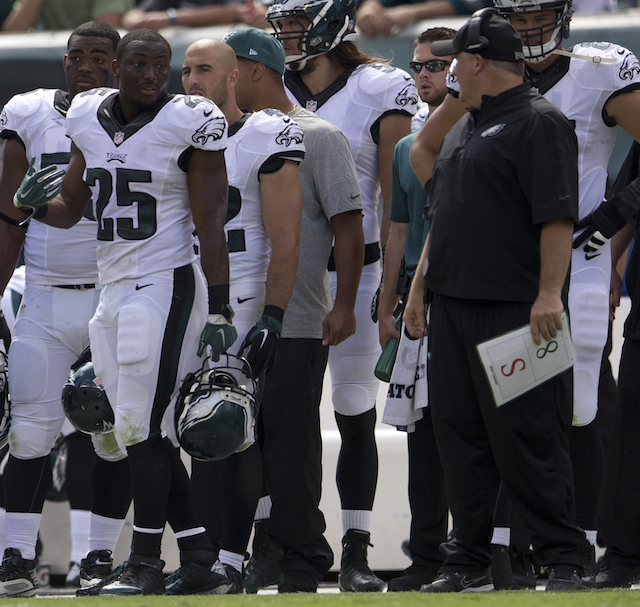 Swapping LeSean McCoy for Kiko Alonso makes sense from both a football and a financial perspective. Alonso fills a huge hole on the Eagles defense, and while McCoy had a solid season in 2014, he will be 27 by the start of the 2015 season and is rapidly approaching the proverbial 30-year-old wall that most running backs run into. From a salary cap perspective, Alonso will have a $796,000 cap hit in 2015, while McCoy would have counted as a $13.15 million hit against the Eagles' cap in 2015.
While the McCoy trade sent shockwaves through the NFL, it may pale in comparison to some of the other moves Kelly could make in the coming days, weeks, and months. The Eagles now have enough money to make a serious run at signing – in addition to others — both cornerback Byron Maxwell and prized defensive tackle Ndamukong Suh, both of whom would give their defense a greatly needed boost. Even that wouldn't stack up to the move that Kelly is allegedly exploring that would reshape the franchise and the upcoming NFL Draft.
Kelly is reportedly prepared to mortgage the Eagles' future to move up and select quarterback Marcus Mariota, who he recruited and coached at the University of Oregon. The move would be costly, but as recently released guard Todd Herremans put it, Kelly prioritizes the quarterback and offensive line positions, with his system taking care of all of the other positions.
If Kelly ultimately gets his wish and lands Mariota, the Eagles will undoubtedly be built in his image. However, with that comes the added pressure of being the person responsible for everything on and off of the field. His track record would suggest that this is something completely in his comfort zone.