Chip Kelly's NFL Stints Were Marred by Race-Related Incidents
Chip Kelly entered the NFL as an offensive mastermind from the University of Oregon. He left the league as a controversial and divisive head coach.
Kelly seemed destined for greatness when he led the Philadelphia Eagles to a playoff berth in his first season. The magic didn't stay and Kelly, who also coached the San Fransisco 49ers, was out of the league three years later.
Part of Kelly's problem was he encountered serious racial incidents at both stops.
Chip Kelly coached four NFL seasons
For years, Chip Kelly appeared to be the NFL's hot coaching candidate. He ran a dangerous offense at Oregon and the media believed he'd eventually jump to the NFL.
That didn't happen until 2013, though, when Kelly replaced Andy Reid in Philadelphia. Kelly coached the Eagles until 2015 and went 26-21 in three years.
Kelly moved to San Fransisco in 2016. The 49ers went 2-14 that year, but the bigger story involved Colin Kaepernick's national anthem protests.

San Fransisco fired Kelly and general manager Trent Baalke after that season. He's coached UCLA the last two years and has a 7-17 record there.
Eagles players ripped Kelly over perceived racism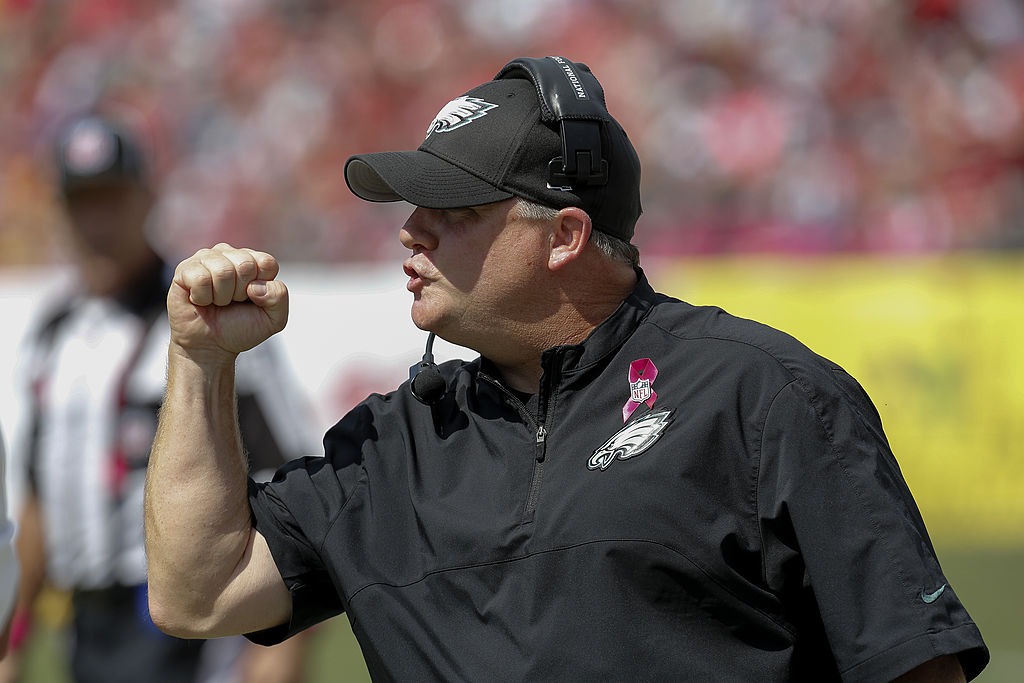 Chip Kelly won an NFC East Division title in his first year with the Eagles. That was far from a sign of things to come.
Ultimately, the Eagles parted ways with Kelly before his third season ended. His public disputes with players who the Eagles either traded or released didn't help.
Philadelphia cut star receiver DeSean Jackson after the 2013 season. That decision partly stemmed from Jackson's reported ties to gang members in his native California.
Jackson made it clear he wasn't involved in gang activity, though he admittedly associated with gang members.
A year later, Philadelphia traded running back LeSean McCoy to Buffalo. According to the Philadelphia Inquirer, McCoy said Kelly didn't respect his star players and wanted total control in the locker room.
"You see how fast he got rid of all the good players. Especially all the good black players. He got rid of them the fastest. That's the truth. There's a reason. … It's hard to explain with him. But there's a reason he got rid of all the black players — the good ones — like that."
Chip Kelly denied the accusations. Eagles cornerback Brandon Boykin defended Kelly and said the coach wasn't racist, but struggled with his social skills.
Boykin, who is black, admitted he believed Kelly was "uncomfortable around grown men of our culture."
Chip Kelly coached San Francisco when Colin Kaepernick knelt for the anthem
Would Chip Kelly get away from race-related incidents with the 49ers? Far from it.
Kelly's lone season in California was when Colin Kaepernick knelt during the national anthem to protest police brutality and racial inequality.
Kaepernick became a divisive figure across the country. Many supported the quarterback's outspokenness and commitment to change.
Others criticized Kaepernick for "disrespecting the flag."
Regardless, Chip Kelly defended Kaepernick the entire time. Kelly made it clear he understood Kaepernick's point of view and wouldn't stop him from speaking out.
A year later, Kelly was asked to evaluate his time with Kaepernick. In perhaps the ultimate compliment, Kelly said Kaepernick never became the one word teams hate: a distraction.