Chris Bosh Adamantly Lobbies for Warriors to Keep James Wiseman
The Golden State Warriors' best chance at trading for a star might be including James Wiseman in a package with the No. 7 and No. 14 overall picks in the 2021 NBA Draft. But former NBA All-Star and incoming Hall of Famer Chris Bosh hopes the Dubs give the young center a chance.
Bosh knows all about being a lesser option on a star-studded team. He was a critical piece of the "Big Three" Miami Heat teams, but still took a backseat to LeBron James and Dwyane Wade. He also had to adjust his offensive style, becoming more of a floor-spacing big and defensive presence than a guy who dominated on the low block.
Still, Bosh successfully made those adjustments to his game and helped the Heat win a pair of titles. He feels Wiseman can adapt on a team with Stephen Curry and Klay Thompson. Bosh also suggested the "Splash Brothers" could help unlock Wiseman's full potential.
James Wiseman's future with the Golden State Warriors is up in the air
Wiseman experienced plenty of ups and downs in his rookie season.
The Warriors selected Wiseman with the No. 2 overall pick in the 2020 NBA Draft. The Nashville native impressed in predraft workouts and had plenty of upside as an athletic, rim-rolling big who could protect the rim and (with time) expand his range to the perimeter.
Wiseman flashed glimpses of potential throughout the season. He was also benched for missing a COVID test in March and dealt with multiple injuries, including a torn meniscus.
Golden State's stars recently expressed more of an urgency to win now. Additionally, the Warriors are reportedly still torn on who they will target with their pair of first-round picks.
Dubs president of basketball operations Bob Myers suggested the team plans to make those selections. He previously stated the Warriors also intend to keep Wiseman as part of the organization's future plans.
Still, some executives told Bleacher Report's Jake Fischer they would try to package Wiseman with the picks to possibly trade for a star or impact player. Wiseman would almost certainly need to be included in the event someone like Bradley Beal became available.
However, Wiseman has a Hall of Fame big man in his corner.
Chris Bosh hopes the Warriors elect to retain Wiseman
Chris Bosh thinks Wiseman is bound to have success with the Warriors by keeping things simple.
The 11-time All-Star suggested Golden State should relish having a rim-roller like Wiseman, who explodes to the rim and can force defenses to make tough decisions in pick-and-roll. He recently said that Wiseman has to focus on being an adequate screener for Curry and Thompson.
"I truly believe in Wiseman," Bosh said on ESPN, via Bruce Jenkins of the San Francisco Chronicle. "All he has to do is set screens for Steph and Klay (Thompson), and roll, and he'll be open all next season … they just have to really enjoy the situation that they're in right now."
Wiseman's capacity as an on- and off-ball screener could free up shooters like Curry and Thompson and create more fluidity in Golden State's offense. He should make that offense even more dangerous if he becomes more of a threat to knock down midrange jumpers, in addition to his ability to score around the rim.
Adding another star might put the Warriors over the top in the Western Conference. However, Bosh doesn't think Golden State must give up significant assets to see improvement next season. He seems to believe Wiseman can be a key cog on a contending team.
The Warriors have options ahead of the 2021 NBA Draft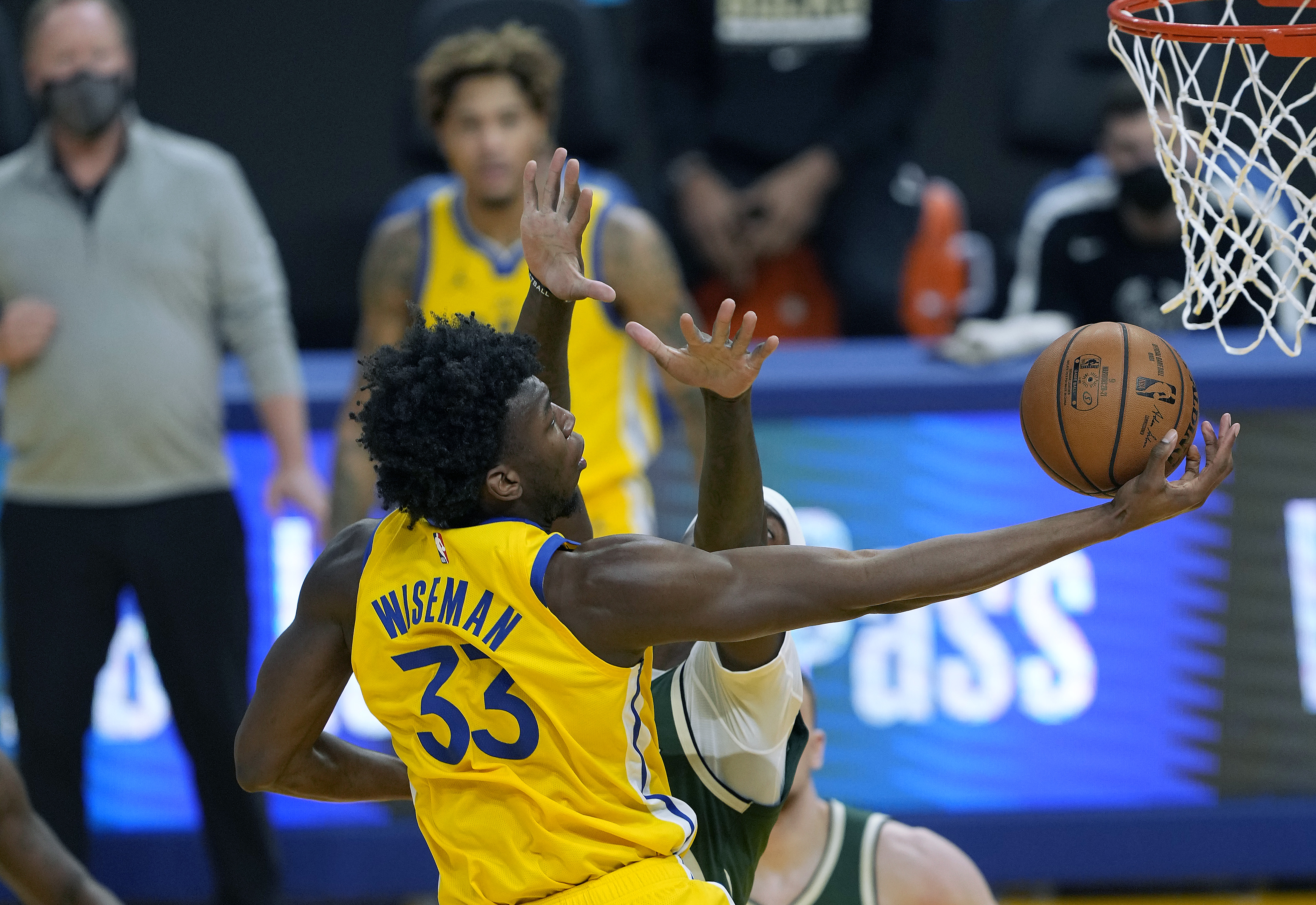 The Warriors are in a position of strength ahead of Thursday's NBA draft.
Golden State could still try to dangle the picks and toss Wiseman into trade packages if doing so would net them a star. Alternatively, the Warriors could see how Wiseman progresses early in the season and possibly try to move him at the trade deadline if they don't see signs of growth.
The 20-year-old is still just getting his feet wet in terms of meaningful basketball. Remember, Wiseman decided to leave Memphis after the NCAA suspended him for receiving improper benefits. He played just 39 games this past season. Perhaps he can benefit from a full offseason and Warriors roster that will bring Thompson back into the fold in due time.
Bosh hopes the Warriors give James Wiseman a more extended look and chance to prove he can be a franchise cornerstone in the years to come.