Chris Bosh Says the Bulls Put 'Pressure' on Him to Bring LeBron James or Dwyane Wade to Chicago in 2010
For four magical years, LeBron James dominated on the Miami Heat with Dwyane Wade and Chris Bosh. The three of them won back-to-back championships together and became the most popular team in the NBA. However, what if the three — or at least two — of them had gone to another team instead? NBA history as we know it would be completely different.
Well, according to Bosh, the Chicago Bulls tried pressuring him into signing with them so James or Wade would also come to Chicago during 2010 free agency.
The Chicago Bulls tried to sign Chris Bosh, Dwyane Wade, and LeBron James
The summer of 2010 was one of the most monumental offseasons in NBA history. LeBron James, Dwyane Wade, and Chris Bosh were all free agents, and several teams were after them.
Among the teams that tried to sign the three three stars were the Bulls.
According to CBS Sports, Brian Windhorst reported that Wade pitched the idea to the Bulls, his hometown team. After hearing Wade's pitch, Chicago then went all-out and looked into how it could create cap space to sign all three of them. However, doing this would have probably been challenging given that the Bulls already had Derrick Rose and Luol Deng on their roster.
The Heat, on the other hand, already had the space and eventually brought the Big Three to Miami.
The Bulls put pressure on Chris Bosh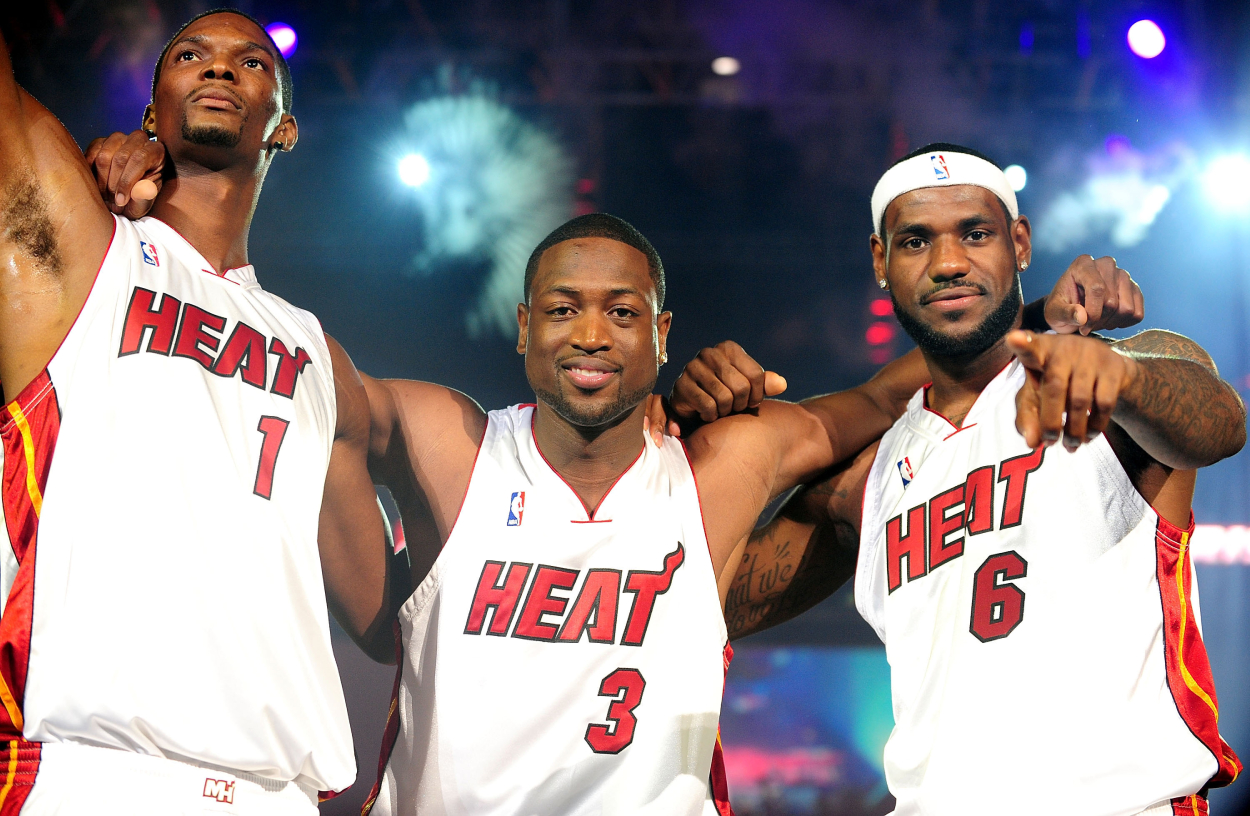 Two of the three members of the Big Three (Bosh and Wade) recently appeared on ESPN's The Jump, and they discussed how close they actually were to signing with the Bulls.
"When I went into the pitch with Chicago, whew, it was an excellent pitch," Bosh said on the June 9 episode. "It was a really, really good pitch. I didn't know I was going to feel the way I was going to feel, right? I was in the house that Jordan built. It was all there. And, I tell people all the time that was the pressure that they were putting on me. They said, 'If you come, Dwyane or LeBron is going to come. So, you need to make a decision.' That was my pressure."
As we know, though, the cap space the Heat already had played a big part in the three superstars signing with Miami.
"The Bulls, the Knicks, every team that was in the runnings in 2010 could only bring in two star players," Wade said. "So, in Chicago, it was gonna be a race to either it's Chris and me or Chris and LeBron; it wasn't going to be all three of us. So, Miami was the only team that made sure to put themself in a position that all three of us can come in."
Wade added that while he and James knew they wanted to play together, they also knew they needed Bosh to win championships.
"[LeBron] and I together was not going to result into the championships we wanted; we knew we needed Chris Bosh, and we decided not to settle for just two of us," Wade said.
LeBron James, Dwyane Wade, and Chris Bosh had legendary teams on the Heat
James, Wade, and Bosh ultimately made the right decision as it resulted in four years of dominance for the three stars in Miami.
Together, the Big Three led the Heat to four consecutive NBA Finals appearances, and they won back-to-back championships in 2011-12 and 2012-13. James also claimed his title as the best player in the NBA during that era as he won two of his four career MVP awards in those years.
Here are each of their averages during those four seasons:
LeBron James: 26.9 points, 7.6 rebounds, 6.7 assists, and 1.7 steals
Dwyane Wade: 22.2 points, 5.3 rebounds, 4.7 assists, and 1.6 steals
Chris Bosh: 17.3 points and 7.4 rebounds
Bosh will enter the Naismith Memorial Basketball Hall of Fame later this year, while Wade and James are both future Hall of Famers. Had they not teamed up together in Miami, though, they might all have two fewer championships on their resumes.
Stats courtesy of Basketball Reference