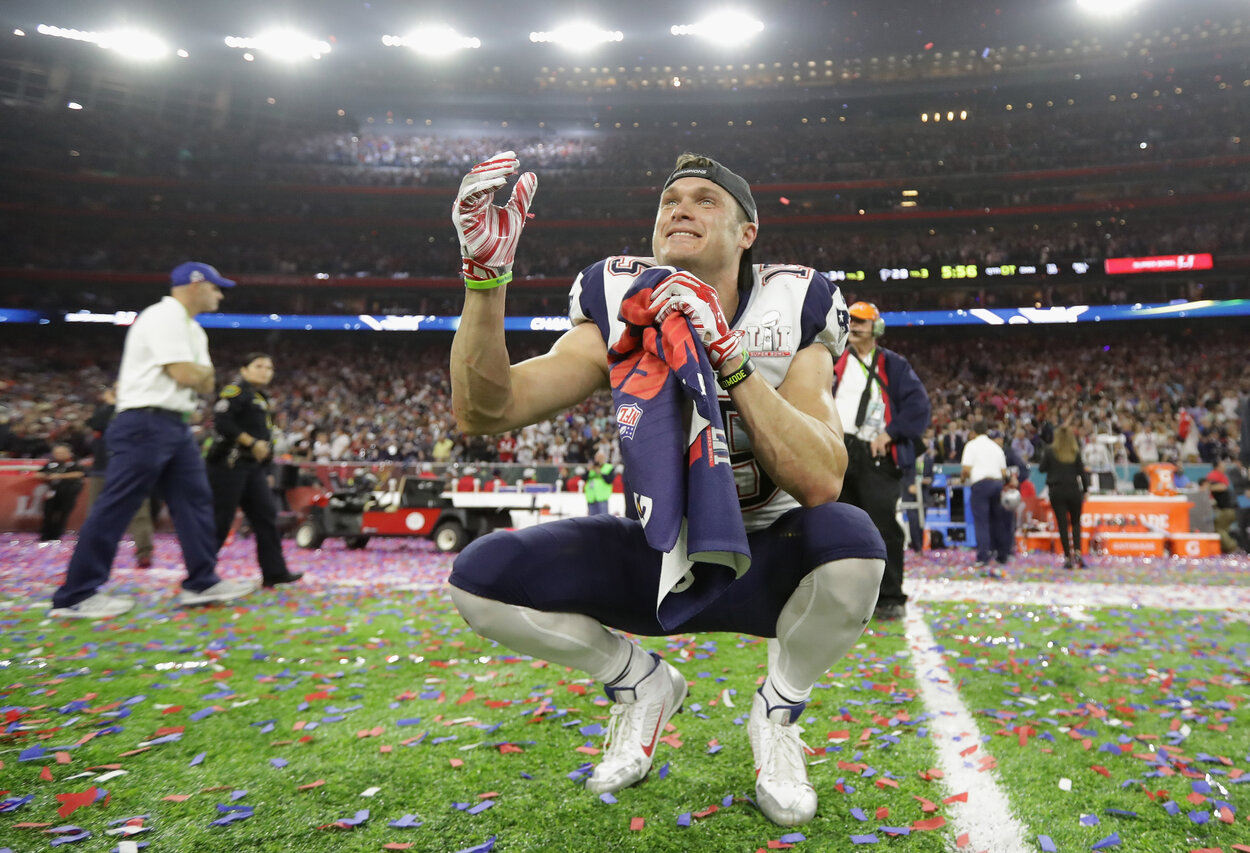 Chris Hogan Won 2 Super Bowls Under Bill Belichick, but Now He's Pursuing Another Athletic Dream
Chris Hogan won two Super Bowls with the New England Patriots, but the former undrafted receiver is now pursuing another athletic dream.
Players like Chris Hogan are why it became hard to root against Tom Brady and the New England Patriots' dynasty.
Hogan wasn't a first-round pick or an All-American receiver in college. Instead, Hogan — who only played a year of college football at Monmouth, an FCS school — went undrafted and bounced around before becoming one of Brady's favorite weapons. 
After spending last season with Frank Gore and the dismal New York Jets, Hogan is hanging up his football cleats to pursue another athletic dream.
Chris Hogan had his best NFL seasons with the Patriots
After going undrafted in 2011, Chris Hogan spent the next two seasons bouncing around practice squads.
Hogan caught 10 passes for 83 yards and grew into a pivotal special teams weapon for the Buffalo Bills in 2013. Doug Marrone gave Hogan a bigger role in the offense in 2014, and the former undrafted rookie hauled in 41 catches for 426 yards and four touchdowns.
Hogan's coming out party came after the New England Patriots signed him to a three-year contract worth $12 million in 2016. In 40 games and 28 starts, Hogan turned 107 catches into 1,651 yards and 12 touchdowns.
Hogan also had 34 receptions in the playoffs for 542 yards and four scores. New England won two Super Bowls in Hogan's three years.
Injuries limited Hogan to 12 games and 22 catches with the Panthers and Jets over the last two years.
Hogan mostly played lacrosse in college
Whenever Chris Hogan caught a pass, especially when he played for the Patriots, networks often brought up his past.
Unlike other players, that wasn't a bad thing. Before he reached the NFL, Chris Hogan was a lacrosse star at Penn State.
A three-year starter at midfield, Hogan turned 57 goals and 14 assists into 71 points across 43 games. Hogan had played both football and lacrosse in high school but opted for a college career in the latter.
Upon graduating from Penn State in May 2010, Hogan transferred to Monmouth and played both defensive back and wide receiver. Hogan not only caught 12 passes for 147 yards and three touchdowns, but he recorded 28 tackles and three interceptions on defense.
Chris Hogan is leaving the NFL for a lacrosse career
Chris Hogan intends to spend the rest of 2021 going back to his roots.
Hogan, 33, recently declared for the Premier Lacrosse League's entry draft, an event that takes place in March. Any of the league's eight teams can select Hogan, who hasn't played lacrosse in over 10 years.
Hogan isn't the first athlete to switch careers at some point in his life. Just look at former Heisman Trophy-winning quarterback Tim Tebow, who is still a minor-league outfielder in the New York Mets' farm system.
If Hogan winds up playing professional lacrosse, he'll have to adjust to smaller checks. According to Spotrac, Hogan made over $16 million in 10 NFL seasons.
All contract figures courtesy of Spotrac.